Coco Nights
Posted On: 7/21/17
Written By: Brenda Golden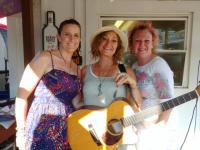 Hot, hot, hot!!! The music has been just as hot as the weather this past week. I spent a lot of my weekend at The Purple Moose, beginning Thursday with Judas Priestess. Miitia (vocals), Gyda (bass), JoSette (guitar), Rena (guitar) & Hillary (drums) always deliver their A game and this night was no exception. I had the pleasure of meeting Rena's husband, famous guitarist John Petrucci, who came with Rena this time. Widely considered the best guitarist in the world, John presents a very friendly and humble presence in person. I see on his website that he is to be part of the annual Guitar Universe, Summer Shred Intensive, along with other guitar gods on August 7-11 at the Glen Cove Mansion in Glen Cove, NY. As reported on his website, "Petrucci is best known as the guitarist, producer, lyricist and founding member of the two-time Grammy nominated progressive metal band Dream Theater as well as the guitarist and founding member of...
» Click here for the full story.
Coco Nights
Posted On: 7/14/17
Written By: Brenda Golden
What's this? It's Thursday and not raining? Still can't say it's exactly sunny; a heat haze hangs w/ low spotty clouds. Yes, 94 degrees says my phone and I'm staying in, says me. Maybe I'll get out tonight to hear Bettenroo at BJ's. I always enjoy their eclectic selection of music and lovely harmonies from Lori & Anne. That's right, two ladies. If you've missed earlier writings about these two, and have missed hearing them, let me encourage you once more to get over to BJ's tonight, 8pm, to hear them. Lori plays guitar, harmonica and sometimes foot pedal drums - incredible sense of coordination with all that, right? And sings at the same time. Anne is almost angelic in her singing voice while playing bass but don't let that fool you - she can rock down n' dirty, too, getting loose on such songs as Prince's "Kiss." There's so much more that I feel inadequate to de...
» Click here for the full story.
Coco Nights
Posted On: 7/7/17
Written By: Brenda Golden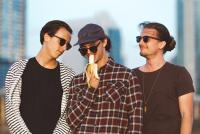 Ok, what's with Thursdays. Have you noticed that when I write to you on Thursday I almost always mention that it's gray and gloomy? Yep, check back on the articles. Well, this Thursday it's raining too. Sheesh! And I was thinking of hitting some outdoor music venues. Not now. In fact, I was out in the rain a week ago Tuesday and now I have a darned summer cold; so no getting wet for me. It's been a rough week: not feeling well, my John Deere riding mower broke down, I ran out of gas in my car two days in a row (gas gauge doesn't work), and my phone died. Now that last one really got me down because I lost all my photos, including several that I was going to run this week. So if I took your picture last Wednesday, Thursday or Friday, please accept my apologies that your photo will not be running in coconuttimes.com Fun Fotos. Let's hope my string of bad luck is over now. I made it out to hear some of my favorite ...
» Click here for the full story.
View All Archives
RSS Feed