Coco Nights
Posted On: 11/17/17
Written By: Brenda Golden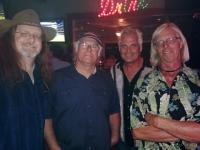 Hi, all. It's been two weeks since I said I'm all partied out (all those Halloween parties) and I've certainly had some rest but still I've been out to hear my favorite bands and that's going to continue as we enter the holiday season. Let's start with BJ's on the Water that is staging a huge weekend of music and fun. First I want to say a few words about Bird Dog & the Road Kings who appeared at BJ's last Saturday. I've known and enjoyed the music of Byrd Dog Wheeler for more than 40 years and I can tell you he's not slowing down any time soon. In fact, Byrd tells me that he and the Road Kings are working on their 8th album to follow last year's Somerset County and before that, Bona-fide, Certified, Basic Eastern Shore Redneck USA. This CD title leads one to wonder what kind of music they play. To me it's the epitome of Americana covering many genres but focusing on origi...
» Click here for the full story.
Coco Nights
Posted On: 11/3/17
Written By: Brenda Golden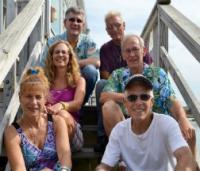 I don't know about you all, but I'm partied out. That's right, you heard me. I'm actually staying in this Thursday night to talk to you a little and rest up a lot. I had a great time at all the Halloween parties I attended but now the costume is retired until next year. Speaking of costumes, there were some very creative ones and a few that really had me fooled; such as Frank's pirate. I did not recognize him until he spoke. Good job, Frank. There was a gal named Maria whose Pennywise makeup for the IT clown was really spooky. Stephen cracked us up in his rainbow wet suit and scuba gear, and Gretchen was a spot-on Barry at Bourbon St.. These are just a few that come to mind. You can see all the cool pictures in Fun Fotos of this issue. The dance floor was packed on Friday night at BJ's with Full Circle on stage. I was disappointed that they did not wear their costumes but saved them for the Seacrets party....
» Click here for the full story.
Coco Nights
Posted On: 10/27/17
Written By: Brenda Golden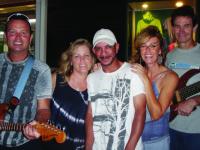 Boo!! It's the annual Halloween celebration in Ocean City and parties abound all over town. Of course the one at Seacrets is perhaps the most popular as the first-place prize for best costume is a trip to Jamaica; but there are many others around town offering cash prizes of as much as $500. I know some of you have been working hard on your costumes while others of us will just dust off our hats, as I will. I love my authentic Professor McGonagall (Hogwarts teacher of transfiguration) hat and that will do fine for me again this year. I still love all things Harry Potter. In fact, I own five of "Dumbledore's Army" wands: Harry, Hermione, Ron, Neville and Luna; and I have Minerva McGonagall's as well, but I'm afraid to bring it with me. Anyway, my how I digress, but I've been reading about McGonagall's early life on the web in Pottermore. Pretty cool. One of my favorite places to go for Halloween fun i...
» Click here for the full story.
View All Archives
RSS Feed