Coco Nights
Posted On: 4/14/17
Written By: Brenda Golden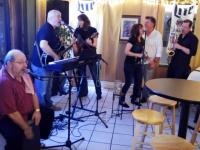 Hey out there, all you coco fans. Are we lovin' this Spring weather or what? And how about all the spectacular photos of Spring sunrises and sunsets that have been posted on facebook - awesome, right? In fact, I gave my phone to friend Helen yesterday at BJ's and she captured a beautiful sunset across the bay which I have used to head up the Fun Fotos section of coconuttimes.com (view full site). This weekend there are many folks and families enjoying our wonderful town for Spring Break. Last night (Wed.) at Johnny's I met a cool couple from Pittsburgh, Jacqui & Jason Kendall. Jason got up and played sax with Randy Lee Ashcraft & the Salt Water Cowboys and he rocked!! We got them to come up to Bourbon St. and join the jam there and, wow, what a jam it was. Eddie Saah is here visiting from Sarasota, Fla., so he joined in on bass with Ray on beat box, Chris (guitar/keyboard), Dave (guitar), Jason (sax), Stephen (djemb...
» Click here for the full story.
Coco Nights
Posted On: 3/17/17
Written By: Brenda Golden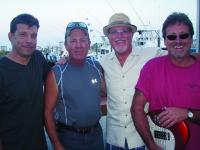 Hi, folks, Did ya miss me? Well, I'm just going to tell myself that you did 'cause I'm ready to reopen our lines of communication. This crazy weather has had me cooped up for a few days. Yeah, can you believe I even missed my Wednesday night outings the last two weeks?! On medication so I've been trying to rest up. So I ventured out tonight to my neighborhood musical venue and heard Darin Engh playing at Harborside. That always perks me up. Darin & Bob as Opposite Directions play every Thursday there, as most of you already know. The music never stops in Ocean City. Every time I think of going somewhere for a mini vacation, I think of what I'll miss here and I just don't go. Take this weekend, for example. If I go away, I'll miss Over Time on Friday and Bird Dog & The Road Kings on Saturday at BJ's. It's really a special treat when Bird Dog brings the boys to play at BJ's. T...
» Click here for the full story.
Coco Nights
Posted On: 12/16/16
Written By: Brenda Golden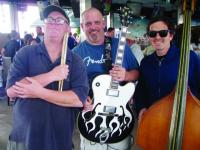 Hey, there. I'm back again in time to wish you all a very Merry Christmas and Happy New Year. As in previous years, coconuttimes.com will not publish on a weekly basis through the off season; however, the Who's Where When will remain current and ads such as BJ's will be updated. I just won't be 'talking' to you every week. There is a new concert to read about - access from the home page under In This Issue or under Special Features. Melissa hit the concert trail in November to hear Grouplove at the Fillmore in Philadelphia. It's almost as good as being there with all the photos that she shares, too, in Fun Fotos. Her review of Dead Leaf Echo at Ortlieb's Jazzhaus, also in Philadelphia, will be the next concert to post. I know she's already lined up a concert in January, so stay tuned for more vicarious concert-going with Melissa Golden. As for me, I continue to hear music all around town and ha...
» Click here for the full story.
View All Archives
RSS Feed