TIME TO PARTY!
Posted On: 5/14/21
Written By: by Brenda Golden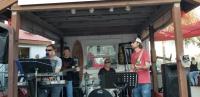 Hi, everyone. It's been quite a while since I sat down to talk to y'all and I'm feeling pretty rusty. It's been a long hard year for us all, hasn't it; but we finally have a vaccine (got both shots of Moderna) and the CDC has just changed guidelines saying our venues can now be at full capacity and ... we can DANCE! Yay! I managed to see music over this long year; but with caution and happy to say, I never got sick.There were so many performances that inspired me to chat with you but it seemed that too much TV and too little interaction with my friends left me depressed. I'm sure you've all experienced what I'm talking about. Someone on the radio said a word for how many of us were feeling is languishing. Yeah, that fits. Done with that, my friends - I'm ready to really get out and about again.The opening at Coconuts Beach Bar & Grill on Thursday, May 6th, was a huge turning point. I'm so happy to be able to sit in the sun again and hear my favorite bands play great music. That day...
» Click here for the full story.
ROCKIN' WITH RICKY
Posted On: 6/22/19
Written By: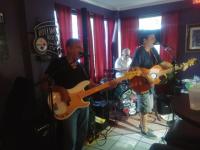 Hi, y'all. I'm baaaack! I said I would try to write more often so here I am. I had a great time listening to the music of "The Almost Famous Ricky La Ricci" show last night at Bourbon St. This was the first time in nearly 10 years that Rick played a show without his son Lennon on keyboards. Lennon was off enjoying the music at Firefly Festival, a present for his 18th birthday. So...Ricky was accompanied by Eddie Saah on bass and Phil 'the Bucket' on drums. They both did a great job, even adding backup vocals. I love Ricky's song selection - a musical repertoire that he has compiled after many years playing for us. He can boast a very extensive list of Beatles tunes, including one of my favorites from John Lennon, "I Just Had To Let It Go," that almost brings me to tears when I think about losing John Lennon when he was enjoying family life with his son and experiencing a new creative surge in his music. Such a profound loss to us al...
» Click here for the full story.
BACK IN THE GROOVE
Posted On: 6/14/19
Written By: Brenda Golden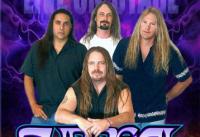 Okay, I'm guilty! I wrote on June 4 that I would 'talk' to you more often and then I slacked again. I could cite a list of excuses but I've only myself to blame, of course. Many times I've composed a beginning only to get lost in answering emails and facebook until the motivation was swallowed up by distraction and the call to hurry out to hear great music. That, of course, is my motivation for this whole thing called coconuttimes.com. Granted, in my first days working for the paper, the impetus was more on leisure reading with such articles as Delmarva Treasures, Murder Mystery, Best Bites, Barhopping and Remembering World War II. Remember those? I enjoyed all that myself; but after becoming publisher/owner I began veering towards the musical lane where I created Sonic Notes (a column about music first penned by Marco Hiemenz), Coco Nights, my own column, and Meet The Band. I'm happy to say that Meet The Band has been resurrected by my friend and fe...
» Click here for the full story.
View All Archives
RSS Feed