IAN IS BLOWING UP OUR WEEKEND!
Posted On: 9/23/22
Written By: Brenda Golden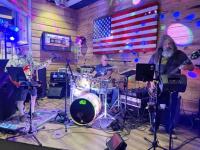 Hello out there.  Gray skies and blustery winds: yeah, I just want to take a nap.  But I'm going to muster up some energy and talk to you all first.  Ian sure is kicking some butt and though we haven't even met him yet, he has already wreaked havoc with our weekend plans for great music at Oceans Calling.  Too bad but we didn't really want to stand in the rain all weekend so it's for the best.  Let's just hope we get some of the same acts coming back next year even though, of course, there are no guarantees of that.  Obviously outdoor venues such as Coconuts have been cancelled but there are still some places to go hear live music, as of now, anyway.So, let's recap a bit of my exciting outings last weekend.  I managed to hit two of my favorite venues for two of my favorite bands last Saturday.  I started at Fast Eddie's where 33 RPM delivered yet another electrifying performance for their loyal fans.  Resident guitar wizard Larry Biegel treated us to a double dose of Peter Frampton hit...
» Click here for the full story.
TIPSY?!
Posted On: 9/23/22
Written By: Brenda Golden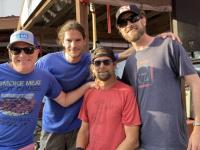 Well, folks, I'm a day late for our weekly 'chat' and still feeling some writer's block.  Is it the cooler weather?  Or just laziness; can't say.  But I have a lot to tell you of my fun week so I'm going to settle in and hope I don't get the interruptions and distractions of yesterday.  I'll begin by telling you that I ran into our dear BJ's friends Billy & Maddy Carder at Coastal Smokehouse yesterday and I'm happy to report that their band, Teenage Rust, will be playing at M.R. Ducks on Sunday, October 9th, at 2 pm.  Billy quipped, "we've been trying to get in there for 35 years!"  So, finally, a party on the dock; let's pray for good weather.I was at Coastal Smokehouse, on Rt. 50 in West OC, for their first night of live music to kick off their fall schedule of fun happenings.  First up was Jack Worthington & T Lutz.  Good to see Tom on the mend and playing again.  And it was so good to hear Jack singing and playing guitar on lots of our favorite music.  The patio doors were ...
» Click here for the full story.
IT'S BIKE WEEK!
Posted On: 9/16/22
Written By: Brenda Golden
It's another Bike Week in beautiful Ocean City and the music is amped up all over town for our visitors.  I must confess, my objective is to avoid the big crowds; in younger days I would have been right in the thick of it with so much cool music at the Inlet and in places like Wild Bill's.  But, at this stage of the game, I'm content to relinquish my space to others.  Now that's not to say I'm not still getting out to enjoy live music, because I most certainly am.  Last weekend was a blast with a couple of high-powered rock groups that knocked my socks off (silly saying as you've never seen me in socks).  Friday night I ventured onto the bayside deck at The Angler for the inaugural performance at that venue of 33 RPM.  All their local fans and many, many others turned out to hear them and, I must say, I've never heard the dock rock like that evening.  Mike Beavan on drums and lead vocals is like the Tazmanian Devil in his wild and enthusiastic delivery of every song.  I was quite surpr...
» Click here for the full story.
View All Archives
|
Click to add RSS Feed