SPRINGFEST WEEKEND
Posted On: 5/3/19
Written By: Brenda Golden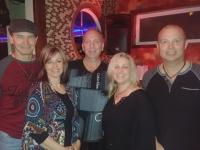 Springfest 2019 is happening at the Inlet as I write this. What a gorgeous day it is, too. I'm even more happy that my favorite Coconuts Beach Bar & Grill opened Thursday with music by the Taylor Knox Band. Most of us know Taylor from his amazing guitar work with Old School and also Human Connection. For this outing he featured Rick Webster on drums and Steve Guth on bass for an afternoon of hot music. As hot as the temperature was on Thursday, the cool ocean breeze made it very comfortable on the picturesque patio at Coconuts. All new umbrellas, beautiful flowers and shiny green palm trees at the foot of the dunes add to the ambience of this shore-side venue. And beautiful young people hit the sand at the volleyball net. I began my visit as I probably ended the last one in the Fall, with a Pepper Jack Grilled Chicken wrap - delicious! Yes, Coconuts serves up tasty treats from the grill, so come on out and enjoy. Today's band is Lime Green Band, Saturday will be Monkee ...
» Click here for the full story.
Star on the Rise
Posted On: 3/15/19
Written By: Brenda Golden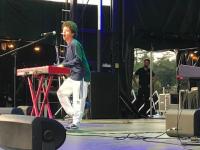 Hi, everyone. I know it's been a good while since I had a 'talk' with you all. I apologize for slacking; guess I was just a little burned out after 25-plus years. I'm never burned out on music, though, and the talent in this town continues to entertain and amaze me. In fact, one such artist has inspired me to return to writing and share Ocean City's music news here. Yes, there's a star on the rise in Ocean City. I'm referring to keyboardist sensation Lennon La Ricci who has come into his own at the ripe old age of 18. Lennon has been performing alongside his dad, Ricky La Ricci, since he was only 9 years old. Rick first brought his son onstage at the Horse You Came In On in Baltimore and then at several locations around Ocean City after they relocated here, to include The Carousel, The Rio Grande (where I first heard him), Plim Plaza and The Jungle Bar, to name a few. It all began when Lennon took ...
» Click here for the full story.
Coco Nights
Posted On: 6/22/18
Written By: Brenda Golden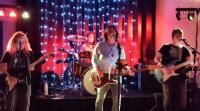 Hello, out there my friends. I'm talking to you today after a fantastic night at The Purple Moose where Judas Priestess delivered yet another amazing performance in a tribute to the heavy metal gods, Judas Priest. Militia (vocals), Josette (guitar), Rena (guitar), Gyda (bass) & Hillary (drums) delivered high octane energy of all our favorites having also added a few new numbers to their show. There is so much I could say about these talented women but I don't have space or energy to do that here. Check out their website and read the impressive bios of each one. Here's a snippet from Militia's bio: The man who brought The Beatles to America, Sid Bernstein, calls her "A superstar!" Militia has toured as the leading female vocalist in Dee Snider's heavy metal horror orchestra Van Helsing's Curse and in Europe with Jesus Christ Superstar. She has performed with Cyndi Lauper, Taylor Dayne, Nancy Sinatra, Sandra Ber...
» Click here for the full story.
View All Archives
RSS Feed