"SMOOTHFEST" FOR JOE JACINTO
Posted On: 1/13/23
Written By: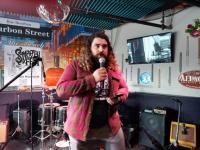 Greetings one and all.  I've been enjoying my winter hiatus from writing Coco Nights but a very worthy event took place last Saturday that I feel compelled to share with those of you who were not there.  So many fellow musicians, fans and friends of Joe "Smooth" Jacinto turned out in droves for the SmoothFest benefit held at Bourbon Street on the Beach - it was an inspiring day of music and fellowship.  The continuous live music began at noon with a performance by Harry O who partnered with Joe many times over the years.  Following was the talented duo of Valerie & Margot.  Next up was Roast John with members Otto Grundman on guitar, Nick French on keyboard, Logan Rodriguez on drums, and filling in for bassist Jamaar Oney was Ryan Jared.  What a talented group of musicians; I enjoyed them immensely.  So many wonderful musicians followed such as: Opposite Directions (Darin Engh & Bob Wilkinson) who played again later with Nate Clendenen; No Byscuyts with whom Joe has played for ...
» Click here for the full story.
HOLIDAY CHEER!
Posted On: 12/9/22
Written By: Brenda Golden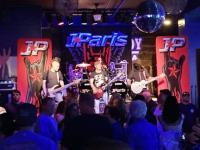 Hi, folks.  Are you enjoying our holiday season here in wonderful Ocean City?  It's always a fabulous time of the year to meet up with friends at all the parties around town.  The Purple Moose was fun last week as the new light and sound systems were showcased.  I'm looking forward to hearing JParis with live rock music tomorrow, Saturday, at the unusual time of 2 pm.  That's right - an afternoon party in part to welcome participants of the annual Santa Con festivities.  It's going to be a blast, so come on out.I love seeing all the beautiful holiday decorations and Bourbon Street on the Beach is certainly decked out with the added bonus of being able to see the lights of Winterfest across the street ... so beautiful.  Last week I had the pleasure of hearing Ramble On at this OC music mecca.  The band bills their show as a Led Zeppelin tribute, which they do remarkably well; but they're much more than that playing a wide variety of rock tunes.  Mark Marshall on vocals is a charismatic ...
» Click here for the full story.
LOVIN' OUR GREAT BANDS!
Posted On: 11/11/22
Written By: Brenda Golden
Hey, hey!  I ended last week's column saying I was signing off for a while ... at least until I had something to say.  Didn't take long, did it?  After hearing Lennon La Ricci last week at Coins, I'm bubbling over with the enthusiasm I caught hearing that performance and just have to share it.  The excitement that Lennon & The Leftovers generates is simply infectious and contagious ... I don't mean as in virus; but his performances should be viral.  This young man should be all over the internet and it may not be long before he his.  Right now you can go to YouTube and find several of his songs featured, including his original "Birds On A Wire."  There should be much more; coincidentally, I saw proud dad Ricky filming a song as I was writing my notes.  Speaking of Ricky, we have enjoyed his music for so many years and I have to say that he has a noticeably new joie di viv in his performances.  For instance, when he sang, "What Is Hip?" by Tower of Power he was explosive.  Ricky sin...
» Click here for the full story.
View All Archives
|
Click to add RSS Feed