Meet the Artist - Articles
"Just Jay"
Posted On: 6/3/16
Written By: Barbara Borys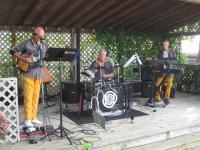 I recently stopped into Bourbon Street on the Beach, a local restaurant and schmoozing bar, to treat my daughter to an order of chargrilled oysters. We were pleasantly surprised by the early evening entertainment of singer, songwriter Jay Graboski, also known as "Just Jay". Jay's style was easy, his repertoire was varied. It spanned multiple generations of memorable, familiar favorites as well as a variety of impressive originals. Jay was happy to be sharing one of his CDs with listeners. He gave me a copy of "The MD CD" which includes the OHO hit "Ocean City Ditty", a song that will resonate with anyone who has vacationed on this four- and a-half-square mile resort island. I sat with Jay during his break and talked with him about his long career in music which he says keeps him "engaged and enthusiastic about life." His bursts of c...
» Click here for the full story.
Taylor Knox
Posted On: 4/3/15
Written By: RandyJamz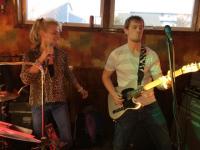 The first time I ever even heard the name was less than a year ago from Ray Perrone, who, at the time was with Old School OC Band. One of the things you'll notice with bands is that there always seems to be personnel changes going on for a myriad of reasons. An opening for a lead guitar player came about with Old School, when Mike Smith departed, and Ray said to me that he thought they found their new lead guitar player. I said who's that? He said, Taylor Knox. I said, who's that? And he commenced to give me all of Taylor's credentials right there. I said, whoa, I got to hear this guy. Ray has since left the band and formed another band called It's About Time with himself on drums, Ted Gelinas on bass and Dave Tarlecki on lead guitar and vocals. So, while he was still with Old School, Ray convinces me to come out and hear Taylor on lead guitar and vocals. Honestly, I thought to myself that any lead guitar player, 25...
» Click here for the full story.
LAUREN GLICK & MELISSA ALESI
Posted On: 3/13/15
Written By: RandyJamz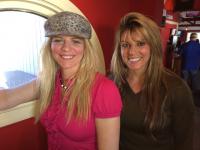 Can you believe it, St. Paddy's Day celebrations are upon us, the winter and Godforsaken snow is behind us and we face the onset of another great summer at the beach. One thing that has remained consistent throughout the winter months are the music venues. There may not be as many venues open but, the locals have been getting out and supporting those bars and restaurants that have chosen to stay open through the winter, especially the ones that have live music. The Crab Cake Factory has been bursting at the seems with customers for a variety of reasons, not the least of which has been their decision to keep the music playing. This past Sunday, Mary and I stopped in specifically to see a newly formed duo known as Lauren Glick and Melissa Alessi. I know both of these musicians personally but, I have been curious to hear them live since recently forming up their new band. When we walked in, the very first thing I noticed...
» Click here for the full story.
View All Archives
RSS Feed