Meet the Band - Articles
SUMMER SEASON WRAP-UP
Posted On: 9/13/19
Written By: Vincent Paez
With the passing of the Labor Day weekend, the 2019 Summer Season came to an end. There is still, however, a lot of good fun to be had in September. The weather is still warm and sunny, the ocean temperature is at its warmest, Sunfest awaits, and many outdoor bars and restaurants still cater to the alfresco lovers. The musicians can now find some time to take care of personal business and enjoy this beautiful resort town. They spend endless hours from January to April running from tiki bars to restaurants to hotels in order to book their gigs for June through September, knowing that they make most of their money in the summer. The musician's goal is to stay as busy as possible during the summer, when bar managers want live music, and fun-loving tourists plow green notes into their tip jars. Equally important, summertime has the special ability to offer up fun-loving crowds that are totally engaged with the performer. This kind of crowd is nourishment for the performer, who needs and cr...
» Click here for the full story.
JOHN HEINZ
Posted On: 9/6/19
Written By: Vincent Paez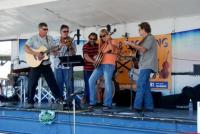 John Heinz, fiddler, is a busy man. This week, he will leave his home in the morning for his job as Senior Telemetry Technician at NASA on Wallops Island, and, on the weekend, he will go to Chincoteague to work on a music project with Chris Daughtry, country singer and former contestant on American Idol. Last weekend, he played with Pearl (Michael Smith, Rita Conestabile, and Jay Stinemire) at the Carousel. His plate is full, but he still makes time for the love of his life and wife, Madelyn. His love for music and playing the fiddle drive him to burn the candle at both ends. Actually, this drive is genetic. He gets it from his father Jerome Hines, who relentlessly kept busy. When Jerome Heinz was sixteen years old, he joined a glee club in Los Angeles and was dismissed for lack of talent. He then studied chemistry and mathematics at UCLA and wrote many publications on the subjects. Jerome also took vocal lessons. Due to the Second World War image of Germans, he changed the spelling of...
» Click here for the full story.
BILLIE CARLINS
Posted On: 8/30/19
Written By: Vincent Paez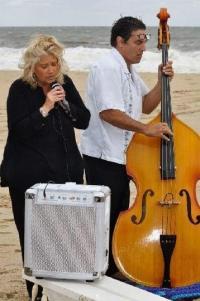 In the early 1900's, a Christian Romani Gypsy family immigrated to the USA from Romania. The father and mother had many children and were very poor. The family grew up in the USA with the love of music, as most Gypsy families did. One of the sons was so poor, even as he grew older, that he "saved some food after a meal in his moustache, so that he would have some for later." This young man was quite smart and grew up to work hard and marry an American girl. He played music nightly, and they had a daughter, who they named Billie. Billie grew up around love for the Lord, passion, happiness and lots and lots of music. Music was played almost every day at home, so rhythm and musical structure is nothing new to Billie Carlins. I have known Billie for several years, as she is married to Leo Carlins, the bass player for Randy Lee Ashcraft and the Salt Water Cowboys. I caught up with her on the phone recently, so that I could get her back story.Vincent: "Billie, if you could tell me several wo...
» Click here for the full story.
View All Archives
|
Click to add RSS Feed