Meet the Band - Articles
Michael Smith
Posted On: 5/24/19
Written By: Vincent Paez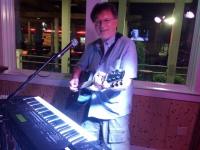 Thank you for clicking and finding another edition of Meet the Band. This week's edition features Michael Smith, who has been a regular entertainer in Ocean City for many years and one of the most interesting musicians in the resort city. Michael and his wife Patricia got their start in the bar scene by owning a restaurant in Baltimore called The Canton Café. During the three years that they owned this establishment, First Lady Hillary Clinton organized a town hall meeting and decided to have it at the Canton Café, so Michael and Patricia suddenly were thrown into a situation of dealing with the press, the Secret Service and a lot of attention. After the Canton Café, the couple decided to move to the beach and invested in the dining facilities at the Cripple Creek Country Club in Dagsboro, Del. They owned and managed that facility for more than three years. After that chapter of their life, Patricia became the Group Sales Manager at the Castle in the Sand Hotel ...
» Click here for the full story.
LAUREN GLICK
Posted On: 5/17/19
Written By: Vincent Paez
Lauren Glick is a staple in Ocean City. Her name is recognizable by so many visitors who come on vacation from Pittsburgh, Philly, Baltimore and Washington D.C. Lauren studied at the Berklee College of Music in Boston. After graduation, she returned home to Maryland and joined a band called The High Cost of Living. After years of performing in a variety of bands such as Chameleon, Platform Clique, The Mood Swingers and more, she decided to go to nursing school and graduated with a nursing degree. She says that the traits of a nurse are similar to those of a musician. She says that nurses care about their patients, and performers care about their audiences in a similar way. Her genre is along the lines of Led Zeppelin and Janis Joplin. Years ago, she formed the Lauren Glick Band, which has included great musicians, including guitarist Mike Armstrong, and drummer Bubba, both of whom passed away not too long ago. Despite these setbacks, Lauren continues moving forward. Some musicians are ...
» Click here for the full story.
OTTO GRUNDMAN
Posted On: 5/10/19
Written By: Vincent Paez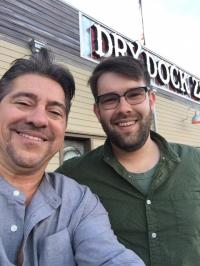 Welcome back to Meet the Band! In this edition, I have the honor of writing about a local up-and-coming artist, Otto Grundman. Otto grew up in Bishopville and attended Stephen Decatur High School. He started to play music in the school band in the fifth grade. One day, his father, also a guitarist, influenced him to become the talented guitarist, vocalist and song writer that he is today. Dad taught him to play his first song, "Crossroads" by Cream, giving him several days to learn it. When he came back to his dad a few hours later with a strong rendition of the song, Otto's father knew that he would go far with that instrument. Otto's interest in music led to continuing to play in the school band and also with friends in rock bands. He has recorded a solo album, called Perpetual Motion, which includes eight of his original songs. His genre is akin to that of a mixture of The Grateful Dead, Allman Brothers, Hot Tuna, The Band and Eric Clapton. This means upbea...
» Click here for the full story.
View All Archives
RSS Feed