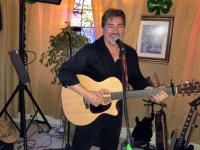 Meet The Band author & musician Vincent Paez, solo here, also plays with Old School.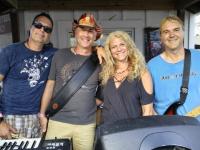 The Lauren Glick Band - Mike, Ted, Lauren & Dave - sometimes Lauren & Dave Duo.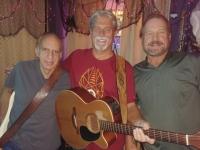 Jack Worthington is often accompanied by Eddie on bass & Mickey on harp.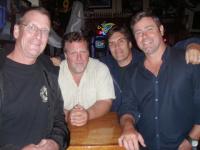 Kenny, Jimmy, Leo & Randy - Randy Lee and the Salt Water Cowboys.
Catch Thin Ice - Paul, Crystal, Dave, Kelly & Jay - playing often at BJ's.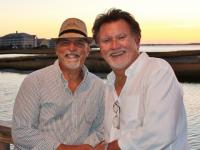 Jay & Michael are Reform School - weekly hosts of Open Mic at Bourbon St.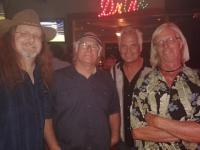 You can hear Tranzfusion - Al, Bob, Bobby & Hank - playing once a month at BJ's; this weekend at Coins.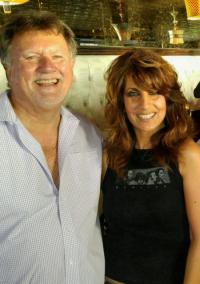 Hear Michael & Rita of Pearl tonight at Johnny's; Saturday w/ Reform School Band at BJ's.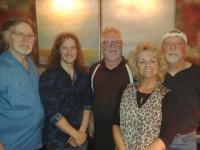 Old School w/ Erve, Taylor, Linda, Don & Gerry play the first Wednesday of every month at BJ's; Sunday at Coconuts w/ Vincent on guitar.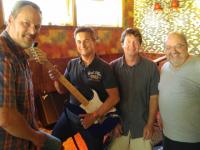 Identity Crisis - Keith, Charlie, Jay & Ray - play often at BJ's; at M.R. Ducks Sunday.
With the passing of the Labor Day weekend, the 2019 Summer Season came to an end. There is still, however, a lot of good fun to be had in September. The weather is still warm and sunny, the ocean temperature is at its warmest, Sunfest awaits, and many outdoor bars and restaurants still cater to the alfresco lovers. The musicians can now find some time to take care of personal business and enjoy this beautiful resort town. They spend endless hours from January to April running from tiki bars to restaurants to hotels in order to book their gigs for June through September, knowing that they make most of their money in the summer. The musician's goal is to stay as busy as possible during the summer, when bar managers want live music, and fun-loving tourists plow green notes into their tip jars. Equally important, summertime has the special ability to offer up fun-loving crowds that are totally engaged with the performer. This kind of crowd is nourishment for the performer, who needs and craves the attention, as it is a sign of solidarity with that person on stage, which can be a very lonely place without the audience feedback.

I have experienced that stage from both sides this summer. Mother Nature provided us with great weather, great crowds, and fine performances by a plethora of talented artists. I'd like to share with you my musical memories of the summer of 2019 as a listener. Let's start with beachside venues. Bourbon Street on the Beach has become a small Mecca for music over the last few years.  It is surprising, because one does not expect to find Cajun cooking of such high quality in a Mid-Atlantic resort town. One also does not expect to find the quality of music in such a small place from performers such as Rusty Foulke from Hybrid Ice. Wednesday open mic night became all the rage, when guest musicians, such as Paul Pesco, and others from a number of top national bands showed up to play with hosts Michael Smith & Jay Stinemire of Reform School. Other evenings, Bourbon Street is filled with fans of Jack Worthington, Lennon LaRicci & The Leftovers, Randy Lee Ashcraft & Jimmy Rowbottom, me, and so many other local bands. There were even sightings there of Rodney Kelly, blues and jazz performer from Baltimore.

Coconuts Beach Bar & Grill at the Castle in the Sand Hotel has been a top beach party bar for years. Once again, it hosted great local bands and new-comers to Ocean City, like Chris Diller, who hails from Baltimore and plays guitar, while simultaneously playing the drums with his feet! He has a fantastic country-style voice and catchy originals. Regular favorites such as Joe Smooth & Bob Wilkinson, Kevin Poole, Joe Mama, Chris Button, Monkee Paw, Darin Engh and many others were among the great lineup of two acts per day. The Lauren Glick Band and Old School led many of the Sunday parties, a few left into October, and I'll be playing with Old School this Sunday.  

Other beach-side locations offered gorgeous weather and wonderful music in locations such as The Caribbean Pool Bar with Dave Sherman and One Night Stand. The Jungle Bar at The Plaza solidified its place on the musical map this summer as it became one of the venues to see The Lauren Glick-Dave Tarlecki duo and 33 RPM, among others. The Carousel offered weekly music by Randy Jamz, Jack Worthington, Dave Sherman, and Pearl (Michael & Rita). Lenny's Beach Bar  and Grill (at The Clarion) had daily music on the beach and The Dunes Manor also offered great talent this year. Cowboy Coast gained in popularity this year as it hosted several popular country bands including the Marshall Tucker Band, a favorite for southern rock lovers from the '70s.

In June, Ocean City played host to the Jellyfish Festival on the Beach, where crowds enjoyed local bands such as The Lauren Glick Band, Monkee Paw, Phantom Limbs and Full Circle, and world-famous bands like Styx.

If you crossed the street to the bay side this summer, you could find endless talent at Seacrets with such groups as The Jim Long Band and Full Circle, and at Ropewalk with Monkee Paw and at The Skye Bar with Lennon and The Leftovers. M.R. Ducks was one of the best bayside joints to see Identity Crisis, Tranzfusion, Poole and the Gang and Johnny Bling.  New venues, such as The Aloft Hotel and The Marriott Residence Inn, hired groups such as Pearl and Randy Jamz. Fager's Island has proven once again to be a strong bay-side contributor to local standard bands such as Tranzfusion and Kevin Poole, as well as new blood, like Josh Christina, a reincarnation of Jerry Lee Lewis, who has successfully played and recorded in Nashville.
Open mic jams on the bay side demonstrated that there is talent coming out of the woodwork in OC. Randy Lee Ashcraft and Jimmy Rowbottom hosted their Open Jam on Wednesdays at Johnny's Pizza (still going strong), and Chris Button hosted an open jam at the Crabcake Factory on Route 54. All were well attended. In fact, The Crabcake Factory locations were favorite weekend destinations for bloody mary's and energizing music by folks like Chris Button, Otto Grundman, and the Lauren Glick-Melissa Alessi duo.

Drydock 28 was officially one of the cool places to go for live music, as proven by Otto Grundman and Muskrat Lightning, who filled the dancefloor with dead heads and lovers of band jams. And great bands like 33 RPM rocked the house at Beach Barrels, Bourbon Street and High Stakes.

BJ's on the Water on Wednesdays and weekends provided a fist-pumping party atmosphere accompanied by great food (I loved the stuffed flounder!). Solid traditional bands such as Old School, Thin Ice, Chest Pains, Full Circle, Lennon La Ricci and the Leftovers, Tranzfusion, Identity Crisis, and many others played there. There seemed to be no end to the evening fun at BJ's; and it continues through the winter!

In West OC, The Harborside was easy to count on for original orange crushes and great weekend music by Chris Button, Side Project, and Opposite Directions. Close by, The Sunset Grille hosted tribute bands on Tuesdays and Jim Long on Sundays, and places like Micky Fins and Trader Lee's hosted beloved local bands. Unfortunately, Mad Fish with its small deck stage surprisingly went up in flames. The Southgate Grill presented The Billy Carlins Band (there this Saturday) with sounds of blues, jazz and beyond.

In Selbyville, The Freeman Stage once again amazed crowds with well-known talent such as Diana Ross, The Beach Boys, Lyle Lovett, and Brian Setzer of the Stray Cats, as well as lesser-known talent like The Mavericks, who tore the house down with their latino flavor of music.

It seems that there was no shortage of live music on any given day this summer. This was just a small taste of the cornucopia of music that is Ocean City. We are all grateful for the memories, the fun, and the revenue that visitors bring to our town, and we do look forward to the summer of 2020. And now, we can all let out a sigh of "Whew…" and look back at an energetic, fun-filled summertime for the memories. The locals can now have their town back, and we musicians can relax a little and get to see each other again. Thank you for supporting local musicians and for reading Meet the Band. I hope I have entertained you with my interviews. God Bless. Vincent


«Go back to the previous page.