The Unity Tour - 311 w/ New Politics
Posted On: 7/21/17
Written By: Melissa Golden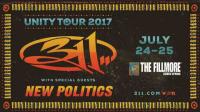 Are you "Down"... with 311! "Know that we have always been down, down..." And we are very excited to announce that The Unity Tour with 311 and New Politics is coming to the Fillmore in Silver Spring, MD on Mon. July 24th and Tues. July 25. 311 have crossed yet another milestone in their 27-year career. The group's brand new album MOSAIC, released June 23rd via BMG and has debuted at #6 on the Billboard Top 200 Albums Chart which marks the multi-platinum group's 10th consecutive Top 10 Album on the chart. Of 311's 10 charting albums, five have debuted at #6 or higher on the chart. In support of MOSAIC, 311--singer/guitarist Nick Hexum, singer/DJ S.A. Martinez, drummer Chad Sexton, bassist P-Nut and guitarist Tim Mahoney--are currently in the midst of their extensive headlining tour of North America for the 18th summer in a row. Their Unity Tour has become one of the most anticipated concerts of the summe...
» Click here for the full story.
Dreamers
Posted On: 3/17/17
Written By: Melissa Golden
I am super excited to introduce our readers to a brand spanking new indie pop band called Dreamers. The three piece originally formed in Brooklyn but have now made their way out to LA and they have been having one very busy, incredible and important year. They toured all last summer opening for bands such as Great Good Fine OK, The Mowglis and Walk the Moon and have made appearances at several festivals such as Lollapalooza, despite the fact that they had only released one short, four-song EP in 2014, simply titled E.P. Their debut album, This Album Does Not Exist, was released on Aug. 26, 2016, and features their hit single "Sweet Disaster." The single was released earlier in June and has been climbing the alternative charts all year. It peaked at number four on AltNations Top 18, was at number 16 on iTunes Alternative charts and reached number 19 on Billboards Alternative chart. The song has a very catchy beat and grungy ...
» Click here for the full story.
Dead Leaf Echo at Philly's Ortleib's Lounge
Posted On: 2/17/17
Written By: Melissa Golden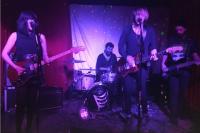 Hello Coco fans! Hope everyone has been staying warm with lots of great music! I certainly have been trying to and am finally ready to share one of my last adventures with you all! On December 3rd I headed up to Philly, city that I love, in search of a little dive bar called Ortleib's Lounge. My mission, to check out a shoegaze band, Dead Leaf Echo, fronted by a fellow Stephen Decatur grad! He is officially listed on their facebook page simply as Lg: Guitar, Vox, Keys; however, I know him as Lloyd Galyon (AKA Pancho). Pancho was the goofy kid who sat next to me in Spanish class and kept us all entertained, making us laugh in between congregating verbs and learning how to ask to use the bathroom in Spanish, "Pueblo ir al baño?" (the only way we were allowed to go)! So, since I grew up and became a concert photo journalist and Lloyd Galyon grew up and became a...
» Click here for the full story.
View All Archives
|
Click to add RSS Feed