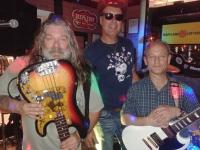 Hear 33 RPM play Saturday at the beautiful Coconuts Beach Bar & Grill.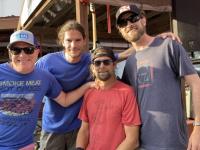 Catch the versatile and talented Dunehounds Tuesday at Coconuts Beach Bar & Grill.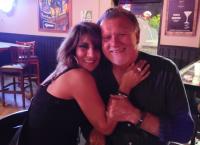 Rita & Michael are Pearl playing at The Angler Saturday and Fast Eddie's Sunday.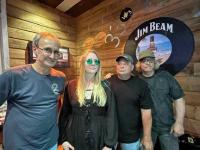 Party with the Lime Green Band Friday at Mother's Cantina (north), Sunridge Pool Bar Saturday, and 38 Degrees Sunday.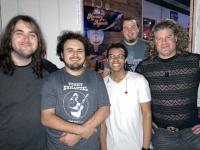 The Mercury Agenda will play a double header Saturday beginning at the Caribbean Pool Bar and then on to Fast Eddie's; and again at the Caribbean Pool Bar Tuesday.
De Plane!  De Plane!  They're roaring overhead impressing spectators as they have every year in June.  Soaring, plummeting, whirling, twirling and dazzling with unbelievable and heart-stopping synchronization aside each other.  Undoubtedly one of the biggest events of the year for Ocean City, perhaps there is more interest than ever from fans of the newly released "Top Gun Maverick".  These seemingly fearless pilots are astounding.  For all that fascination with planes, I would still prefer to hear music and we certainly have a huge helping of that in our fair town; making the choice of where to go that much harder.  While I would love to go to Coconuts Beach Bar & Grill Saturday to hear 33 RPM, I'm leery of getting into grid-locked traffic as I did a few years ago; so I'll probably avoid OC this weekend; let our visitors have fun.  After all, I did get the 33 RPM experience last Saturday at Fast Eddie's.  It was a fun-filled night of exciting music and good friends. Take a look at the photos from the night in Fun Fotos.  I may venture out late on Saturday night to catch The Mercury Agenda at Fast Eddie's.  This band has also become one of my favorites.  

I'm kinda diggin' the earlier times at many venues because now I can hit places with cut-off times of 10 or 11 and have time to get downtown to The Purple Moose where bands don't even start until 10; that's right, and they play 'til 2 am.  Being the night owl that I am (musician hours, I say), that suits me so well.  Strange how many beautiful days, like today as I'm writing, that I stick to the comfort of my home and don't go out 'til after dark.  I'm not a vampire, I promise. Hey, did you make it out to the Jellyfish Festival?  It was such a shame that Sunday's activities were called off due to high winds.  I know my friend Lauren Glick was so disappointed to not be able to share her new music with all of you; but here's what you do.  Go to her site, laurenglicksings.com, to buy her new release of nine great songs called Lush; and go to her facebook page to see what she did instead of Jellyfish.  Drummer Bobby Malaby (Tranzfusion) offered his beautiful back yard where they set up and filmed the performance they had prepared for the festival.  You must take a look; it is very, very good.  Where certain songs have been submitted to and played by Lucky 7 HD Radio Mix 96  FM WLUC, they will now have this new CD to share all her new songs with the listening public nationwide.  So exciting!  

I mentioned last week, I think, that Michael Smith's Pearl partner, Rita Conestabile would be coming back for the summer and she's here!  You can hear these two talented people Saturday at The Angler and Sunday at Fast Eddie's.  Michael Smith is one of the most talented musicians and entertainer on the planet, with a vast catalogue of music in his head and fingertips as he plays either keyboard or guitar.  I guess that diversity of musical knowledge can be attributed to his years of being the 'piano man' entertainer aboard luxury cruises.  He never knew what song might be requested so he learned to do it all.  Michael has been most fortunate to partner with one of the best singers anywhere, Jay Stinemire, who is also the drummer with Smith in Reform School.  What a musical bonus when he also met the lovely and talented singer, Rita, who is often with the group at Bourbon Street for Wednesday Open Mic.  It only followed that Rita and Michael should also begin to perform as a duo called Pearl.  So remember, when you see Pearl in music listings, you'll now know who they are.

Old School is also a good band that morphs into a duo or trio as the venue prefers.  Linda Sears and Vincent Paez (guitar) often play as a duo in such places as the Cambria or Crabcake Factory, while they add bassist Erve Cassell to play as a trio at the Boozy Egg.  Frank Hill is the new drummer who makes up the full band which you can hear the first Wednesday of every month at Fast Eddie's.  It's always a good time when this group gets together playing so many favorite songs and sharing their positive energy with us.  Check the Who's Where When for all their dates (remember you can click arrow on right to see upcoming weeks).

I mentioned The Purple Moose earlier but didn't tell you who's playing - it's SLAMM!  All the bands who come to The Purple Moose are excellent but this is one of my favorites.  Come out and join the party.  It's a great place to dance and not just on weekends.  Dance parties are happening most every night with DJ Adam Dutch, DJ Rut or DJ Papi Roisterous.  Celebrating their 50th year as the "Home of Rock n' Roll" in Ocean City, The Purple Moose is located right on the Boardwalk between Caroline and Talbot streets.  Come join me for a cold cocktail, some of the best music around and a party that goes on 'til 2 am!

Check out your many choices to keep you entertained in Who's Where When and please remember to always Party Safe!



«Go back to the previous page.