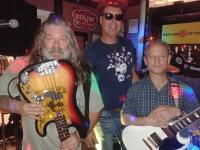 Join the Saturday party at Fast Eddie's with 33 RPM.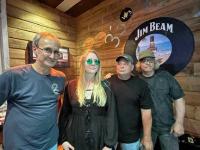 The Lime Green Band will perform Friday at Southgate Grill, Saturday at Pier 23, and Thursday at Coconuts Beach Bar & Grill.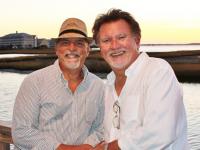 Hear Reform School Friday at The Angler, Saturday at Sun Outdoors and Sunday at 38 Degrees.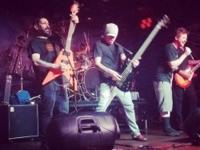 Doc Marten & The Flannels will rock the Purple Moose Friday & Saturday.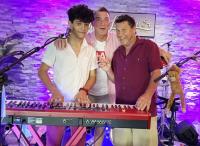 Have fun with Lennon & The Leftovers Friday at Nick's House of Ribs and Saturday at the Boozy Egg.
Monkee Paw will rock Coconuts Beach Bar & Grill Sunday.
COCO NIGHTS 060322

What an amazing Memorial Day Weekend we had here in Ocean City. Venues all around town were super busy with record-breaking crowds. Nowhere was this more evident than at Coconuts Beach Bar & Grill where lines stretched down the block waiting to enter this dune-side oasis of music and fun. I saw this for myself as I braved the crowd hoping to find a seat with friends - and I did! You'll see a few pictures in Fun Fotos of my friends who were there celebrating a shared birthday. Even though I couldn't see them, I could certainly hear and appreciate the music of Colossal Fossil Sauce. What a beautiful day it was. I returned there today to hear one of my all-time favorites, The Chest Pains, and met with another full house as the Castle in the Sand is throwing their annual Ravens party. Fans from near and far visit this weekend to share their love of the team and discuss the merits of new team members picked up in this year's draft. We all hope for a great season for the Ravens. You can join in the fun, too. If you have trouble finding parking, remember you can park across Coastal Highway in the municipal parking lot in front of the convention center. Start your weekend off with the impressive guitar of Darin Engh, every Friday at noon. Whisky Train will have the crowd rockin' at 4 pm and remember, Coconuts still offers their 2-4-1 drink special at 5 pm every day. This week's Sunday Funday party will feature the music of Monkee Paw. I love Adam and Mike's song selections, great guitar work and vocal harmonies. It's always a party at Coconuts Beach Bar & Grill.

The Jellyfish Festival is happening as I write this. I'm hoping for all involved that this crazy weather cooperates. Wish I could go but it's too difficult for me; if you know me, you know I have bad hips and knees. Saturday night I would love to see Jimmy Charles and his band on a big stage. If you haven't heard him yet, I can tell you he's terrific. His original songs are so sincere and heartfelt that you're bound to relate. And the covers they play are upbeat and fun. While Jimmy is a home-grown artist, he now resides in and tours from Nashville; but that doesn't mean he's strictly country. I think his music defies existing genres. Go hear him and you'll see what I mean. Sunday at noon our own songbird/writer and recording artist Lauren Glick will perform her latest originals with a full band. Her new CD, Lush, just dropped today including such titles as "Love And Peace," "Don't Let The Rain In," "Don't Add Up," "Permanent" and "Little White Lies." Several of her songs, such as "Living In Pain," are being played on Lucky 7 HD Radio/Mix98 FM WLUC. Go hear Lauren Glick so you can say later, "I heard her before she became famous." You can find her performance schedule at laurensings.com

One of my favorite places on the planet has been in high gear with great bands over last weekend and will continue this Friday and Saturday nights with Doc Marten & The Flannels. I'm talking about the world-renowned Purple Moose, of course. Take a look at their ad under View Advertisers or check out the Who's Where When list and you'll see that DJ Adam Dutch is leading the party on Sunday, Tuesday and Thursday, as well as his Saturday afternoon shows. DJ Papi Roisterous spins tunes for Wicked Wednesdays. You can enjoy great music and delicious cold beverages every day of the week; and the bartenders are the greatest. An award-winning Bloody Mary on Saturday afternoon is just what the doctor ordered after a fun-filled Friday night. So hit the world-famous Ocean City Boardwalk and join the fun; between Talbot & Caroline streets.

More music news: Reform School (Michael Smith & Jay Stinemire) has just added a performance date today, Friday, at The Angler. Saturday you can hear them at the cool bayside venue that was Castaways but is now renamed Sun Outdoors. Sunday you can find them at 38 Degrees and Thursday they will be at Bear Trap Dunes. And, of course, Michael and Jay continue to host the most popular Open Mic around at Bourbon Street every Wednesday. Michael is multi-talented playing guitar, keyboards and singing. Drummer Jay has an amazing voice, one of the best I've ever heard. You'll enjoy their music at 6pm before they open up the stage to anyone who wants to share their talent.

There's a new Open Mic starting up every Tuesday at Fast Eddie's hosted by Ray Perrone, the drummer with Identity Crisis. I'm excited to have a new open stage for talented people who are trying to find jobs or just want to share their talents with us. Looking forward to hearing 33 RPM at Fast Eddie's on Saturday night. Again, so much going on there; check the Who's Where When.

Our friends in Lime Green have a busy schedule, too, this week with Southgate Grill tonight, the new Pier 23 in West OC on Saturday and Coconuts Beach Bar & Grill on Thursday. You can view their schedule in the ad or on Who's Where When. Speaking of good voices, Angeline Leach has one of the best in the business. Check 'em out.

That's gotta be all for this week. Rain, rain stay away. Have fun but always party safe.
«Go back to the previous page.