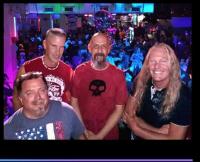 Surreal will play Friday & Saturday nights at the Purple Moose.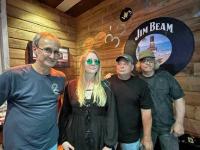 The Lime Green Band is slated to perform Friday at Mother's Cantina; Saturday at Coconuts Beach Bar & Grill.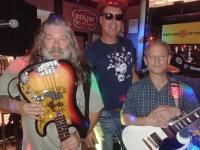 Party with 33 RPM Saturday at Bourbon Street on the Beach.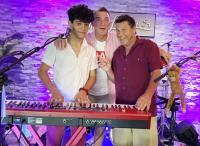 Lennon & The Leftovers will be busy this weekend playing the Boozy Egg Friday, the Cork Bar Saturday and Golden Sands Sunday.
Hi, all. Are you enjoying the beautiful classic cars roaring up and down Coastal Highway? Sure wish I still had my 1969 Candy-apple red Ford Mustang; I'd be tooling the drag myself. That's what we called it in Virginia Beach. Those were the days. But you know what? These days are pretty great too, even though I'm not getting around as well as I use to. I made sure I was on hand last Saturday to join the folks, both staff and loyal patrons, at The World Famous Purple Moose to celebrate 50 years of featuring the best rock 'n roll right on our famous Boardwalk. We also gathered to pay tribute to Papa Moose, Gary Walker, who passed into that ultimate rock venue in the hereafter. Yes, we still miss him; so it was a little bittersweet. Long-time head bartender Bobby Taylor is now the proud owner; but he's too young to carry off the 'Papa' moniker - just call him Bobby. We can depend on him to continue bringing us some of the finest rock bands in the region; and the parties are classic, too, going to 2 am. This weekend we welcome back one of our very favorite bands, '80s long-hair band Surreal. I've written many times about these four talented musicians. The amazing vocals of singer Walt Downey earned him the distinct recognition of being inducted into the prestigious  Maryland Entertainment Hall of Fame in 2017. Most excellent guitarist Brian is the only player to still have long hair to flip around; but you don't even notice that Will has that more modern look as his stage presence while playing bass is still just as crazy energetic as ever. The most recent to join the group is Chris on drums who has fit right in. You can hear them Friday and Saturday nights. I guarantee that if you hear them Friday, you'll go back for more.
It's been like a Jimmy Charles festival around here this past week. This busy singer/songwriter has played nearly every day he's been in town; his hometown, I might add. We had a great time a week ago Thursday, then again on Saturday at Bourbon Street. He played at Harpoon Hanna's, then back to Bourbon St. for their first deck party on Wednesday; and I heard him again last night, Thursday, at Fast Eddie's with Fil Rhythm playing some cool guitar leads. It was dubbed his single release party as his latest song, "It's A Maryland Thing, You Wouldn't Understand," dropped at midnight. So you can hear it now on any of your favorite music apps. More exciting news about this single: not only is it following the "1812 Overture" every sunset at Fager's Island; but it will now be heard during every Oriole's baseball game at Camden Yards. Now that's pretty cool. Jimmy Charles has an incredible list of awards to his credit (as listed on his website): "Male Country Artist of the Year" + Song of the Year "Never Had a Bad Day" (Nashville Industry Music Awards); 2019 TOYA Award; American Idol Contestant (Season 9); Nashville Star Top 50; Country Artist of the Year Finalist (2018 Maryland Music Awards); Outstanding Tennessean of the Year (2017); CMT Featured "Superman" Video; National Spokesman for Zero Cancer; Virgin Islands Festival Headliner(5,000+ Attendance); and National Exposure & Music Row Charting of "Bout Summertime" Video. Clearly he has worked hard over the years and continues to write excellent songs with lyrics straight from the heart of this amazing man. If success were only measured in terms of love, I have to say, from one of his many fans, that he is the most successful person on the planet. Wishing you continued good times, Jimmy Charles. Be sure to get your Jellyfish Festival tickets now to hear Jimmy and his awesome band play on June 4. Rumor has it young Gavin Hades will be joining him onstage for a few songs. And Fil and Joe Smooth will be there too.
You've heard me go on a few times about the seemingly endless work going on in my house to repair water damage from leaky windows and doors. Finally, my furniture has been returned along with boxes and boxes of belongings to put away; so I'm going to sign off now and get busy treasure hunting in my mountains of boxes. Hope you all have a great week and remember to always party safe!
«Go back to the previous page.