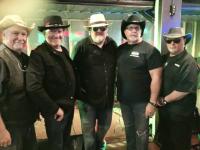 Great Train Robbery - Billy Weyforth, Fred Vanover, Aaron Fuller, Dave Capozzoli & Drew Sewell - rocked the "Yellowstone" party at Coastal Smokehouse.l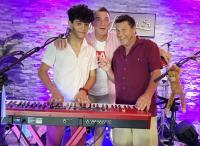 Lennon La Ricci & The Leftovers will play Friday at Fast Eddie's.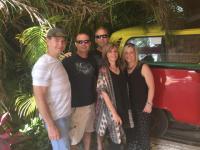 Catch the amazing Full Circle Saturday at Bourbon Street on the Beach.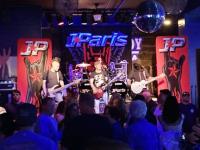 Rock out with JParis Friday & Saturday nights at The Purple Moose.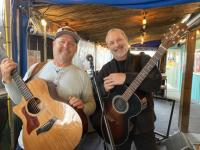 Opposite Directions, playing Sundays at Harborside, will host the "Pickup Pickin' Party" this week.
It's officially Spring! You know what that means - we're just a few weeks away from openings of all our favorite outdoor venues; such as Coconuts Beach Bar & Grill. And, btw, for those of you who have asked me if there's a connection between coconuttimes.com and the popular venue behind Castle in the Sand hotel, the answer is 'no'. I'm certainly there a lot because I love it and the great music there (two shows a day); but I am not an owner. While we wait for those openings, I'm here to tell you that West Ocean City proudly represented last week for a classic rock show from legendary group Great Train Robbery at Coastal Smokehouse. Yes, Coastal Smokehouse, at the corner of Rt. 50 and Keyser Point Road, hosted the band and declared it a Yellowstone (the popular TV series starring Kevin Costner) theme party. Partiers certainly got into the spirit donning cowboy hats, boots, vests, lots of plaid and swaggering attitudes as they danced the night away.

It has been quite some time since I wrote about this exciting band; so I decided to give Dave Capozzoli (bass man) a call for an update on the band and its members that I can share with you. The original Great Train Robbery got together in 1977 and was, at that time, a Blue Grass/Country Rock band. As an example of their music, Dave tells me one of their songs was a Blue Grass version of "Last Train To Clarksville,"  made famous by The Monkeys, that was written and first performed by Flat & Scruggs in the late '40s. Dave remembers he played his first gig with the band on Labor Day in 1980, at which time the band had moved into the Southern Rock genre. Through the years, players have come and gone; but since then, Dave has remained the constant of the group, managing and carrying on the legacy of Great Train Robbery. Keyboard player Billy Weyforth has been with the band on and off since the late '90s; and guitarist Fred Vanover has been with Dave since 2017. Rounding out the band are Aaron Fuller on vocals and Drew Sewell on drums. Anticipating a long run with this lineup, Dave tells me, "This new version of Great Train Robbery since 2020 has gelled very well." They certainly demonstrated that last week. We were all impressed and had a blast with them. The band is slated to return to venues such as Ocean Pines Yacht Club (May 6), Fager's Island (May 20 and for Bike Week in September) and Trayton Marina in North East Md. If you don't mind a little road trip to Port Penn, Del., you can hear them tomorrow night (Sat., March 26) at Gus's Crab Shack. For all the latest, visit greattrainrobbery.com Rock on West Ocean City!! Hope Coastal Smokehouse will have them back again.

We had a great time last week at Harborside, too, celebrating Laura's birthday and hearing music from the incomparable Opposite Directions. They have been filling the Sunday afternoon for many, many years now and continue to be a favorite, certainly with me. Darin Engh and Bobby Wilkinson, who are brothers-in-law, have been playing together for at least 30 years; not only are they most excellent musicians, but Darin plays the great straight man to Bobby's sometimes corny jokes. Sure keeps me laughing. On the last Sunday of every month, Darin brings in friends from the Blue Grass genre for Harborside's "Pickup Pickin' Party." That would be this Sunday, my friends, and Darin promised us the 'cream of the crop' coming to join him: banjo, fiddle, bass, mandolin & guitar. Count me in!

Another place in West OC that is drawing music lovers is Pizza Tugos on the corner of routes 50 and 611. They have been bringing in groups such as Lower Case Blues, Rogue Citizens, Sock Puppets and Trailer Park Romeo. I heard Pete Bozick Variant last time they were there and was impressed with the trio that included keyboard master Jamaar Oney who used a large cabinet classic Leslie speaker (look it up), and drummer Dave Gladding. I would like to interview these guys and tell you more about them. For now, Pete tells me that their next show there will feature Johnny Sybert on bass and Dave on drums. Upcoming bands for Friday live music night at Pizza Tugos are:  Rogue Citizens tonight (March 25), Mercury Agenda 4/1, Sock Puppets 4/8, Trailer Park Romeo 4/15, Pete Bozick Variant 4/22 and Drew Cooke Project 4/29. In addition to live bands, Pizza Tugos and DJ Chuck D host Karaoke Night every Wednesday where everyone is invited to play the star. Last week I heard some great performances by Megan, Zander, Jamal and Chuck D himself.  I took a turn singing myself as did friends Lori, Laura & Kim. What a blast!  Come on over to the West Side and check out live music.

There are so many choices for excellent entertainnent that it's often hard to choose where to go: Harpoon Hanna's, Beach Barrels, Bourbon Street on the Beach, Fast Eddie's, Clarion's Ocean Club, Fager's Island, Seacrets, The Purple Moose, Crawl Street Tavern, just to name a few. I'm planning on hearing Lennon La Ricci and The Leftovers (Ricky & Mike) at Fast Eddie's tonight; and Full Circle at Bourbon St. Saturday night. Yeah, I don't hit three or four venues a night as I use to; I'm enjoying hearing the full show when I go out now. So maybe I'll see you at one of these venues or maybe I'll share reports and/or photos from my photographer peeps from venues they visit.

Til next week, go out and have some fun but remember to always party safe!
«Go back to the previous page.