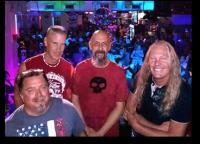 Surreal will rock the house Friday-Saturday at The Purple Moose.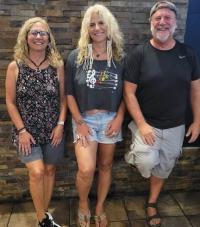 Lauren Glick (center) will play Friday, solo, at House of Sauce for CD LUSH drop party; Sunday at Bourbon St. w/ Kelly & Steve.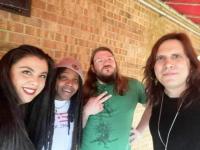 Tonight's Crush will perform Sunday at Coconuts Beach Bar & Grill.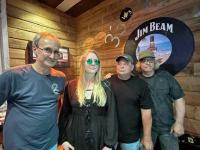 The Lime Green Band will play Tuesday at Coconuts Beach Bar & Grill.
Can you hear them?  Part of the Spring sounds of Ocean City: it's Cruisers Weekend.  Unlike H2O cars, these cars are really something to see and their owners are so proud of them that they would never risk an accident just to burn a little rubber.  Guess this is sounding like I'm on a soapbox and I guess I am a little.  Maybe it's because I was a youngster when many of these cars were new on the road and I just love them.  As much as I'm sure my dad wanted a sporty Chevy, though, being a family man we had a Chevy station wagon with the wing-back fenders.  Great memories going to the drive-in theater in my pajamas in the back of that cool car.  I hope you're all enjoying this weekend.

Last weekend, Mother's Day actually, I had the opportunity to visit two of our newer venues: Saltwater 75 and Pier 23.  While nothing will ever replace our beloved BJ's on the Water, I suppose we just have to look at this as a new construction and new place to dine and enjoy good music.  Outside the huge dining room, you'll find a bayside sandy area with tables, palm trees, a satellite bar and a stage for bands.  I'm happy to report the Osprey nest is still a treasured focal point for the gorgeous view across the bay.  The Mercury Agenda provided the sounds on this day.  Singer Doug was joined by Chris on guitar and David on bass (who usually is at the drums) to form a trio that is every bit as good as the full band.  Tonight, Friday, you can hear No More Whiskey. Coincidentally, this is the band that I heard last Sunday at Pier 23.

Pier 23 is an experiment as West Ocean City's first waterfront container food port, on the commercial fishing harbor (right next to Harborside), built almost entirely out of renovated shipping containers.  Now, I took this wording right out of their website description and I've been curious about this since last year.  I had been told that tables would be scattered in the sand, so I was reluctant to chance navigating with my cane.  But there are concrete walkways and I was able to get a table right next to one, so it worked out well for me.  There is an indoor bar area, too, and a 'crow's nest' seating area overlooking the harbor where commercial and recreational boats can be seen.  The menu is extensive and my food was superb: Ahi Tuna served over a whole avocado with corn and beans and a delicious sauce.  I highly recommend this.  On this lovely Mother's Day, music from the big stage was the duo No More Whiskey.  Most of us are familiar with the percussion sounds from RyMac (congas, beat box, harmonica and vocals) as he has played for years with partner B-Rad as Colossal Fossil Sauce.  His partner in this duo is Bryan Dorsey on guitar and vocals, who you may recognize from his days with Crack The Sky.  I thoroughly enjoyed their performance and song choices, which made it very hard to leave while they were still playing, but it got really chilly.  This weekend, stop by for Shortcut Sunny on Friday, Rick & Regina on Saturday and the return of RyMac on Sunday with his partner on guitar, local musician AJ Fox, who plays with the West King String Band out of Nashville.

This weekend The Purple Moose welcomes back one of our all-time favorites, Surreal.  I can never say enough about the amazing talent of these four players: Brian (guitar/vocals), Walt (amazing vocals and guitar), Will (bass/vocals) and Chris (drums).  They were always dubbed one of the greatest long-hair bands in our region, though only one, Brian, still has the long hair - and it's still beautiful, too.  Now, that description is more about the music of the '80s that they play, from big anthem bands to scorchng rock bands as well.  Get there early and enjoy their world-famous Bloody Mary and get a good seat for the show.

Coconuts Beach Bar & Grill will be humming with activity, as it is right now with perennial favorite Darin Engh (half of the duo Opposite Directions) and later with Beg to Differ, and Monkee Paw on Saturday. To see their complete and extensive lineup, go to Who's Where When.  By the way, I'm still working on a tribute to Joe Smooth who played there every Monday, either with Bob Wilkinson or John Remy.  It's bittersweet for John, of course, but he will still be found there on Mondays with new partner Gene Lyons.  Head on over and show him some love and support.

We are so proud of our hometown singer/songwriter Lauren Glick who will be performing songs from her CD LUSH tonight at house of Sauce in the Village of Fenwick.  Under the promotion of Spectra Records, the album has dropped today and is available on all music platforms.  Come join us tonight (5p) as we celebrate this great accomplishment and well-deserved success of the one and only Lauren Glick.

There is so much talent and so many wonderful places to visit in our fabulous Ocean City.  No matter where you go or what you do, remember to always party safe, smile and lead with love and kindness.
«Go back to the previous page.