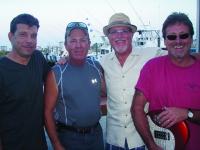 BJ's presents Bird Dog & The Road Kings Saturday.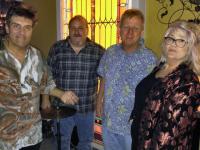 The Billie Carlins Band will appear Saturday at Adolfo's.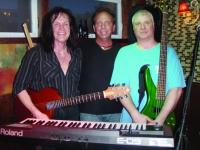 2 Guyz & a Mama will play Wednesday at BJ's.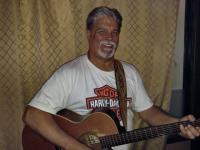 It's a Sunday party at Bourbon St. with Jack Worthington.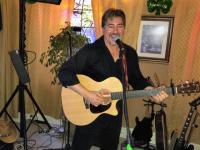 Vincent Paez will play Saturday at Johnny's Pizza Pub.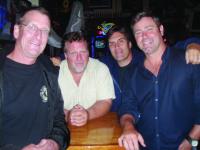 Randy Lee Ashcraft & the Salt Water Cowboys will play at Barn 34 Friday.
Kevin Poole w/ Joe Mama will perform Friday at Johnny's Pizza Pub.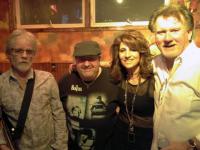 Michael Smith w/ It's About Time will play at High Stakes Friday.
Hi, folks, Did ya miss me? Well, I'm just going to tell myself that you did 'cause I'm ready to reopen our lines of communication. This crazy weather has had me cooped up for a few days. Yeah, can you believe I even missed my Wednesday night outings the last two weeks?! On medication so I've been trying to rest up. So I ventured out tonight to my neighborhood musical venue and heard Darin Engh playing at Harborside. That always perks me up. Darin & Bob as Opposite Directions play every Thursday there, as most of you already know.
The music never stops in Ocean City. Every time I think of going somewhere for a mini vacation, I think of what I'll miss here and I just don't go. Take this weekend, for example. If I go away, I'll miss Over Time on Friday and Bird Dog & The Road Kings on Saturday at BJ's. It's really a special treat when Bird Dog brings the boys to play at BJ's. Their own unique style of country/honky tonk and Americana meets rock always keeps the crowd happy, foot stomping and dancing. In addition to covers, the band plays a lot of originals from their extensive collection of CDs including their latest (the 7th), Somerset County. Singer/song writers Bird Dog Wheeler and Charlie Briddell are both master storytellers layering catchy phrases over captivating musical licks. Billy West is one of the finest guitarists around and has been with Bird since 1975 and Roger Lewis on drums is a longtime member who returned to the group in 2011. I first heard Bird Dog in 1973 at the Pine Cone Inn. Anybody remember that? Don't miss this rare opportunity to hear them play at our favorite venue, BJ's.
Three or four years ago I met a guy from West Palm Beach, Fla., named Vincent at Coconuts Beach Bar & Grill. We talked about the music scene in Ocean City and, of course, I filled him in and told him how friendly all our musicians are. It wasn't long before Vincent was sitting in playing guitar and singing any time the bands would let him. This winter he and his lovely bride Sherri have taken up residence in Ocean City and Vincent Paez has had two paying gigs at Bourbon St. on the Beach (he played in bands in his younger years). Go Vincent! Many of the musician friends he's made over the past few years showed up for his gigs and joined in for some songs too. I wrote down a few names the first time: Old School members Linda Sears, Erve Cassell, Ernie Chavis, Jerry Harvey; Walt Farozic, Randy Jamz, Ted Galinas, Chris Button, Jay Vizzini & Phil the Bucket, to name a few. Last Sunday's party was awesome too. Vincent has an effervescent personality to go along with his musical skills that makes his performance a whole lot of fun. We can hear him next this Saturday, March 18, at Johnny's Pizza Pub. Y'all come, hear!
Speaking of last Sunday, the turnout for Randy Lee & Lisa Ashcraft's second Turner House Foundation benefit at Smitty McGee's was phenomenal. More than $4000 was raised last time at Johnny's and they may have raised beyond that this go 'round. If you haven't heard of it, they provide free transportation and housing for families of injured military members to help their wounded hero heal with the love and support of their families. You can still donate by going to Randy Lee Ashcraft and the Saltwater Cowboys Facebook page to find the link or just message him that you want to help. Randy and the boys will be at Barn 34 tonight (Friday) so go and celebrate St. Patrick's Day on THE day.
How 'bout that - we get a couple of party weekends as the 17th falls on a Friday this year, and, of course, the parade was last Saturday with accompanying partying around town. Let's do it again!
Did you know that the Purple Moose has started up again with live music? Hit the boardwalk during the day and stop in to hear CK the DJ/VJ at 2pm. Come back later for Slamm playing both Friday and Saturday nights. I've been missing my rock n' roll nights at the legendary Purple Moose. Let's rock!
Bourbon St. is featuring a double header on Friday starting with Jack Worthington followed by Tommy Edward, both excellent entertainers. Saturday night come back for 33 RPM. Talk about a rockin' group, this trio pulls out all the stops as you saw last week if you were at BJ's. Mike, Rock & Larry are superb musicians, playing all the songs we want to hear. Don't miss 'em. Wednesday Open Mic nights are still going strong, too.
The Billie Carlins Band will play this Saturday at Adolfo's. Many of you have heard Billie sing with Randy Lee as her husband Leo plays bass with the Saltwater Cowboys. Joined by Howard Wimbrow on guitar and Greg Schneider on drums, they deliver a distinctively different style of music with several of Billie's originals in the program. I want to liken Billie's voice to the torch singers of yesteryear but she's much more than that. Look them up on Facebook and you can listen to a few numbers featured on YouTube.
Well, hey, I just realized I could go on for another hour but it's late; so just visit Who's Where When for all the best music in town. Keep on reading coconuttimes.com and tell all your friends where they can find their favorite magazine, now in its 32nd season, and online exclusively. As always, I want to urge you to party safe and enjoy all that Ocean City has to offer.
«Go back to the previous page.