Some of the musicans at the Wednesday Open Mic: Ray, Chris, Dave, Rita, Michael & Jason.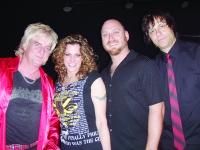 The Tommy Edward Band will play at BJ's Saturday.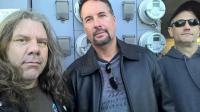 Bourbon St. on the Beach presents 33 RPM Saturday.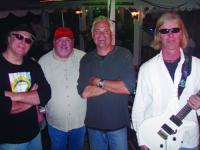 BJ's presents Tranzfusion Friday.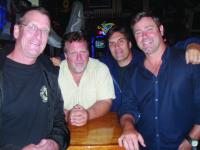 Randy Lee Ashcraft & the Salt Water Cowboys perform every Friday at Smitty McGee's.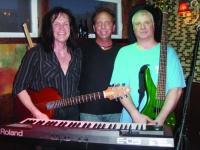 Don't miss 2 Guyz & a Mama Wednesday at BJ's.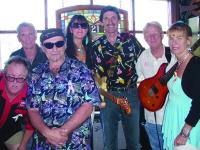 Teenage Rust & the Fabulous Rustettes play Relay For Life Benefit Sunday, April 23rd, at BJ's.
Hey out there, all you coco fans. Are we lovin' this Spring weather or what? And how about all the spectacular photos of Spring sunrises and sunsets that have been posted on facebook - awesome, right? In fact, I gave my phone to friend Helen yesterday at BJ's and she captured a beautiful sunset across the bay which I have used to head up the Fun Fotos section of coconuttimes.com (view full site).
This weekend there are many folks and families enjoying our wonderful town for Spring Break. Last night (Wed.) at Johnny's I met a cool couple from Pittsburgh, Jacqui & Jason Kendall. Jason got up and played sax with Randy Lee Ashcraft & the Salt Water Cowboys and he rocked!! We got them to come up to Bourbon St. and join the jam there and, wow, what a jam it was. Eddie Saah is here visiting from Sarasota, Fla., so he joined in on bass with Ray on beat box, Chris (guitar/keyboard), Dave (guitar), Jason (sax), Stephen (djembe), Michael (keyboard) & Rita (vocals). What a blast! Jason can really wail on that sax. Sure hope to see them again in the future. He tells me his band will be playing at the Hyatt in Cambridge so maybe we'll see him that weekend. It's always a surprise at these Open Mic/Jams...such a great way for musicians to get to play together during the off season. Soon they will all be booked into their summer gigs. Case in point: 2 Guyz & a Mama will play Wednesday, April 19 at BJ's and that may be it for them until Fall as Joe Mama, Dave Sherman and Chris Button all have other gigs apart.
While I'm mentioning BJ's let me say that the off season has been such a pleasure with continued great music offered there every Wednesday, Friday and Saturday. This weekend Tranzfusion will play on Friday and the Tommy Edward Band featuring Melissa Rose will perform on Saturday. We've had the pleasure of hearing Tommy as Sir Rod several times over the off-season and playing alone as well at such places as Johnny's and Bourbon St. Tommy Edward has to be one of the most multi-talented artists in our area playing guitar, mandolin, keyboard, sax and drums. When he does his one-man Sir Rod show, he performs to a track that he has recorded himself with all the instrument parts laid down by him. Too cool! It's always an event when he teams up with Melissa Rose who sings, plays keyboard, sax and a mean tambourine. Melissa and her drummer husband Harry (if he's back from touring the world with Chubby Checker) will be joined by Ray Holiday on guitar. Don't miss the show and keep on referring to Who's Where When for upcoming dates from groups such as Full Circle, Chest Pains, Lennon La Ricci & the Leftovers, Tor & Coastal Storm and a new group closing out the month called Fess Up.
Don't forget to visit BJ's for a special fundraising day on Sunday, April 23. at 2pm. It's the annual Relay for Life Cancer Benefit with music by Teenage Rust & The Fabulous Rustettes. This is traditionally a great way to kick off the fund-raising season for cancer culminating in the Relay for Life benefit held at Frontier Town in early May. Everyone has someone in their family or circle of friends who has been effected by this dreaded disease but, hopefully, better treatments and an actual cure will be found with everyone's continued support for research. So come do your part and have a great time doing it.
So what else is happening at Bourbon St.? Tonight owner/chef Barry features Dave Sherman and Saturday night 33 RPM. If you haven't heard them yet, either here or at BJ's where they've played a few times now, 33 RPM is Mike Beavan on drums (also drummer for Lauren Glick), Larry on guitar and Rock on bass. They play a wide variety of classic rock and their stage presentation is just a blast to watch. Next week Bourbon St. will feature Tommy Edward on Friday and Chris Button & Joe Mama on Saturday; plus Vincent Paez on Sunday. And the Wednesday night Open Jams roll on with Michael Smith & Walt Farozic alternating hosting duties after their respective shows beginning at 6pm. Always a fun time at Bourbon St. and the food is phenomenal.
Kevin Poole unveiled his new electronic gadgets during his Bourbon St. show last week. I already called him a one-man band but now he has gone beyond as he's able to produce and loop other parts such as violins, organ, etc., into his songs. Here's another of our incredibly talented local guys. I love Kevin's originality as he arranges familiar tunes into full-blown productions. You can hear him this weekend at Jake's Seafood or The Den at Bear Trap Dunes. Then he's back in our town with Joe Mama on Friday the 21st and at the Casino at Ocean Downs on Saturday. His Friday shows at Fager's Island begin on Friday, April 28th.
I'm back havin' a blast listening to the music at the Purple Moose and watching the crazy fun and antics of the dancers there. The Purple Moose has definitely been discovered by the younger crowd who love the large dance floor and excellent rock bands always presented here. Alter Ego with their huge digital backdrop screen was a big hit last weekend. Coming up: Doc Marten and the Flannels (formerly Dirt) will play both Friday and Saturday. Next weekend will be Bad w/ Names. Every Saturday afternoon stop in for music from CK the DJ/VJ and a Purple Moose Bloody Mary. Rock on!
I'm looking forward to seeing a real live musical production at the OC Performing Arts Center on Saturday night with sis Amy. "In The Mood" will feature music and dance from the Big Band era of the '40s. Ah, memories...I learned to jitterbug to the song "In the Mood" when I was about 8 years old. This was on the cusp of Big Band swing to some swinging country and the onset of rock with Bill Haley and the Comets, Buddy Holly and the King of Rock, Elvis! Yes, I know I'm dating myself but I feel blessed to have experienced the evolution of American music first hand. And I am so glad that today's young people continue to embrace so much of our musical history. Long live rock n' roll!! Party safe!
«Go back to the previous page.