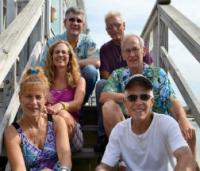 Thin Ice will perform Friday at BJ's on the Water.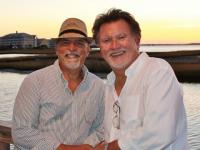 Bourbon St. on the Beach will feature Reform School on Friday.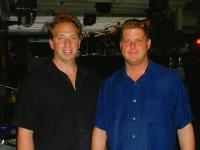 Kevin Poole & Joe Mama will play Saturday at Coconuts Beach Bar & Grill.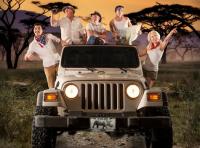 The Purple Moose will feature Vinyl Rhino Friday & Saturday.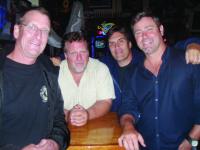 Randy Lee Ashcraft & the Salt Water Cowboys will perform Saturday at Johnny's Pizza Pub.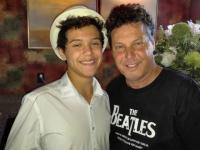 Lennon La Ricci & the Leftovers will play Wednesday at BJ's.
Well, hello there, Coconut Times readers. Here we are at Springfest and the beginning of our weekly posts. With all this wind I'm reminded of what dearly departed hubby Ronnie always called it - Windfest! Yep, he always said that when he would see those tents go up, he knew there would be no fishing. But I'm sure some wind and maybe even a stormy Friday are not going to keep folks from attending this annual event. There will be tons of great entertainment including our own Randy Lee Ashcraft and the Salt Water Cowboys appearing onstage in the big tent on Friday at 4 pm. On Sunday at 4:30 pm, Sir Rod (Tommy Edward) will close the entertainment on the outdoor stage with his rockin' tribute to Rod Stewart.
There's more great entertainment on the way with a new show presented at the Ocean City Performing Arts Center on Saturday, May 13. Get your tickets now for Rat Pack Together Again! Check out the ad under Best Places on this site, coconuttimes.com, for more information about this upcoming show and how to get tickets. I want to tell you a little more about the men who impersonate three American legends in the entertainment business, Frank Sinatra, Dean Martin and Sammy Davis Jr. Not only did they produce music albums that were played in every household across the country, but they put on an act together in Las Vegas that included not only their songs but also a humorous banter with comedy and sketches. This show will be brought back to life and the trio will be backed by eight-piece Big Band, Swingtopia.
A little more about these three amazing impersonators. Tony Sands has been crooning Sinatra tunes since he was 12, mimicing the music played by his parents. Perfecting his act as 'Chairman of the Board,' Tony has performed at many restaurants and clubs in Manhattan and Philadelphia as well as various venues in Florida. Tony also performs a musical journey about the life and times of Sinatra called "It Was A Very Good Year," covering events and songs from his early years with Tommy Dorsey to the "bright lights of New York, the silver screen of Hollywood" and the "Main Event" comeback in his later years. Tony is reportedly 'spot on' with not only Sinatra's voice but mannerisms as well.
Ol' Blue Eyes enjoyed the camaraderie of working with his friends Dean and Sammy as much as Vegas audiences loved them. Johnny Petillo has been doing "an impecable impersonation" and solo tribute to Dean Martin for 15 years and has appeared on "The Tonight Show" and "Late Night with David Letterman." He teams up with Tony to bring the lively banter to the act that audiences love. It wouldn't be the Rat Pack without Sammy Davis Jr., impersonated by Geno Monroe. Often referred to as "The Comedy King," Geno has had the ability to make people laugh since he was a young boy in New Jersey, and he brings that charisma and Sammy-style love to life with his partners in Rat Pack Together Again.
Let me tell you, my friends - I went to see "In The Mood" at the Performing Arts Center that covered music of the '40 with song dance and I can tell you that the singing and dancing was top-notch and acoustics were terrific; you could hear every word. I'm urging you to support the fantastic entertainment being presented here so producers will continue to send more of these shows our way. GET YOUR TICKETS NOW!! "Under the Streetlamp" is presented May 18th and The Beach Boys will perform August 23rd.
I'm so happy that the Purple Moose is back rockin' the Boards. This legendary House of Rock n' Roll has been around a long time and over the last few years I've noticed that the younger crowd has discovered that it is one of the most fun and exciting places to hang out. You can always count on the bands to offer up the best in modern and classic rock from the biggest stage in town and the dance floor is always crowded with revelers having a great time. And don't forget to try their famous Bloody Mary. Dead Eye Stare was terrific last week and I'm looking forward to hearing Vinyl Rhino this weekend, playing both Friday and Saturday nights. Stop in during the afternoons to party with CK the DJ/VJ while you're visiting the Boardwalk.
My perennial favorite hangout, continuing right through the winter months, is BJ's on the Water. Never a cover and some of the best bands around. We just partied with Old School this past Wednesday and we got the news that instead of suspending Wednesday during June, July and August, owner Billy Carder has decided to continue the popular night but start it a little later at 8 pm. Sounds good to me! Come party with us this weekend as Thin Ice takes the stage on Friday and Over Time rocks the house on Saturday. Next Wednesday come be blown away by the incredible Lennon La Ricci on keyboards with dad Ricky on guitar and Chuck on drums.
Hooray! Coconuts Beach Bar & Grill is open and just bursting at the seams with excitement to get the parties rollin'. Check out Funk Shue today (Friday) at 4pm. What do they play? A lot of classic rock in their own funky way. Excellent musicians and very entertaining. Kevin Poole & Joe Mama will play for us on Saturday (4pm) and the Lauren Glick Band will resurrect the legendary Sunday parties, again at 4pm.
Coconuts doesn't waste any time getting in gear in a big way with live entertainment daily. Bobby Wilkinson & Joe Smooth return to their Monday slot for a fun-filled show you don't want to miss and the music and fun just keep on coming. Such acts as Chris Button & Joe Mama, Lime Green Band, Home Made Hooch, Darin Engh, Nate Clendenen, Over Time, Jack Worthington w/ T. Lutz, Monkee Paw and Bettenroo are coming our way. Check out the Who's Where When list for all the details.
Great music has continued all winter long at Bourbon St. on the Beach too; including the fantastic Wednesday Open Mic nights. What a crew we had this past Wednesday: Walt Farozic, Chris Button, Dave Sherman, Michael Smith, Vincent Paez, Stephen Baron, and Tommy Edward (Sir Rod) playing sax, along with several others. More fun nights are in store for you there and all you have to do is show up. Friday brings back the awesome sounds of Reform School - that's Jay Stienmire on percussion (he of the fabulous voice) & all-around great entertainer Michael Smith (guitar & keyboard). Saturday owner Barry (who plays a mean guitar himself) is featuring Wes Davis at 5pm and Charles Parker at 8. I think this is the same Charles who plays in the KISS tribute band Cold Gin. It will be good to see him without all the makeup playing as himself. Come on back on Sunday to hear Walt Farozic team up with guitar wizard Chris Button at 6. Again, check the listing for more info.
You will see much more in Who's Where When including Monkee Paw who is back with us, along with our other musician friends Randy Lee Ashcraft, Kevin Poole, Michael Smith, Billie Carlins Band, Lennon LaRicci & the Leftovers and Jack Worthington. Enjoy all the music Ocean City has to offer and remember to always party safe.
«Go back to the previous page.