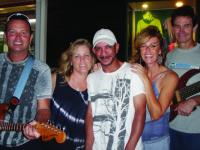 BJ's presents Full Circle Friday.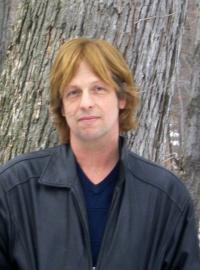 Bourbon St. on the Beach will feature Rusty Foulke Friday & Saturday.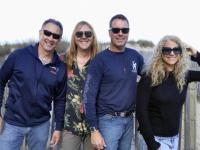 The Lauren Glick Band will perform Sunday at Coconuts Beach Bar & Grill.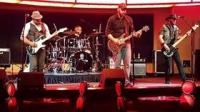 The Purple Moose will feature Total Distraction Friday & Saturday.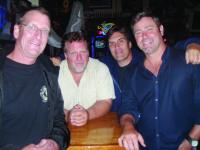 Randy Lee Ashcraft & the Salt Water Cowboys will play Saturday at Johnny's.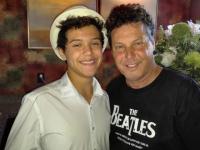 Catch Lennon La Ricci & the Leftovers Friday at Castaways.
Monkee Paw will play Friday at High Stakes; Wednesday at BJ's.
Rock out with the Chest Pains Saturday at BJ's.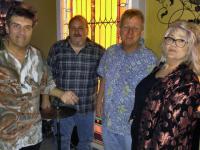 Enjoy the music of the Billie Carlins Band Sunday at Bourbon St.
Here we go! Hot rods were spotted on Wednesday and by now the town is roaring into high gear as these fabulous cars show off up and down Coastal Hwy. Don't let slow traffic spoil your mood. Be patient, enjoy the sights; you will get to your destination eventually.
Last week I told you I was going to hear a new band playing at BJ's - The Girlfriends. Turns out they're not new to BJ's at all. The all-girl group played there in the mid '80s when the Wednesday deck parties were actually on the outdoor deck. Owner Billy Carder says that when he heard they were playing again, he got in touch and hired them; and we're glad he did. The ladies played an impressive range of music going back as far as the '60s before women played behind the guitar but were only heard behind the mic. It was fun hearing those old songs again. This was a cool medley but only a small part of their show. Guitarist Kim Butler told us that after a few very successful years together, they parted, as most bands do. It wasn't until 2011 when they all showed up at drummer Jill Brady's 60th birthday party that they decided to give it another go. Bassist Robin Rohr says that while they were among the pioneers in sampled sounds, MDI and other techno techniques, they decided it was time to go back to basics with a stripped-down sound featuring acoustic guitar and bass. "It's really about getting back to the song, not the sound," says Kim. "A well written song stands the test of time, and it will not matter if you play it on a guitar, piano, through Muzak on an elevator or on a kazoo." Well, get back to the songs they did. Every one of them was a crowd pleaser and the ladies performed them with precision and panache. All three sing so the harmonies were sublime. Sitting in with them on blues guitar was a player named Rosann who I have heard before with Dr. Harmonica & Rocket 88. She proved she can play with the best of them and she was when playing with The Girlfriends. Robin tells me that they are fully booked through the summer, nearby at the Gray Hare Tavern in Rehoboth, among others. I'm sure Billy will have them back as soon as they are available.
Two of our favorite groups are playing this weekend at BJ's - Full Circle on Friday and The Chest Pains on Saturday. So many people have asked me what I think of the new Chest Pains after the (friendly) departure of Chris Button & Joe Mama. There's no doubt that it has changed the sound of the band with guitarist Aubrey Bradley coming from a hard rock background. But it means that a whole list of his songs has given new material to the band at the same time as he and lead singer (and original member) Byron Anthony enjoy singing together and exploring their common ground. New drummer Dean Haemel is definitely not new to the music scene. Many drummers in this area know him as their teacher at Stephen Decatur H.S.; and he has played with various other bands. His style seems jazz-based as well as rock strong and precise, providing a solid beat with original member Jeff Davis on bass. I guarantee you'll love them. See you there!
More good music to make your choice more difficult comes from guitarist, singer/songwriter Rusty Foulke who returns to Bourbon St. on the Beach this Friday and Saturday. Rusty comes from a rich rock background having famously played with Boston on their 1994 album Walk On. I believe that album also included Foulke's original "Magdelene" that was originally released on the album Hybrid Ice in 1982. He is often called on to rejoin Boston for special performances but his band Hybrid Ice is still his main focus. Hybrid Ice has toured with many notable acts, such as Foreigner, Kansas, Joan Jett, Bad Company, The Beach Boys, Steppenwolf, The Edgar Winter Group, Ted Nugent, Lita Ford and others. None of that matters when you hear Rusty play solo. His guitar playing is impeccable and his voice soars to ranges that seem impossible, but he delivers. Join his new Ocean City fans to hear Rusty Foulke at Bourbon St.
Last night at Bourbon St. I had the pleasure of hearing Jimmy Charles perform, including some new songs off his latest CD "Bout Summertime". Go to his facebook and see the video recorded in the Virgin Islands as he and his band played all the beach bars and headlined the Chili Cook-off on Brewers Bay Beach. Hailing from Salisbury and Ocean City, our local boy is making it one song at a time in Nashville. I Love his voice and clever and relevant song writing. Check him out.
Before I close out this week, let me tell you that I thoroughly enjoyed the show from The Rat Pack Together Again at the OC Performing Arts Center. Leading the pack as Frank Sinatra was Tony Sands who graciously allowed me to photograph he and his partners before the show (find it in Fun Fotos). His ability to recreate the sights and sounds of Sinatra was just uncanny. He also performed his duties as Chairman of the Board as he introduced Johnny Petillo playing Dean Martin and Geno Monroe as Sammy Davis Jr. Both Johnny and Geno had us in stitches as they delivered jokes and did spot-on impressions of many celebrity artists. Music and humor made it a night to remember and I hope they will be back again. Meanwhile, be sure to check the schedule and see what show you would like to attend.
Well, gotta go. Check out the Who's Where When list and have a good time as you party this week; and always party safe.
«Go back to the previous page.