Coconuts Beach Bar & Grill will feature Old School Sunday.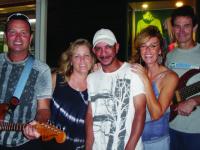 Full Circle will return to the BJ's stage on Friday.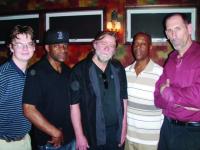 Tear the Roof Off will perform their special brand of blues Friday at Bourbon St.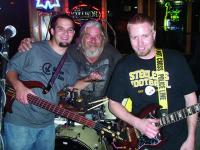 The Casino at Ocean Downs presents the Aaron Howell Trio Saturday.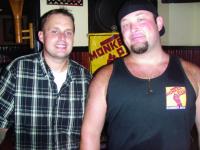 Monkee Paw will perform w/ Joe Mama Sunday at Longboard Cafe.4
Treat yourself to a night of bluesy music w/ the Billie Carlins Band Thursday at Adolfo's.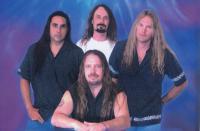 The Purple Moose presents Surreal Friday & Saturday.
Randy Lee Ashcraft & Jimmy Rowbottom will play Friday at Bourbon St.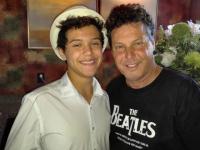 Johnny's Pizza Pub presents Rick & Lennon La Ricci Friday.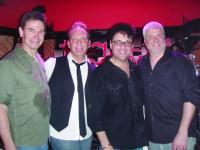 The Chest Pains will rock it out Saturday at BJ's.
Is it my imagination or is this the hottest summer ever? I'm missing so much good stuff because of this heat. But you can bet I'll be at the Purple Moose tonight for Apple Scruffs. Yes, I know, you're reading this now and it's too late, but I did give you a heads up last week. Best Beatles tribute band around. Of course I also enjoyed the Beatle Mania Again show at Fager's last Sunday. They had a new 'George' and he was quite good - didn't look like George, of course, but his guitar playing was excellent. Anyway, I'm excited to get to the Purple Moose tonight (Thursday). Looks like I'll be there a lot this weekend because Surreal is coming back to play both Friday and Saturday nights. These guys rank as one of my top all-time favorites, playing long-hair '80s to perfection. Soaring, powerful vocals and excellence on instruments, you just can't get any better than Surreal. Expect large crowds and a rockin' dance floor at the Purple Moose where the music is always good. Who's the tribute band for next Thursday? It's an encore performance from Shooting Star paying tribute to the music of Bad Company. As before, they will probably also play a block of Led Zeppelin tunes after explaining that both bands were under the same recording label. Anyway, they were good so go hear them.
What else is on the musical radar? It's a big weekend at BJ's with Full Circle on Friday and the Chest Pains on Saturday - two of the most popular bands to play there (of course, they're all good!). We may see Jeff rejoining Full Circle on bass for this one. He's easing his way back into playing after heart surgery. It's wonderful to see how well he's doing. Probably Ted will be sitting in for him on Saturday with the Chest Pains. And we have some wonderful entertainment on Thursday at BJ's this coming week. Yes, I know many of you haven't caught on to the fact that there is now sometimes music on Thursdays; you're still reeling from not having Wednesday bands, right? Well, the female duo of Bettenroo (a combination of their mothers' names) will certainly get your spirits up. Anne on bass & Lori on guitar have a vocal quality that blends to perfection on their harmonies and asserts each other's strong points on solos. I guarantee you'll love them.
Got a little scoop for you straight from Jay Vizzini, guitarist of Thin Ice, who were very, very good last week at BJ's, by the way. They have decided to draw on the talents of Crystel (who is a keyboardist for Teenage Rust) and Dave (the horn player) who will now alternate on keyboard parts. So now they are a very well-rounded five-piece group of extremely talented musicians and singers. Check out their very cool web site, thinicerocks.com
Joe Mama Day at Coconuts last Saturday was a huge success as usual. I don't have any numbers to report yet but I know the Believe in Tomorrow Foundation and local Childrens House by the Sea are always so appreciative of what Joe and his volunteers do to raise money for them each year. And - big bonus - great music from Joe & Kevin Poole. Thank God for the breeze that day that saved me to be able to enjoy it. Finally - Old School is returning to play the Sunday evening party at Coconuts following the Aaron Howell Duo. I feel like I haven't seen my friend Linda in a year (I know, it's just been a few weeks, but I miss her). Anyway ... her infectious spirit and smile along with her perfect pitch voice, always gets the crowd in a festive dancing party mood. Two more good ones (what am I saying - they're all good at Coconuts) are playing Saturday: Rick & Regina at noon followed by Funk Shue at 5pm. So no matter what time of day you stop in, you're guaranteed most excellent music. Oh, and did you enter the Tipsy Turtle contest yet? Buy a signature Tipsy Turtle drink on any Tuesday and you can sign up for a chance to win a vacation at the Castle in the Sand's sister resort Green Turtle Club in the Caribbean. Cool deal!
Who's going to be Joe Mama's guest this Sunday at Longboard Cafe? It's the talented duo of Mike & Adam of Monkee Paw. That's gonna be a good one. I was sorry to miss Dave Hawkins last week but I gave in to the draw of the Beatles. Remember, our local guitar wizard Chris Button plays at Longboard every Tuesday and that sexy, saxy duo of John Remy & Joe Smooth play every Wednesday.
Bourbon St. on the Beach was fun, as usual, with Walt Farozic leading the Open Mic Night after his earlier solo performance. Walt plays a lot of different music from most others in the field and displays his strong rock vocals on the heavy metal tunes. But he can play and sing a love song, too. Walt will be back in two weeks. This weekend begins with Randy Lee Ashcraft & Jimmy Rowbottom on Friday followed by Tear The Roof Off at 8pm. I think this band has found a new home in the new restaurant Big Easy at 60. I heard them last week and they really fit the atmosphere of this New Orleans inspired venue. Of course, Bourbon St. on the Beach also features food with a cajun flair so there you go ... the band is perfect there as well. Join Vince on guitar, Vince on bass & Vince on trumpet - that's not a typo, they have three Vinces - and the amazing Keith on drums. Not sure if Myles on keyboard will be at this performance - maybe. Anyway, they are an excellent band playing a combination of classic blues and N'awlins style jazzy blues. Check out their Who's Where When for more good stuff during the week.
My friends in the Billie Carlins Group are still playing Thursdays at Adolfo's. Here's another band that's not a cookie-cutter type of cover band. Check them out. And many thanks to Kim & Kanook for having Michael Smith and I play there this summer. It was a blast and we hope to be back another time.
I'm ready to sign off now - can't concentrate as I'm getting more excited for the Apple Scruffs show at the Purple Moose. So, stay cool and party safe!
«Go back to the previous page.