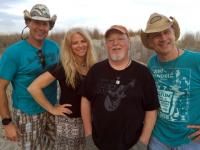 Coconuts Beach Bar & Grill will feature the Mood Swinger w/ Lauren Glick Sunday.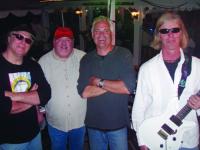 Tranzfusion works music magic Friday & Saturday at BJ's.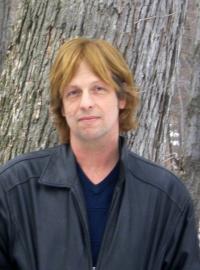 Rusty Foulke returns for one night, Friday, at Bourbon St.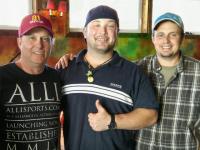 The Casino at Ocean Downs presents the Monkee Paw Trio Saturday.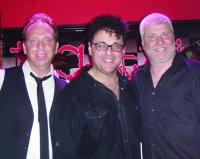 The Chest Pains trio makes a special appearance Sat. at Longboard Cafe.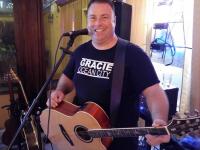 Walt Farozic plays Wednesday at Bourbon St. & hosts Open Mic.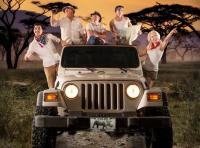 The Purple Moose presents Vinyl Rhino Friday & Saturday.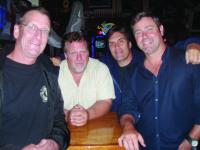 Randy Lee Ashcraft & the Salt Water Cowboys will play Saturday at Johnny's Pizza Pub.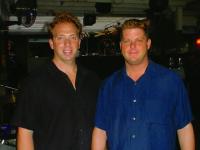 It's Poole Day at Coconuts Saturday: Kevin Poole & Joe Mama then The Poole Brothers.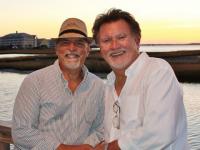 Reform School will perform Sunday at Hilton Pool Bar and Wednesday at Plim Plaza.
Hi, all. What a gorgeous day on Thursday; I just want to get out to hear some music. So let's see what we have to talk about. First, I have to rave again about Apple Scruffs at the Purple Moose for last week's tribute Thursday. They were every bit as good as I remembered and probably better - all first class musicians and so dedicated to the Beatles extensive catalog of music. I made a list of song titles during the second set and was just blown away - 30 songs! So that means that they played about 60 songs for the entire show, ending with "Golden Slumber" and a two-song encore of "Saw Her Standing There" and "Hey Jude." In addition to all the more familiar tunes, they play such obscure songs as "Glass Onion," "Goin' Home," "All I Want Is You" and so many more. I wish we had them come twice a year but they may be playing somewhere near you. Next Thursday's tribute was recently added to the schedule - one I've not heard before. They are Doc Marten and the Flannels (aka Dirt). So Dirt fans, it's your turn to rock. Also this past weekend was epic with the return of Surreal. As always, they packed the house with the crowd clamoring for more as the lights came up. This weekend the Purple Moose features Vinyl Rhino Friday and Saturday nights.
It was good to see Jeff Davis back playing with Full Circle last week at BJ's. What a cool band this is - always something new from them. Loaded with talent both musically and vocally, you won't find a better group around. However, right up there with them I have to say that the Chest Pains always rock the house as they did last Saturday; and this weekend legendary Tranzfusion will play both Friday and Saturday nights. Very cool! If you've never heard them before, I guess you could call them the ultimate tribute show playing top artists' covers note-for-note perfect. Bob Davis is a master at the keyboards, Hank Koenig plays guitar as well as anybody in the business (world class), Bobby Malaby continues to be one of the most dynamic drummers around who also does great singing on Rolling Stones tunes (for instance), and Tom Malaby who not only lays down the bass beat, but also doubles on some lead guitar parts at which time Bob picks up the bass. They are just a phenomenal foursome who each play to their strengths both vocally and musically. Awesome show. Don't miss it. And it won't be long before Wednesday deckless deck parties will return. I should know more next week.
Music at Coconuts Beach Bar & Grill is still going strong despite the excessive temperatures. There is an ocean right across the dunes to take a dip and often a cool breeze sways the palms on the picturesque patio. It's going to be a Poole party Saturday - the musical family of Pooles that is. The day starts at noon with Kevin Poole & Joe Mama - amazing duo. Then at 5pm, Kevin's nephews, Christopher and Conner, take over as The Poole Brothers. According to their recent posts on facebook, they are going to be known as The Swell Fellas now, as they recently appeared on Live Lix at 6 on Ocean 98.1 with DJ Marla. These talented young men are going places!
Sunday at Coconuts, half of the Chest Pains will play at noon; that's Byron Anthony and Joe Mama. Joe Mama stays busy, doesn't he? Three of the Chest Pains, Byron, Joe & Chris Button will perform Saturday night at Longboard Cafe. And, of course, Joe Mama will be back on Sunday with his special guests being Kathy Denk & Michelle Schachter of Full Circle. Wow, are we blessed to have so much fabulous music here in our little island town.
And let's not forget the return of the very popular Lauren Glick with the Mood Swingers on Sunday at Coconuts. God bless Mike Armstrong who continues to valiantly deal with cancer issues, refusing to let it keep him from playing music. Mike is one of the best guitarist around; anywhere, for that matter. If you don't believe, me just go listen and watch him play - a master! The group is rounded out by Ted Galinas on bass and Mike Beaven on drums who also appears in the area occasionally with his own trio, 33 RPM. Heather Vidal will be back in town on Wednesday - love her voice and she can really play that guitar. Check out the listing in Who's Where When or in their ad for their extensive two-band per day schedule.
We keep on having big fun at Bourbon St.'s Wednesday Open Mic. There were a few new characters added to the usual list last night such as Nick Wallin from Pa. who played a great set of music and has a wonderful voice. Then there was Rob Brown, also from Pa., who added a lot of cool stuff to the show; we all loved the Simon and Garfunkel tunes in harmony with Mike Smith, this week's host. Then there was local John Lofton of The Remains, Ramones tribute band, who played a few of his originals that were really awesome. Rick La Ricci was there to do a few numbers. You can hear Ricky with son 15-year-old keyboard sensation Lennon at the Rio Grande Tiki Bar Saturday. Also Judith Cooper stopped in and played bass and guitar along with Mike. I sang a few and the night ended with Bourbon St. owner/chef Barry playing for us. Check it out - Rusty Foulke is coming tonight, Friday, for a one-night-only performance this time around. Don't miss this chance to hear the lauded guitarist of Boston & Hybrid Ice who has a voice that soars into the upper reaches of the vocal atmosphere. He is simply great!
Saturday Bourbon St. will feature the music of the Baltimore Boyz. Since Jay will be otherwise engaged, R Jamz (Randy Jamz) will be joined by Michael Smith, who plays both guitar and keyboards (my sometime partner). Actually Michael has several projects: duo with Jay Stinemire as Reform School, who also came out to sing last night, duo with Rita Conestibile as Pearl and the band It's About Time. Yep, he's one busy and talented guy.
I'm gonna get goin' now. Billie Carlins is having a recording session live at Adolfo's and I want to catch the show. Have fun these last few weeks in August (can you believe it?) and always party safe!
«Go back to the previous page.