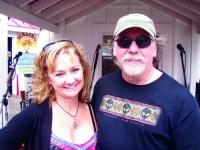 Sky will play at Coconuts Beach Bar & Grill Sunday.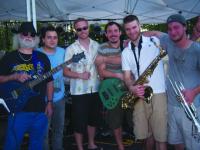 Over Time will perform Friday at BJ's.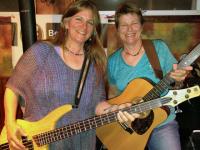 BJ's presents BettenRoo Thursdays in September.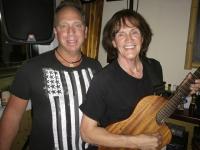 Joe Mama welcomes guest Dave Sherman Sunday at Longboard Cafe.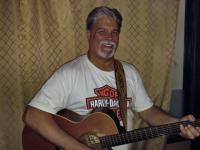 Jack Worthington will play Friday at Bourbon St. on the Beach.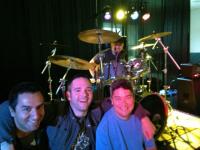 The Purple Moose presents Dead Eye Stare Friday & Saturday.
Bourbon St. on the Beach presents Rick & Lennon La Ricci Saturday.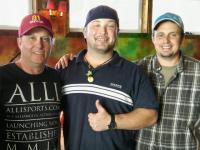 Monkee Paw will perform Tuesday & Wednesday at Coconuts.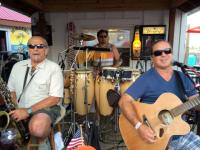 Joe Smooth, Bobby Wilkinson & Pete play every Monday at Coconuts.
Holy Cow, Batman! It's the last weekend of August! Say it isn't so; although many of us are looking forward to cooler weather but I don't want the summer to be over. Isn't that just all too human - we always want what we don't have.
What we do have is an abundance of cool music. I had a great time last week with my friend Barbara & her friend (now mine, too) Tasha, who came to town from D.C. for her birthday. We jammed a lot into two days, believe me, and had a blast doing it. You can see most of our activities from the Fun Fotos section. Friday I saw Thin Ice at BJ's and Rusty Foulke at Bourbon St. - both excellent. Saturday we started with a scrumptious dinner at Bourbon St. (I had shrimp & crawfish etouffee; they had the awesome prime rib), and then stayed to hear Randy Jamz w/ Mike Smith and I sang a few songs for my friends. Then we hustled south to hear Tranzfusion at BJ's. New friend Tasha was amazed at how good this group is; as I'm always reporting, right? We finished the night with some cool and beautiful original tunes from Randy Lee Ashcraft & the Salt Water Cowboys. Did you know Randy Lee has his own channel on Pandora. Yes, he does! Type his name in on the Pandora site and you can hear his music from his many albums as well as like-sounding music from other artists. Pretty cool!
Sunday we started early (not too early) with Everett Spells and the Sunday Jazz Brunch at Fager's Island. Everett is such a talented guy - amazing sax player and over the years, now a confident singer as well. Barbara kept saying, "he sounds like Marvin Gaye!" We continued on to the Caribbean Pool Bar to hear No Byscuyts - great sounds with Elwood Bishop, Joe Smooth, Howard Wimbrow & Keith Brooks. Charles was playing percussion, too. It was really too hot for me so we headed back north to hear Lauren Glick & The Mood Swingers at Coconuts where the cool breeze kept me comfortable. Always great music from the incomparable pair of Mike Armstrong & Lauren Glick w/ Ted on bass & Mike B on drums. His band, 33 RPM, will be coming next week to play at BJ's on Sat., Sept 3.
We knew a storm was on its way and we had a craving for hot steamed crabs so we headed south again and over the bridge to OC Fish Co. (formerly Capt. Galley) where the large crabs were meaty and sweet (in that salty kind of way). Sure enough, a huge storm blackened the skies and sent the Mood Swingers packing up quickly I learned later; and all was good there. After our crab feast, it was back to Fager's Island for the incredible Springsteen tribute band, Bruce in the USA! This has to be my favorite tribute band primarily because I've always loved the music since before Bruce was famous and Matt Ryan impersonates him so well, in looks, sounds and mannerisms. What's most important, of course, is the integrity of the music which was spot on. Matt had a new 'Clarence' on sax who was 'discovered in the D.C. area. His name is Darryl and our drummer friend Frank DelPiano recognized him as they both played at the Opus 88 jazz club some years back. They had a cool reunion. And he was perfect, right down to the in-the-basement bass voice. It was a great night - day/weekend - of music after which I took two days off to recover.
Okay, so that's my musical travelogue for last week - let's see what's happening this weekend in fabulous Ocean City. As always, if you're ready to dance, check out BJ's on the Water for two great dance bands, Over Time on Friday and Dust N Bones on Saturday. Thursday will be September 1st and I see from BJ's calendar that Bettenroo will perform every Thursday for the whole month. I keep reminding you that Thursday is something new that's being tried at BJ's starting at 8 pm. It's a great night to relax and hear some very entertaining music from two talented ladies, Anne & Lori. And, now hear this! Wednesday's Deckless Deck parties will resume Wednesday, Sept 7 with Old School. Looking forward to that.
Coconuts Beach Bar & Grill starts the weekend off in usual fashion with Darin Engh at noon and John LaMere at 5 pm. Only two more dates here for John before he heads back to Key West and Willie T's. He has really established a home for himself there in recent years; which we can tell as he leaves here earlier and comes back later every year. But he assures me he loves us and the variety so he will be back next season. Heck, so many Ocean City friends visit him in Key West that he hardly has the time to miss us. Saturday you can hit Coconuts at noon to hear the great bluesy duo of Joe Smooth & John Remy followed by Over Time. Then Sunday, Rick & Regina will take the noon spot. Husband and wife team, Rick plays guitar and sings backup while wife Regina carries the show with her incredible voice - beautiful quality, amazing range. Then Copper Sky, Heather & Dave, make a final (I think) appearance for the season at the 4 pm slot. Talk about great voices; love to hear Heather sing and play; and Dave ain't half bad either. LOL!
Monkee Paw brings their awesome show to two days at Coconuts this week: as a duo on Wednesday at noon and again with the full band on Thursday at 4 pm. I don't know if you've heard these guys but let me tell you, they can play anything and everything. You won't find a better group anywhere. So, 'paws up!' and have a great time at Coconuts this week.
Only a few more Sundays w/ Joe Mama at the Longboard Cafe so don't miss them. This Sunday he welcomes crooner and awesome guitarist Dave Sherman. Next week will be Paul Cullen who I haven't heard in a while. He's the chef and vino guru who is well known from having played bass in Bad Company. More on him next week. Then the last one will feature Joe Smooth & John Remy w/ Joe Mama. You can still catch them on Wednesdays - for now. It's killing me that a few great venues are winding down.
Bourbon St., will feature Jack Worthington this Friday. Randy Lee will be performing with his band, the Salt Water Cowboys, down at Castaways but will come back to his 4 pm slot at Bourbon St. next week. Meanwhile Jack will carry the show this Friday with a great collection of familiar tunes sung in his pleasingly husky voice. Come back on Saturday for Rick LaRicci and is keyboard sensation son Lennon. Everyone loves their music; especially owner Barry's daughter Bella. Ooops, did I say that? Wednesday Open Mic night was fun, as always, with Walt Farozic and friends - in fact, he calls is "Wednesday Friends Day." This Wednesday Mike Smith will fill the slot starting at 6 pm and Open Mic at 9 pm. You never know who might show up - it could be you!
I'm gonna take off now. I'd like to go hear Joe Mama & Kevin Poole at Coconuts. Make sure you take advantage of these last days of summer and enjoy everything Ocean City has to offer. And always party safe!
«Go back to the previous page.