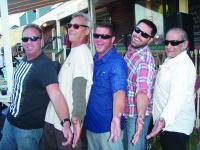 Poole & The Gang will perform Saturday at Coconuts.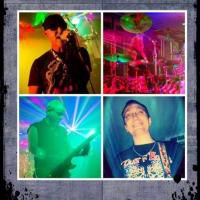 Dust N Bones will perform Friday at BJ's.
The Billie Carlins Group will perform Thursday at Adolfo's.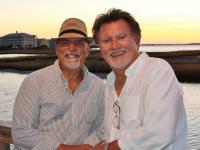 Michael Smith w/ Reform School will play at The Angler Saturday.
Check out Sir Rod performing Wednesday at BJ's.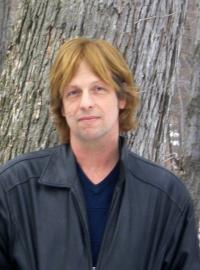 Rusty Foulke returns to Bourbon St. for another great performance Friday & Saturday.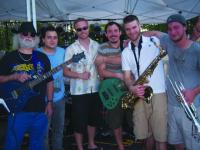 Party with Over Time Saturday at BJ's.
The Purple Moose presents Surreal for three big nights: Friday, Saturday & Sunday.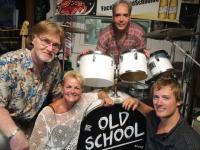 Old School leads the Sunday party at Coconuts.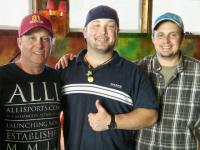 Monkee Paw has a busy Friday: at Coconuts @ 5 & Brass Balls @ 10.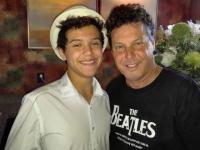 Rick & Lennon La Ricci will play Friday at Southgate Ocean Pines.
Can you hear that roar? Yes, the chrome monsters are back in town for the OC annual Bike Week. Lots of great entertainment will be presented on the Inlet stage and bikers will gather at many venues around town to compare hogs and maybe buy something new for the well tricked-out machine. They are beautiful, no doubt about it. Our music hot spots around town are being most accommodating by providing special parking areas and bringing in their top bands for the weekend.
Take BJ's on the Water, for instance. I was there last night (Wed.) to hear Monkee Paw (great, as always) and a long row of parking was readied and waiting for our biking visitors. They will love the music of Dust N Bones on Friday. It's hard rockin' to suit any die-hard biker - rumbling on the dance floor a sure thing. Then Saturday night, more dancing to the tunes of Over Time. I had the pleasure of hearing this band again at Coconuts last Saturday. They invited me to sing a song with them and suggested Pat Benatar's "Hit Me With Your Best Shot." I wasn't sure of all the words, so bass man Greg said he would have them for me on his Ipad. Turned out it was on his phone and, boy, were those letters small. LOL! I flubbed a bit but got through it and it was great fun. I'll have those words memorized for next time - which is this Saturday at BJ's. Come join the fun. On Wednesday at BJ's you can get an early fix of Rod Stewart music as Sir Rod takes the stage. This is an incredible one-man show from talented Tommy Edward who recorded everything you hear on his backup recording (all instruments) and he plays sax and mandolin live. Next week he will bring his full band to present his show as the opening act for Eddie Money at Sunfest. Pretty exciting. When not impersonating Rod Stewart, Tommy puts on a fantastic show of non-stop music on his acoustic guitar or keyboard. He is most definitely one of our most well-rounded, talented artists in the area. And Thursday, don't forget to go and see/hear Bettenroo. I know, you're not use to having music at BJ's on Thursdays but many of you have discovered it and the music of these two talented ladies, Lori & Anne, keeps you coming back for more, right?
I had a good time at The Purple Moose last night hearing Cold Gin perform their KISS tribute show. These guys are so good; right down to 'Gene' spurting 'blood' and that long tongue (that's real). The whole show with Charles Parker in the lead was just amazing. Tonight The Purple Moose presents that AC/DC tribute band High Voltage. It's sure to be another winner. But what you will be really excited to hear is that Surreal will be performing Friday and Saturday. This band has long been considered to be the best that The Purple Moose offers. They play '80s-'90s long-hair anthem rock maybe better than the originals, both instrumentally and vocally. Fans flock to the shore just to hear them and more and more new fans are made every time they play. If you haven't heard them yet, you really must pay a visit to the Boardwalk where you will find The Purple Moose, between Talbot and Caroline streets. Rock on!! And, hey, if it rains, you can duck inside the Purple Moose for afternoon fun with CK the DJ/VJ. Entertainment continues with The Lava Game on Sunday & Monday, too.
What a great time we all had at the annual "Music for Michael" day at Coconuts on Monday. It was the 10th anniversary of the passing of our dear friend Michael Tracey White. He was beloved as a gentle spirit, loyal friend and multi-talented artist. He inspired and helped other artists to get their start in Ocean City. Many of those friends came out Monday to celebrate the life of their friend through music. Take a look at the pictures in Fun Fotos; they say it all. And it was so cool to hear his voice singing from his CD during band breaks and afterwards. Many thanks to Castle in the Sand and their wonderful music venue Coconuts Beach Bar & Grill and to MTW's friends Joe Smooth, Kevin Poole & Joe Mama for keeping his memory and music alive.
What's goin' on this weekend at Coconuts? More good music, of course. Check out Darin Engh & Monkee Paw playing today (Friday). Darin is a master on the guitar playing many genre's of music, both new and old, with vocals that tell the stories in a most convincing way. Many know him as half of Opposite Directions with Bob Wilkinson (who plays with Joe Smooth every Mon.; used to be MTW's slot w/ Joe), but maybe you haven't heard him solo. Well worth the listen, my friends. Rick & Regina start off Saturday at noon, husband & wife team w/ Rick on guitar and Regina providing the astounding vocals. Get ready to rock 'n roll at 5 when the gong sounds for happy hour's 241 specials and Kevin Poole & The Gang take the stage. Kevin assembles many of the players we heard Monday: Joe Smooth on sax, John Remy on lead guitar, Joe Mama on drums and Ryan Mete on bass. First of all, I absolutely adore the music created by just Kevin & Joe together; such creative arrangements. Kevin might keep a tighter rein on the arrangements with the full band, but when you add all these talented artists, it's just one of the best sounds in town. Hope you take this opportunity to hear them - well worth it.
Bourbon St. on the Beach is proud to bring back Rusty Foulke. Many of you are now familiar with the talents of this friendly guy. He is a former member of Boston and his own band is called Hybrid Ice. He continues to join Boston for different events around the country - a much sought after guitarist. As if his playing weren't enough, he also has a voice that reaches the stars in range and pleasant tonality - yep, he's the whole package, my friends. Join us for two big nights of great music, Friday & Saturday, with Rusty Foulke. Dave "the Shermanator" Sherman begins the Friday night of music at 5pm. Speaking of good voices and awesome guitar, Dave is terrific, too. (I'm glad Wednesdays are back at BJ's 'cause that means Dave with 2Guyz & a Mama will return: Wed., Sept 28.) Still having a great time at Wednesday's Open Mic at Bourbon St. Jay from Thin Ice came out last night to join host Walt Farozic as well as several visiting players from parts near and far.
It's time for me to hit the music trail. Come join me. Be aware of our friends on bikes and be patient in the traffic. We want you to live to enjoy another day, right? Party safe!
«Go back to the previous page.