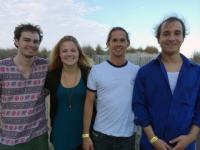 Funk Shue will perform Saturday at Coconuts.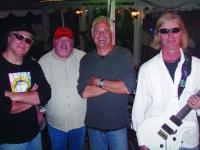 BJ's presents Tranzfusion Friday.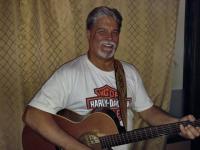 Jack Worthington will perform Friday at Bourbon St.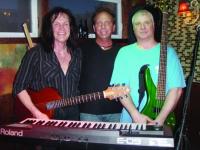 It's Wednesday fun at BJ's with 2 Guyz & a Mama.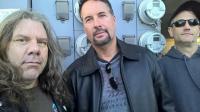 Rock out with 33 RPM Saturday at Bourbon St.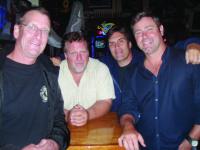 Randy Lee Ashcraft & the Salt Water Cowboys play Sunfest Friday at 2:30.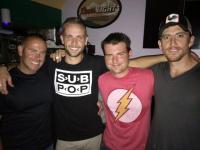 The Purple Moose rocks Friday & Saturday w/ Whitehouse Effect.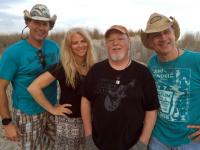 Coconuts presents Lauren Glick & The Mood Swingers Sunday.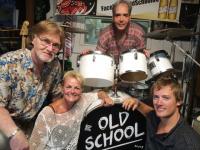 Old School will perform in the Entertainment tent at Sunfest on Sunday at 3:30.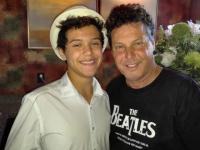 Rick & Lennon La Ricci will play Friday at the Skye Bar.
Hi, gang. I just got back from Sunfest (Thursday) and I'm all excited from hearing Teenage Rust & The Fabulous Rustettes put on a great show. These guys have it all: vocals (nearly all sing), instruments (two guitars, bass, keyboard, sax & drums) and even a 'dancing queen' in the person of Madlyn (who also sings and hits that tambourine quite well). I enjoyed seeing Crystal step back from the keyboard, grab that mic and really get into the final number of the show, "I Will Survive." Billy Carder (owner of BJ's) said they always end their shows with that song as a positive anthem for all who are battling cancer. Crystal's husband Paul Grandell plays bass (they both are in Thin Ice) and Howard Wimbrow is on lead guitar (he's in the Billie Carlins Group, No Byscuyts and may be still in Comfort Zone). T. Lutz on drums also plays with Jack Worthington and Pompous Pie. And providing the brassy saxiness is Joe Smooth on sax. The next stop on their tour is Friday, October 28 when they will perform for the annual Happy Hour Halloween Party at BJ's.
We have a few other locals in the Sunfest lineup. Just heard Tommy Edward as Sir Rod at BJ's Wednesday and the joint was jumpin'. He will bring in the full band Saturday for the Sir Rod show in the big tent before headliner Eddie Money comes on. Who knows, maybe they'll do a sax duet - that would be cool.
Always a crowd favorite, Poole & The Gang will hit the Sunfest outdoor stage Friday at 12:30. Joe Smooth will be back for this one along with Kevin Poole, John Remy, Ryan Mete & Joe Mama. This is one of my favorite bands - loaded with talent.
Local performer Frankie Moran is set to play at 1:30 with his 13-year-old son Cole in their duo Blind Wind. Cole was born blind with cognitive delays and early onset scoliosis. Despite those challenges, music evidently spoke to Cole who began playing as an infant; his instrument of choice being the harmonica. Often upstaging dad Frankie, who plays guitar & sings, they have been playing to rave reviews throughout the Mid-Atlantic. This is truly an inspiring act you don't want to miss.
Our own Randy Lee Ashcraft & The Salt Water Cowboys are slated for the 2:30 slot on Friday. This is a great opportunity for fans to hear Randy sing his original tunes along with bandmates Jimmy Rowbottom, Kenny Roughton & Leo Carlins. I think Billie Carlins will do a few tunes for us too. Have you checked out Randy Lee on Pandora yet? It's pretty cool. - go to Pandora and type in Randy Lee Ashcraft and you'll hear his originals along with other artists of similar sound. Which reminds me of Randy's song "Chapters of My Life" where he sings "ain't nobody I sound like." Check it out.
Legendary DJ Batman keeps the outdoor party going Friday & Saturday at 6pm so you can keep on dancing until the headliner show comes on at 8 in the big tent. Batman is well know in Ocean City for always knowing exactly what a crowd wants to hear - and he's got it all.
On Sunday we have two more local bands playing for us: Funk Shué at 11:30 and then Old School finishing out the big tent music at 3:30. This will be their first appearance at Sunfest and they're all really excited. Known as 'The Fun Band' (is that because I always write that about them?), Linda Sears, Erve Cassell, Taylor Knox & Ernie Chavis play a mix of classic & old school rock with a good dose of R&B thrown in and, boy, do they have fun interacting with the audience, making sure everyone has a really good time. I hear they're ending their show with a very special song; so I hope you will all hit the big tent to hear them. I'm surprised at this: the last show is at 4:30 on the outdoor stage featuring Kick It Out, a phenomenal Heart tribute band. I saw them at Fager's and they are superb! What a way to end Sunfest 2016. Hope the gorgeous weather of today holds out through the weekend.
Now what's going on around town? As usual, good bands everywhere and I'll mention first one of my very favorites, Tranzfusion. They will be back at BJ's tonight (Friday) and I'm sure the place will be packed. Ditto that on Saturday night for the Chest Pains. 2Guyz & a Mama return on Wednesday night. It will be good to hear Dave Sherman, Chris Button & Joe Mama together again as they've been busy all summer with other gigs. And I think it's the last Thursday with Bettenroo, so if you still haven't heard them, you better get there Thursday at 8pm. Anne on bass & Lori on guitar and petal drums are amazing and really friendly gals too.
Bourbon St. will be off the hook as it was last weekend for Rusty Foulke. 33 RPM with Mike on drums, Rock on bass and Larry on guitar put on a fabulous show on Saturday that you're sure to love. Friday is Jack Worthington and sorry to report, but Randy & Jimmy will not be playing at 4pm as planned. Walt Farozic will host Open Mic Wednesday after playing for us at 6pm. Lots of cool talent shows up every week to play. Come out and join the fun.
Coconuts will be rockin, too, with Over Time on Friday, Funk Shue on Saturday and Lauren Glick & The Mood Swingers on Sunday. Hey, it's the Tipsy Turtle party this Sunday, too. We're going to find out which lucky participant wins the trip to Green Turtle resort in the Bahamas. This party is always off the hook. You can always count on a good time at Coconuts - the music and the food are first class. And I'm so glad they're carrying on into October; the 16th is the closing party.
I just came from hearing the Billie Carlins Group (Leo, Howard & Greg) at Adolfo's and had a great time. Billie has such a style and voice all her own. I love the music she does, including her originals. Next week will be the last Thursday for her and the boys, so make it a point to go hear them next week.
So ... I'm late getting my column finished and I want to tell you about a song I heard on the radio (Ocean 98) today by Bryan Russo from his new CD Burden of Proof. Bryan is such a creative song writer. He says this first installment of the four in a series of albums he plans to produce, addresses some serious subjects but in a happy go lucky rock vein pulling from the style of music that influenced him growing up. If you go to Bryan Russo on facebook, he has posted a link so you can listen to the entire album and then link up with Ocean 98 to vote for your favorite cut on the album. Check it out. I'm going to be writing more about it as I hear more of the songs (I'm listening now). Amazingly good, folks. Way to go Bryan!
I'm going to sign off now as it's close to 1 am and my posting gal is waiting for this. Enjoy Sunfest and all the great music around our great town - and remember to always party safe.
«Go back to the previous page.