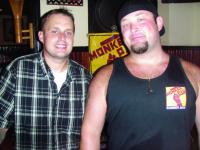 Join Monkee Paw Sunday for Coconuts closing party.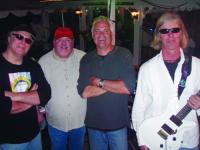 BJ's presents Tranzfusion Friday.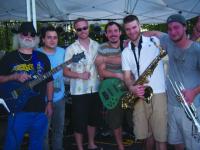 Over Time will perform Saturday at BJ's.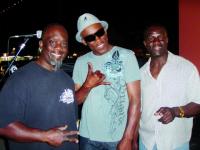 The Zion Reggae Band will play Saturday at Coconuts.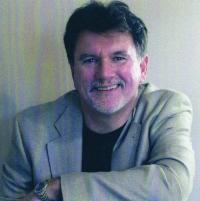 Michael Smith will play Wednesday at Bourbon St.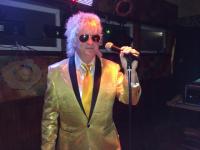 Rod Stewart fans flock to BJ's Wednesday for Sir Rod.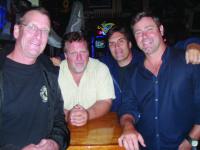 Randy Lee Ashcraft & The Salt Water Cowboys will play Saturday at Johnny's Pizza Pub.
Hi, y'all. I'm so bad. Yep, it's my usual time to have a 'chat' with you but all I can think of is wanting to go hear Kevin Poole & Joe Mama one last time for the season at Coconuts. Can you blame me? They are sooo good! Yes, this is the last weekend at our favorite venue by the sea, Coconuts Beach Bar & Grill. Today (Friday as you read this) Darin Engh comes on at 4 and I'd really like to hear him, too. This guy is a marvel on guitar and presents a different repertoire of music than most others. Of course we can hear him play with his partner, Bob Wilkinson as Opposite Directions, at several other venues such as, Harborside or Seacrets. Saturday get your reggae groove on with the Zion Reggae Band. Yes, we have our very own authentic reggae band in Ocean City. And if you're a Ravens fan, there is also a tailgate party at 5pm. Sunday wraps it up with another Ravens party - game at 1pm - followed by the great music of Monkee Paw. Adam & Mike sing wonderful harmonies, Adam is a wonder on guitar, Rick on bass & not sure of drummer; sometimes Joe Mama, sometimes Ray Perrone. Check out the ad for Coconuts in Best Places. Half price food and drink (while it lasts). Show your love to all the servers and bartenders who have worked so hard over the summer to make sure you had a good time. Come out and join the fun; after which I will go home and cry because I'm going to miss them so much.
Great music continues at BJ's on the Water. Last week was off the hook with Full Circle and Chest Pains, two of our best. BJ's does it again this week with Tranzfusion on Friday and Over Time on Saturday. You know I'll be there. Have you got your costumes ready yet? Of course, costumes are not required for the party but it's always fun to see everyone get in the party spirit and I love running all the pictures, too. Oh, I'm referring to BJ's Happy Hour Halloween on Friday, Oct 28, with music by Teenage Rust & The Fabulous Rustettes. We always have a great time when BJ's owners Billy & Maddy get their group together: Crystel, Paul, Joe Smooth T. Lutz & Howard. "Monster Mash" is my favorite. Stick around for hard rockin' Dust N' Bones to play at 9pm.
Saturday night will be the first time at BJ's for Tor & Coastal Storm; and note the beginning time is 8pm. Tor & his fellow vocalist Dawn sing a wide range of songs for your dancing pleasure accompanied by Harry on guitar & Phil on drums. This group boasts a collective background of years in the entertainment business. As you can read in their website, coastalstormband.com, Tor, beginning at the age of 13, was lead guitarist/singer for groups such as Crimson, RSVP, Snack Pack and Soul Marks. Dawn spent 13 years on Broadway in such plays as Damn Yankees with Jerry Lewis, shows on cruise ships and her most recent years with the New Dawn Experience. Perhaps you will remember her from Galaxy 66? Anyway, I'm sure you will enjoy their show.
Bourbon St. is all dressed up for Halloween! I was there Wed. for Open Mic hosted by Walt and the place looked terrifyingly terrific. Randy Lee Ashcraft will be playing on the 29th for their party but until then, this weekend features Jack Worthington on Friday and Aaron Howell on Saturday. Be sure to remember that starting times are 7pm. That's right - just the way you like it - earlier than the norm so you won't turn into a pumpkin at midnight. LOL! Michael Smith will be playing next Wednesday at 6pm and then will host the Open Mic at 9pm - or earlier. He's such an easygoing host, he'll let you play earlier if you want. It's always a fun time at Bourbon St.
I mentioned Randy Lee - he and the Salt Water Cowboys will be playing at Johnny's this Saturday. I sure hope Mickey shows up with his harp. That man has such a gift; I can feel the angels leaning down to listen when he plays. Randy sang a song called "The Whiskey and You" by Chris Stapleton that just tugs on your heartstrings - Randy sings it so well - and when Mickey adds his melodic mournful notes on harmonica, you just want to cry. Another of my favorites is the American classic "Shenandoah."
You know, as I've said many times before and many of you have said to me, we are so blessed to have so many talented folk in our midst. Please avail yourselves of your wonderful opportunities to hear such talented artists - it's good for the soul.
Until next week, have fun and party safe!