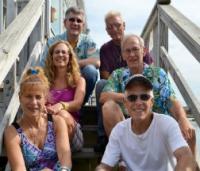 Thin Ice will perform Friday at BJ's.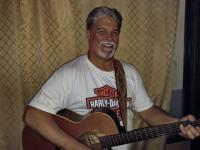 Jack Worthington w/ T. Lutz will play Friday at Pit n' Pub.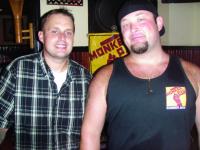 Join the party at BJ's on Wednesday w/ Monkee Paw.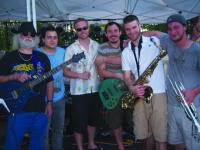 BJ's presents Over Time Saturday.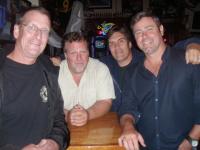 Randy Lee Ashcraft & The Salt Water Cowboys will perform Saturday at Johnny's Pizza Pub.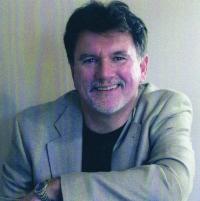 Michael Smith plays Wednesday at Bourbon St.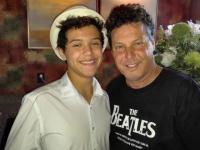 Enjoy the music of Rick & Lennon La Ricci Friday at Bourbon St.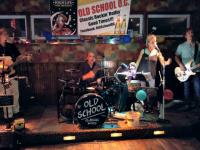 Happy birthday to Linda Sears singing with her band Old School at BJ's on Wednesday.
Well, wasn't that fun? Halloween I mean. I saw lots of cool costumes and you can see them, too, when you check out Fun Fotos. So now that puts us into November -unbelievable! Guess it's true what our parents told us: that the older we get the faster the days, months and years fly by. I've been having this little 'chat' with you on a weekly basis; but now that we're firmly in the off season, I'm going to take some time off. I may decide to write again later this month, but whether I do or not, you can count on my Who's Where When list being up-to-date with the venues and musicians who are still sharing that info with me (others will return in the Spring).
Right now there is something important that I would like to share with you as requested by my good friend Ray Banahan of Coins Restaurant & Pub. One of their own and a friend to many more, Lisa Daye is battling Leukemia. In Ray's words: "Lisa has worked here most of her life and has raised two wonderful children, Hilary and Adam, on her own. Working as a server at Coins and recently at Rosenfeld's Delicatessen, she has touched the lives of so many of us! With God's will, this is our chance to give them a helping hand. After a month in Johns Hopkins, she now endures weekly trips for chemo and radiation. She has had to give up so many things due to the crushing expense of treatments." Knowing the way our great town of Ocean City pulls together in times of need, the folks at Coins have put together a benefit for Lisa that has generated an outpouring of love for her. You can stop in any time to buy a raffle ticket (or make a donation) for gift baskets and/or gift certificates. The final drawing will be on Sunday, Nov. 6, at 3pm, at Coins. "I hope and pray," says Ray, "that everyone can find it in their hearts to give us a hand, and we will see you all on the drawing date! Thank you so much and God Bless you All!" Let's all join in and help Lisa fight her way through this challenge. Remember, but for the Grace of God go I.
On to the music. It was such fun to hear Teenage Rust & The Fabulous Rustettes for the Friday Happy Hour Halloween party at BJ's. What a wealth of talent this band has. Husband/wife team of Crystel & Paul Grandel (keyboard & bass, respectively) both sing as well. Capable and colorful Tommy Lutz, who plays with other musicians around town such as Jack Worthington, keeps the beat steady on drums. Then we have Joe Smooth who is not only the BEST on sax, but also sings. Then there's the husband/wife team of Madlyn & Billy (vocals & guitar, respectively) who both sing as Maddy also dances the groove with her tambourine. Last, but not least, Howard Wimbrow on guitar is one of the best around. Each member so talented - it was a blast... with the added fun of costumes. They'll play for us again at the BJ's Christmas party in early December. Later that night, Dust n' Bones took up the groove a notch with some hard-pounding rock 'n roll. More costumed partiers made the late scene too.
Saturday night was a huge treat for the BJ's crowd with the first performance of Tor & Coastal Storm. The range of their musical offerings is extreme from Motown to Disco to Funk to R&B to modern Rock as well. Dawn is not only one of the best vocalists you're ever likely to hear but also has an incredible performance flair. She plays a mean set of electronic bongos, too. Band leader and singer Tor has been on the music scene for several decades and has his thumb on the pulse of his audiences - instinctively knowing what they want to hear. It's certainly noteworthy that the dance floor was rocking from the very first tune. Phil was rockin' that huge beautiful drum kit while singing backup vocals and Harry also offering backups while playing guitar. They really impressed and entertained the crowd and I know they'll be back at some later date. Wednesday was fun, too, with Old School. It was singer Linda Sears birthday making it an even more festive occasion. Happy birthday, Linda!
I may head back to BJ's tonight (Thursday) to hear Bettenroo again - that's Lori Jacobs (guitar) & Anne Davey (bass). I've enjoyed this duo all summer long and so was happy to be gifted with their new CD titled Live Out Loud that contains 10 original tunes by these talented gals. The second and third on the list, "If The Day Ever Comes" and "I'm Home" are reprised for tracks #11 and #12 played acoustically. Their lovely harmonies are evident throughout and the lyrics are poignant and meaningful with love the central theme. "...feeling nostalgic for the simple things ..." on "I'm Home" and love crushed ... "what was us is behind us now ... the more we fight the good is gone" on "What Was Us." I love the bass line (that's Anne) on "Tell Me Please." A viola part adds to the sweet soulful sound on "Souls Collide" ... "flow of conversations from all the souls I knew... the days are now so seize them..." There are gems and pearls of wisdom in this collection that exhorts us to "Live Out Loud." Ask for it when you see Bettenroo.
I'm going to sign off now for at least a few weeks; maybe I'll be back to talk about Thanksgiving weekend; always a big party time as well as family get-together time. Til then, I'll see you out enjoying live music. Remember to always party safe!
«Go back to the previous page.