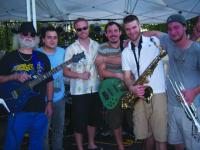 Over Time will perform Friday at BJ's.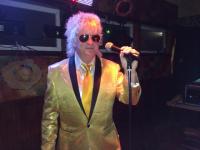 Sir Rod brings us the music of Rod Stewart Wednesday at BJ's.
Rock out with Dust N Bones Saturday at BJ's.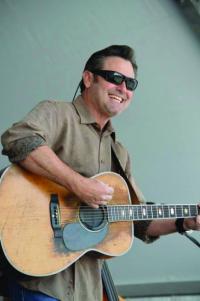 Randy Lee Ashcraft will perform Saturday at The Globe.
Hi, y'all. Told you I'd be back Thanksgiving weekend. I'm writing late on Thursday night trying to work off a little of the delicious dinner I had at daughter Colleen's today - I'm as stuffed as that 22-pound turkey was. What a feast! I hope you all had a wonderful day enjoying the blessings of family and friends. Remember, we don't have to wait 'til Thanksgiving to count our blessings. Stop and give thanks often - as Americans we have so much to be thankful for, right?
It's been a whirlwind of great music lately: Monkee Paw, Tranzfusion, Full Circle, Thin Ice, 2 Guyz & a Mama, Rick & Lennon La Ricci, Randy Lee Ashcraft & The Salt Water Cowboys, Tommy Edward Band, Chest Pains - all the best bands in the area (sorry if I've forgotten someone I heard recently). The caliber of talent from all these groups is just unbelievable; we are so lucky to have them here in our little town on the ocean.
Of course there is so much more to come. This weekend BJ's will feature Over Time on Friday and Dust N Bones on Saturday with Tommy Edward presenting his Sir Rod show on Wednesday. Looking ahead to the next week (and you can click the arrow in Who's Where When to see upcoming weeks), Thin Ice will return to play their eclectic and danceable music for us and remember they now have Dave on trumpet, sax & extra percussion - great sound. Saturday night, Dec. 3rd, will see the return of Tor & Coastal Storm. Their last performance was received with high marks in all categories and we're all looking forward to hearing them again. For more on their music, refer back to Coco Nights 10/28 and 11/4. I promise you a good time, my friends.
We're all looking forward to the annual Christmas party at BJ's on Wednesday, Dec. 7th, at 6pm. As always, please bring a donation of food, blankets, leashes etc. for the Worcester Co. Humane Soc. & Kenille's Kupboard. Your kind generosity will entitle you to enjoy Maddy & Billy's renowned Christmas Buffet - some say the best dressing anywhere. They know how to put out a great spread - just sayin'! Even better, Teenage Rust & the Fabulous Rustettes will play for us. It was a real treat at Halloween and I've been looking forward to this ever since. How 'bout you?
Since the party falls on the first Wednesday of the month, Old School will be playing on Wednesday, Dec. 14. Looking forward to that one too; they're always a lot of fun. Remember, you can still refer to BJ's ads for updates (click on BJ's block on home page that takes you right to their ad) and/or the Who's Where When listing.
Gosh, the days are just flying by. Christmas is on everyone's mind now. I want to close by saying how thankful I am for all of you out there reading this; for all the friends I have made in the 25 years I have been covering the scene in Ocean City. Thank you for your friendship, for the music and love that has come my way.
Enjoy the holidays, friends, and we'll 'talk' one more time in December. Rock on but always party safe!


«Go back to the previous page.