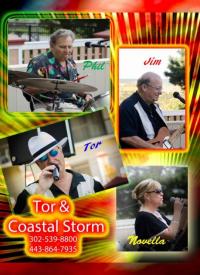 BJ's on the Water presents Tor & Coastal Storm Friday.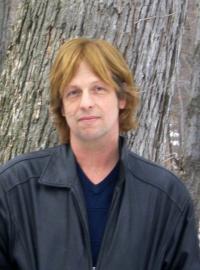 Rusty Foulke returns to Bourbon St. Friday & Saturday.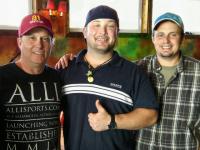 Monkee Paw will perform Wednesday at BJ's.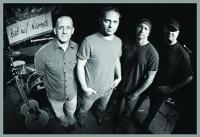 Bad w/ Names rocks The Purple Moose Friday & Saturday.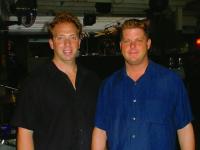 Joe Mama performs w/ Monkee Paw Friday & w/ Kevin Poole Saturday at Coconuts.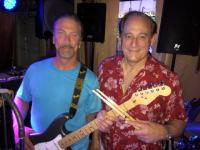 One Night Stand will play Thursday at Sunset Grille.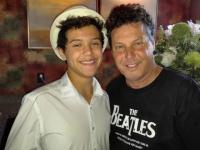 Catch Lennon La Ricci & The Leftovers Saturday at Rio Grande Tiki Bar.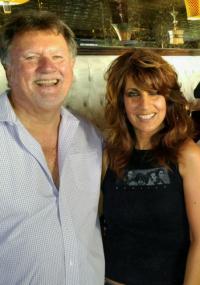 Pearl (Mike & Rita) will perform Saturday at the Carousel.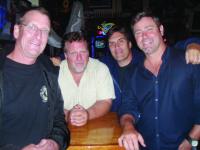 Randy Lee Ashcraft & the Salt Water Cowboys will play Friday at Smitty McGee's; Saturday at Bourbon St.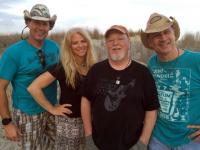 Join the Sunday Coconuts party w/ the Lauren Glick Band.
Hi, out there. These gray days are gloomy, huh? But it does make us really appreciate the sunny ones. I, for one, am grateful for moderate temperatures but I don't like the weather interfering with hearing all the great music at our outdoor venues, right? So come on sunshine!
I want to go to Coconuts this weekend and hear Monkee Paw on Friday, Zion Reggae Band on Saturday and the Lauren Glick Band on Sunday. Remember there are a musical acts at noon, too, but if you know me, you know I'm just waking up at noon so it would be rare to see me out that early. I'm hoping that the weather will finally cooperate on Monday so I can hear Joe Smooth and Bob Wilkinson again, along with Pete on percussion. And I want to find out who are The Vigilantes, playing on Tuesday; and get another dose of Chris Button & Joe Mama on Wednesday; and Joe with Kevin Poole & Chris Thomas on Thursday. All kinds of good music, right? Be sure to check Who's Where When for so much more and enjoy some delicious eats from the grill, too.
Now, night time is when I'm really awake and rarin' to go. I hit BJ's Friday and Saturday last week to hear Thin Ice and Chest Pains; both really good. The new Chest Pains with guitarist Aubrey Bradley and drummer Dean Haemel have really gelled now. They tell me they are having regular rehearsals and it shows as their music is getting much tighter and more confident playing with each other. I saw a performance of The Bleachers on one of the late night talk shows the other night and the lead singer reminded me so much of Byron Anthony - same hair and black-rim glasses; and more importantly, the same vocal range and tone. I've always said that Byron has the perfect rock voice; he could have made it to the top, as could any of the artists in this band. Of course, we all say they have made it to the top in this area. Another tidbit I forgot to mention in earlier chats with you is that Aubrey is the new guitarist with Jim Long playing at Seacrets. He says he is having a lot of fun with it, that they have been rehearsing a lot together and much of the shows you will see are new. I'm going to check it out.
Visit BJ's this weekend to hear Tor & Coastal Storm on Friday; and remember they start a little earlier, 8:30 pm. Audiences have raved about this group at each performance. They play a wide variety of music from several decades and genres and it is all great to dance to. Lead singers Tor & Dawn are absolutely fabulous. Then really rock out on Saturday with Dust n' Bones, a high energy heavy rock group with flamboyant Tim on the drums.
Rusty Foulke is coming back to Bourbon St. It's really cool that a musician of his calibre is coming to our little town but it's because he and Bourbon St. owner/chef Barry are from the same town and have been friends a long time. Barry showed off his own rock chops with his hometown band Holy Hannah when they played at Bourbon St. and again at Beach Barrels. Those guys can really rock it up. We were all most impressed. Maybe they'll come back again. Anyway, Rusty's band is called Hybrid Ice and they played in Ocean City years back; after which he spent a period of time playing with Boston and was on one of their records. Rusty is such a humble guy for one who is so talented but that friendly demeanor endears him to us as well. You'll be amazed at his guitar playing and incredible vocals. Just ask anyone who has already heard him. So come check him out. Dave Sherman plays before him on Friday and Randy Lee Ashcraft & Jimmy Rowbottom will perform at 5 pm on Saturday. Sundays continues to be a fun time, this week with Walt Farozic and Chris Button. I know these good friends are having a ball playing together and, I must say, they complement each other really well. Don't forget Wednesday night Open Mic where lots of area musicians show up to jam with each other and anyone is welcome to join in. This week will be Walt hosting the show.
Here's another bit of music news to share with you. One Night Stand drummer Frank DelPiano tells me that Ted Galinas is now officially their bass player. Yes, he is still with Lauren Glick but there are usually no conflicts with their gig dates. Along with guitarist Mark Rierson, you can hear them next on Thursday, June 15, at Sunset Grille. I hear their performance at Plim Plaza last Saturday went really well with a lot of audience participation and approval. They also play every other Sunday afternoon at the OC Fish Co. on the harbor in West OC. Check 'em out.
Want to dance to some awesome music on the biggest dance floor in town? Check out the Purple Moose on the Boardwalk where you will always find the best rock bands in the region. This weekend it's the return of one of their favorites, Bad w/ Names. The action never stops at the Purple Moose as CK the DJ/VJ spins tunes during band breaks, whenever there are no bands and weekend afternoons. Tuesday and Wednesday nights VJ Mazi has the video music pumping out tunes for your dancing, listening and viewing pleasure. There's always something going on at the World Famous Purple Moose.
Whatever your choice of music or venue, get out there and have a good time; but remember to always party safe.
«Go back to the previous page.