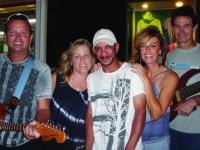 Full Circle will perform Friday at BJ's.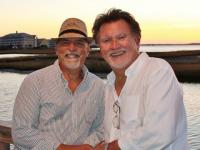 Reform School will play Friday at Bourbon St.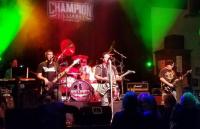 The Purple Moose presents One Louder Friday & Saturday.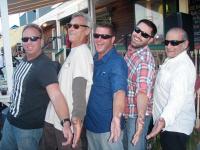 Kevin Poole & The Gang will play Friday at M.R. Ducks after their noon performance at Sunfest.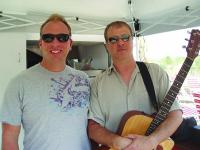 Joe Mama will play Saturday w/ Chris Button at Harborside & High Stakes.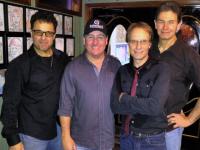 The Chest Pains will play Saturday at BJ's.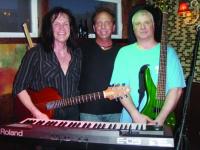 2Guyz & a Mama return to BJ's on Wednesday.
Party with the Lauren Glick Band Sunday at Coconuts.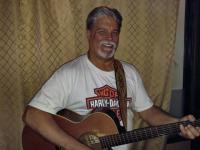 Jack Worthington will perform w/ T Lutz Saturday at Southgate Grill.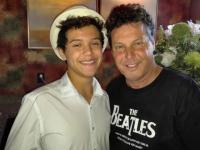 Lennon La Ricci & the Leftovers will play Saturday at Bourbon St.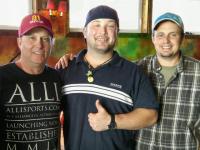 Check out Monkee Paw Friday at Coconuts.
It's Sunfest and the last day of Summer. Happy to report that good weather is projected for the entire weekend with temps in the low '80s. I'm anxious to get there and hear Randy Lee Ashcraft & the Salt Water Cowboys on the outdoor stage and after them, Teenage Rust in the big tent; but I'll take a few minutes to chat with you all.
We all enjoyed the music of The Girlfriends at BJ's last night (Wed.). They play a continuous string of hits that spans the decades and they do it with unerring precision. Drummer Jill impressed us with her drum solo on a Santana number; the applause was deafening. Kim is a master on guitar and sings every rock tune with power and panache. Robin who never stops moving while playing bass, also sings, primarily on the songs in the lower register. Audiences have been so receptive to this female trio that BJ's owner Billy Carder has booked them for a Saturday night, Oct. 7. This weekend at BJ's is a blockbuster with Full Circle on Friday and Chest Pains on Saturday. Both bands are among my favorites; and yours too. Wednesday marks the return of 2Guyz & a Mama. Dave Sherman heads up the trio playing great guitar and singing with that velvety voice I love. Chris Button wears a different hat from his usual guitar shredding gigs playing bass and sometimes keyboards. And 'percussionist to the stars' Joe Mama returns on drums. This always impressive trio is a crowd favorite at BJ's and I'm so glad to have them back for their second season performances at BJ's.
Bourbon St. on the Beach was fun this past weekend with Rusty Foulke performing both nights. What an artist he is. His music and vocals are compelling each and every time he visits us. I'm so thankful that owner Barry has introduced his old friend to Ocean City audiences. Thanks, Barry! It was also most enjoyable to join with friends to hear the Billie Carlins Band on Sunday. I love Billie's unique sound; low, sultry tones on tunes that are timeless but also unique to her performances. I always find myself humming her songs (some originals) for days after hearing her. The band has just added a Saturday, September 30 date at Adolfo's. Treat yourselves. This weekend Bourbon St. features Reform School (that's Jay Stinemire & Michael Smith) on Friday and Lennon La Ricci & the Leftovers on Saturday. Sunday music continues with John Shafter.
While Coconuts has lost a few days to the rains, this weekend should be beautiful starting with Monkee Paw today (Fri.). Adam, Mike & Rick (and guest drummer, Ray or Joe) always deliver the best in classic rock with great vocal harmonies and slammin' instrumentals. Saturday the Zion Reggae Band will play, attracting a huge fan base for their feel-good show. Sunday the Lauren Glick Band will play for the annual Tipsy Turtle party during which a winner will be named for the Green Turtle Cay (Castle in the Sand sister resort) Bahama's vacation. Final contestants have been chosen from every Tipsy Turtle Tuesday's entries. Let's see who the lucky winner will be. Hey, we all win a prize as food and drink are half price! Wow! Aaron Howell will start the day at noon; the lucky winner will be named at 3; and Lauren will play at 4. Big day at Coconuts; but the fun is not over by a long shot. I've just received four additional live music dates for October with the closing party, also featuring the Lauren Glick Band, on Sunday, October 22.
The Purple Moose was off the charts last weekend with Surreal in the house. They always attract a capacity crowd when they play here and this was no exception. It saddens me to realize that this was the last performance 'til Spring. Time is just moving by way too fast. Check out One Louder at the world famous Purple Moose this weekend.
I told you I'm anxious to get to Sunfest so forgive me for signing off. But before I go, please send your prayers out for Kelly Coughlin (former bartender at Bourbon St.) as she has begun her battle with cancer under even more adverse conditions as most of us have heard. We love you Kelly. Enjoy this lovely weekend and always party safe.
«Go back to the previous page.