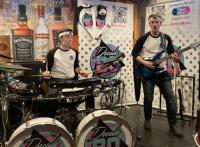 Decade 80 - Justin Fisher & Taylor Knox - were explosive in their performance last week at Bourbon Street on the Beach.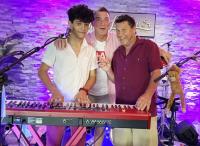 Hear Lennon La Ricci & The Leftovers tonight (Friday) at Coins and Saturday at Fast Eddie's.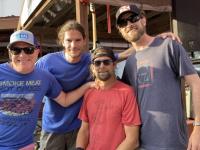 Check out The Dunehounds at Harborside Saturday afternoon.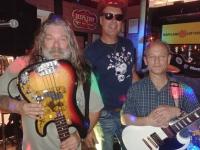 33 RPM will rock the house Saturday at Bourbon Street on the Beach.
Hi, y'all. Are you enjoying these warmer temps? I sure am, but can we keep it in the 60s for a while? It's refreshing to have the windows open with a cool breeze wafting through the house. Last weekend was extremely cool for me music-wise. But first, I want to tell you about the Sunday before, hearing Sean Loomis play at The Cork Bar.

Ocean City music lovers are now much acquainted with this very talented man.  We were first introduced to Sean Loomis when he performed with Darin Engh on a Sunday Pickin' Pickup Party at Harborside, several years ago. Darin invited many Blue Grass afficionados to join him and one such band was Dry Mill Road. Sean was the guitarist who loved the musical vibe here so much that he decided to make Ocean City his home. He is now a well-established mainstay of Ocean City entertainment in several collaborations with local musicians. In The Dunehounds he plays guitar and sings alongside Troy Mawyer, Kasey Briggs and Adam Bilenki. Then he got together with OC veteran players Jeff Davis and Joe Mama, and sometimes Dave Wimbrow, to form Loomatix. In addition to these bands, Sean often plays solo as he did on this occasion at The Cork Bar. I've always loved Sean's voice, so warm and inviting. On this day, I was more than impressed with his catalog of music that I can only refer to as an "American Songbook" of classic folk rock and pop; music that is part of my life and I'm sure for many of you as well. Just a few of the artists he covered: Croce, Taylor, Hornsby, CCR, Dylan (one of my favorites, "Forever Young"), Prine and Petty. Again, this is just a smattering of the incredible repertoire offered up by this supremely talented artist. I thanked him for keeping all this music alive; so much a part of our collective memories. If you haven't heard Sean Loomis, I encourage you to attend one of his shows (he'll be at Coconuts Beach Bar & Grill again this summer) and you'll be a fan as am I. You can hear The Dunehounds Saturday afternoon at Harborside.

Last weekend began for me with a trip to Bourbon Street on Friday to hear the always-entertaining Lennon La Ricci & The Leftovers. Of course, anyone who has heard them knows about young Lennon's talent on the keyboard; but perhaps you didn't know that he also plays guitar and harmonica. Their song lists have become even more inclusive of old and new classic tunes plus an offering of Lennon's original compositions. Dad Ricky continues to entertain us with his extensive complement of beloved songs from such artists as The Bee Gees and The Beatles, plus so many more. His love of music and simply enjoying entertaining us is so infectious, we just have to smile back. As I mentioned last week, the musical connection between them with Michael Valenti on drums has really taken their performance rating to a new high; and he's only been with them two years. You can hear them tonight at Coins. Come out and enjoy the fun.

I had to return to Bourbon Street on Saturday to hear Decade 80. I heard them last year a few times at Coconuts Beach Bar & Grill and I really enjoyed their music. Decade 80 is Taylor Knox on guitar and Justin Fisher on drums. I have to tell you, that I have rarely heard a better audience response to a band than I did on this night. They were explosive! Taylor Knox is one of the best guitarists in the business and I must say, I've rarely seen him so animated in his performance. One of the reasons, I would speculate, is that Justin sings his share of numbers freeing Taylor up to be able to move around. And speaking of animated: Justin was so into the music that he could barely contain himself, and didn't, as he often came up off his stool to play standing up. I'm sure the audience response added to their excitement. It had to make them feel great that we cheered and sang along to almost all of their musical offerings. After the show, I asked Taylor how many songs did they play; because it was non-stop for three hours. "Probably 43 or so," he told me. I tried to write down a few to share with you just so you would know the variety and range of music they played from such artists as: Springsteen, Men At Work, Billy Idol, Dire Straits, Robert Palmer, Michael Jackson, Jackson Brown, Prince, Van Halen, Hall & Oates and Tom Petty. And just as I was thinking they really focused on the popular rock of the era, they brought in a few long-hair bands that might have reached into the '90s; such as Bon Jovi, Journey, Queen and ended with Toto's "Africa." It was an overwhelmingly great night - well let's make it weekend - of music at Bourbon Street on the Beach. And it continues this weekend with the awesome Tranzfusion and riotously fun 33 RPM.

Get out and enjoy Spring and fabulous music in Ocean City. And always party safe!
«Go back to the previous page.