Tranzfusion at Bourbon Street - excellence is why they favored by so many.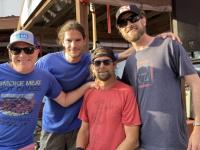 Visit Harborside Saturday to hear fab music from The Dunehounds.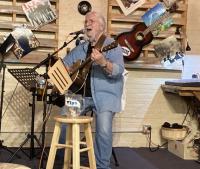 Be sure to hear singer/songwriter Rich Johnson next month when he returns to Sisters in Berlin.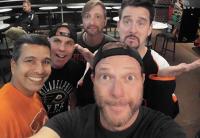 Head to The Purple Moose this Friday-Saturday to hear SLAMM.
Are you having a good time out there? You should be. As always in our fair town, there is plenty of excellent live music and so many venues that it actually becomes a tough decision on which one (or two or three) to attend. This is not a bad problem to have, right? Sometimes I have to pull in the reins to be there for special things such as birthdays. There are two very special birthdays which I'm going to mention here: Randy Lee Ashcraft who is hitting the big 6-0 and Erv Cassel (bass man for Old School) who's got him beat at turning 70. I'm looking forward to celebrating with you both. Drummer Bobby Malaby just had a birthday, too, and while I'm mentioning drummers ... two weeks ago I talked about admiring drummers who also sing (as in Justin Fisher (Decade 80), Jay Stinemire (Reform School) and Mike Beavan (33 RPM), and I failed to mention several others: Adam Bilenki (Dunehounds) and Bobby. Now I know there are bound to be others that I'm not remembering right now and I certainly do not mean to slight anyone. But let me talk about Bobby Malaby first.

There was a facebook post today with lots of cool pictures of Bobby and Tranzfusion over the years. It says that Bobby got his first set of drums at 13; and it cites his ability to provide the "intricate detail of the classics that completes the authenticity of the Tranzfusion sound." So true; a master at his craft. In this band, all four players share vocal duties with Bobby singing cuts from Rolling Stones, Billy Idol and others. The point being he's an excellent singer, too, while still "providing the pulse of the song to the rest of the band." I heard Tranzfusion last Friday at Bourbon Street and I must say it had been too long since the last time. I know I have waxed poetic about my love of this group and their music many times over the years; I was struck anew at just how good they are. The individual musicians - Hank Koenig, Bobby Malaby, Bob Davis and Al Cook - have to be, or as they would humbly say, strive to be, perfect to perfectly recreate the world's greatest music.  They had a few surprises for me such as Jeff Beck's "Cause We've Ended as Lovers." I'm watching a video of Beck now onstage with Eric Clapton who praised Beck's style and expertise. Well, Hank did a superb job on this number - just beautiful. As they proceeded to Pink Floyd's "Money" I again recognized how the world's most excellent musicians veer into the world of jazz and I love it ... the creativity is captivating. So anyone who tells you that Tranzfusion plays the same stuff all the time, needs to stay through the entire show to see what they may have added to their repertoire of fan-requested favorites. They have a monumental catalogue from which to pull as well, so you never know what songs may have been 'pulled from the shelf.' Love, love them!

The other drummer earning my praise this week is Adam Bilenki with The Dunehounds. I saw/heard them at Harborside and again marveled at his ability to play so well while carrying the lead vocals from such groups as The Doors, Tom Petty, Pink Floyd and Who on "Immanence Front." I've mentioned before that one of the reasons I love The Dunehounds is because of their eclectic lineup of songs from many decades and genres. And I love the fact that they have two lead guitarists in Sean Loomis and Troy Mawyer. I really love guitar duets. Bassist Kasey Briggs also adds so much to the group with his often intricate bass lines. Love this group.

Friend Tish and I ventured west to Berlin last week to hear veteran singer/songwriter Rich Johnson perform at Sisters. Rich tells us that he is working on recording a collection of originals, several of which he played for us that I thought were incredibly insightful and beautifully constructed. Rich played so many familiar tunes, some of them being rock songs that he managed to capture creatively on expert acoustic guitar, and with his own arrangements. Here is a small sample of what he played from these artists: Dylan, Doors, Prine, Petty, Eagles, U2, Rolling Stones, Procol Harem and The Beatles. The entire show was totally entertaining and he has a winning smile and personality as well. He will return to Sisters I believe on May 28. Check him out.

Time for me to sign off and get ready for a fun weekend of most excellent music. I hope to see you all out having fun too. Remember to always party safe.
«Go back to the previous page.