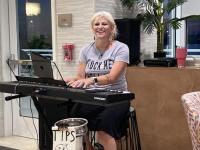 Lauren Glick plays solo at The Cambria every Wednesday; hear the full band Sunday at Coconuts Beach Bar & Grill.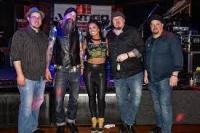 Vertigo Red will rock The Purple Moose Friday & Saturday.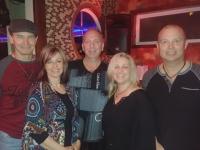 Full Circle will play at Coconuts Beach Bar & Grill Tuesday.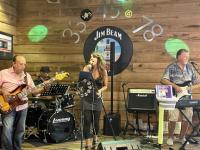 Reform School w/ Pearl will play Friday at The Buzzed Word and Bourbon St. on Saturday & Wednesday.
Hi, y'all.  I've had a very busy, music-filled week so I have much to tell you.  On Monday an unexpected phone call led to an unexpected visit to Fager's Island.  It was my old friend Charlie Hamilton who invited me to come hear him play keyboards with the Rich Mascari Band for the weekly deck party.  If that name sounds familiar to you, you may remember Charlie as the keyboardist and musical director for Mary Lou and her band The Untouchables.  It was so great reminiscing with Charlie about our dear departed friend.  Mary Lou passed away in 2015 at the young age of 49 from various health problems.  She was such a force of personality and a wonderful singer and entertainer.  I first heard and met her at the Sheraton in the early '90s and became close friends; so close, in fact, that people often thought we were sisters ... and often mistook me for her; that still happens occasionally.  The Untouchables were incredibly popular on the Ocean City scene for the next decade playing at such venues as Fager's Island, M.R. Ducks and The Purple Moose.  Check out pictures in Fun Fotos to see Charlie at Fager's and at The Purple Moose where we went after his show.  Fans may also remember Rich Mascari when he use to play at The Purple Moose as Mascara.  He is still a vibrant musician and entertainer who not only is excellent on guitar but plays keyboard as well; and, is a powerful singer.  He told me his latest joy is being a teacher and that his students keep him on his toes as well.  It's wonderful to hear that he is passing the torch, so to speak, to the next generation.  The deck party crowd certainly loved his music.  I hope we get to hear him more often.

Since I have mentioned The Purple Moose here, let me continue about music at that venue last weekend.  It was a surreal Friday and Saturday of music there - that's right, it was Surreal.  The house is always packed when they play. Brian (guitar), Walt (guitar/vocals), Will (bass/vocals) & Chris (drums) always put on a dynamic show.  It's not only the fact that instrumentally and vocally they are so perfect, but that the level of their showmanship and connection with their audience is astounding.  Indeed, what I continually notice is that the audience (while some are dancing at the back of the dance floor) is front and center as if at a major sold-out concert.  Amazing!  And I get it ...  I'd be right up there with them (as I use to be) if I could stand up that long now.   I don't have to tell fans to come, because they will; but if you haven't heard them yet, Surreal will return August 19-20.  I went back to The Purple Moose on Monday night to hear a new band for me: the John Frase Project.  I was most impressed with John's wonderful voice and the different variety of music they played ... refreshing.  I loved the guitarist's sexy, bluesy, sometimes mournful sounding guitar style.  There were many unique arrangements and some medleys plus a little country; many songs you don't usually hear such as a few selections from Hall & Oates and Wham.  I hope we have them back again.  This weekend the always popular Vertigo Red will play on both Friday and Saturday nights.  See you at The Purple Moose.

Last Wednesday I checked out the lounge/bar called The View at the Cambria Hotel where Lauren Glick presides solo with her keyboard every Wednesday.  This was a real treat as we got to hear her sing many of her originals plus other material that she usually doesn't play when with her band or trio.  Here are a few examples:  Croce's "Time In a Bottle," Alicia Keys' "This Girl Is On Fire,"  "If I Ain't Got You," and "Falling," The Beatles' "Dear Prudence," Adele's "Easy On Me," Aerosmith's "Dream On," and The Eagles' "Desperado" on which she invited me to sing with her.  What an honor and so much fun.  Thank you, Lauren.  A few of the originals we heard from her were: "Free," "I'm Not Feeding Any Other Man," "I Really Love You," and "Dangerously In Love With You."  There were others, of course, but I'm telling you, readers, that this woman has really come into her own and I am so impressed with her latest collection of songs on her new album LUSH!  Check out last week's column, if you haven't already, for a write-up of the many accolades this CD has garnered already.  Go out and hear her and be sure to buy a copy.  You can hear her rock it up with her full band Sunday at Coconuts Beach Bar & Grill.  See you there!

Before going to The Purple Moose on Friday, I went to Coins to hear one of my new favorites, The Mercury Agenda.  These guys continue to impress me with their instrumental prowess and great vocals from Doug "The Rock Star" Balche.  (That's his official pro wrestling tag; look him up.)  Demonstrating their versatility, Chris (guitar) and Austin (bass) sometimes exchange instruments and both are more than capable singers as well.  And their drummer?  Dave is amazing ... always firmly in the pocket and creative with his technique and flourishes.  They will be down at the Ropewalk in Chincoteague today; but you can hear them next week at Fast Eddie's on Friday and at The Caribbean Pool Bar on Saturday.  Check 'em out.

Speaking of Fast Eddie's, I was there last night to hear the Reform School Band; yep, the full band and it was a blast.  The audience wouldn't let them go, cheering them on for not one, but two encores.  Rita Conestabile was awesome; such a great voice and entertaining stage presence covering such artists as Pat Benatar, Stevie Nicks, Cindy Lauper, Blondie and so many more.  Multi-talented Michael Smith sings as well and playing both guitar and keyboard is therefore instrumental in the group being able to cover such a wide variety of music from Chicago to The Beach Boys.  I loved "California Dreamin' by the Mamas and The Papas (great harmonies) and "California Girls."  There is none finer than Jay Stinemire whose voice is one of the best I've ever heard.  His tonal quality is so rich and varied; his Elvis was perfection and the classic "Fly Me To The Moon" is always a hit.  And incredibly while playing expertly on the drums!  Can't forget Eddie Saah on bass who always delivers.  I don't think I've ever heard him stumped by not knowing a song.  He has played with some of the best over the years; a true veteran and expert.  I heard it mentioned that a memoir is either solicited or promised ... either way, I can't wait to read it.  He may look so serious on stage but when he breaks that smile, it's almost magical.  What a guy!  Reform School continues to play and host the Open Mic every Wednesday at Bourbon St. and you can check out their other dates in the Who's Where When of this site.  Look it over to plan your week and even upcoming weeks of musical fun in Ocean City.  'Til next time, have a great week and remember to always party safe!





«Go back to the previous page.