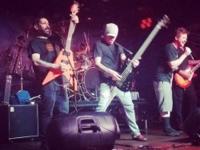 Doc Marten & The Flannels will perform Friday & Saturday at The Purple Moose.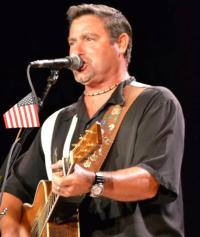 Randy Lee Ashcraft will perform Saturday at the Windmill Creek Winery.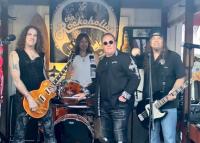 Check out The Rockaholics Saturday at Coconuts Beach Bar & Grill.
Party with Old School Wednesday at Fast Eddie's.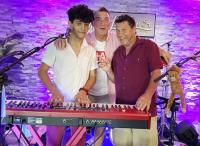 Lennon & The Leftovers are set to play Saturday at Coins.
It's July 4th weekend and our town is overflowing with visitors to join in the celebrations.  Those celebrations will look a bit different this year as most of you may already know.  If you go to ococean.com, as I just did, you'll find the information you may be seeking.  On Sunday, July 3rd, the usual Sundaes in the Park (126th St.) will feature Mike Hines & The Look as the musical guests at 7 pm with what they depict as an "intimate" fireworks display - that must mean small - at 9 pm.  There will be two separate events on Tuesday, July 5th.  Downtown music will be presented at the Caroline Street Stage at 8 pm with a small firework display at 9:30 with recommendations to be on the beach between 3rd St. and the amusement pier for best viewing.  The big show, in my view, will be at Northside Park where American Idol Top Ten contestant Jay Copeland will perform at 8 pm (no fireworks).  Now, I don't know if you're an American Idol fan, but I can attest that our local Salisbury native Jay is phenomenal and should have been top three in my book.  I know he'll put on a fabulous show.  For more celebration information about celebrations from Berlin to Ocean Pines you can call 800-626-2326.

I don't usually talk politics in my music information column, but I feel compelled to say just this: as we celebrate our 246th birthday of American Independence, let us remember the sacrifices of our forebears; remember the patriots who penned the Declaration of Independence and the Constitution, who realized that this divinely inspired experiment of Democracy would only succeed if its citizens remained vigilant that the separate branches of government did not overstep their authorities and that its citizens would educate themselves and exercise their right, indeed their obligation to our country, to vote!  We have that opportunity in July.  Remember, it's not just the presidential elections that matter, but at the grass roots of our representative government that we choose those we want to represent us in Congress.  It's vitally important, my friends.  VOTE!!

Now let's get to the music and fun that Ocean City has to offer.  One of my favorite go-tos is The Purple Moose on the Boardwalk.  I had a great time hearing the guys in Bad w/ Names last week; and even got a picture with a couple of them (see Fun Fotos).  Lead singer and guitarist Jason Slemer kept the audience engaged and on their feet dancing while bandmates Dylan Schwacke on lead guitar, Mike Berg on bass and Greg Yakaitis on drums put it all together.  This weekend will feature club favorites Doc Marten & The Flannels.  You'll enjoy the powerful vocals of Billy Fisher backed up by Chris Richard on guitar, Keith Thompson on bass, Steve Shaffer on guitar and Anthony Grabowski on drums.  Join the party and also enjoy those cold cocktails from OC's best bartenders. You can always count on The Purple Moose to present the best rock acts in the region and all your favorite tunes from their most excellent DJs as well.  Be sure to consult the Who's Where When on this site for more specific information.

Another of my favorite venues to hear awesome music is Coconuts Beach Bar & Grill - behind the Castle in the Sand Hotel.  Party with Monkee Paw today, Rick & Regina tomorrow and new band Beach Mac on Sunday.  I haven't heard them yet but I have heard each of the players with their other band collaborations so I know they're all good.  Aubrey Bradley is on guitar, with Chuck Leo on bass and Mike Beavan on drums.  I know you've heard those names before, right?  And, of course, Coconuts offers two great acts every day of the week: first at noon and another at 4 pm.  So it doesn't matter what day or what time you decide to visit, there will always be first-class entertainment and great eats from the grill, too.  And remember, Coconuts offers beach service; so you can sit on your blanket by the ocean and order your favorite cocktails and food.  You can't beat that, right?

I had a great time in a beautiful setting last Saturday - the Windmill Creek Winery.  We heard Lauren Glick & David Michael play and it was superb.  We got a chance to hear some of Lauren's new music from her CD Lush and simply enjoy music outdoors under the trees.  We have another opportunity this Saturday with a performance from Randy Lee Ashcraft.  As many of you may know, Randy is undergoing treatments for throat cancer so it will be a while before he can perform again; but we have faith and every confidence that he will beat this thing and be back with us soon.  Keep the faith, Brother!

I've really enjoyed music at Fast Eddie's lately and last week was no exception as I made another trip to hear The Mercury Agenda.  These young players continue to impress me and singer Doug Balche is a powerful presence onstage as well.  The players - Chris, Austin, Nalan and Dave - are most generous, too, as they often invite friends to sit in on a couple songs as they did when they invited Amby (Ambrosia) to sit in on drums.  Gotta say, she was most impressive.  You can hear her play with her band Tourist Trap on July 15th.  Meanwhile this weekend they have Dust n' Bones on Friday, The Rockaholics on Saturday and Mercury Agenda returning on Sunday.  Fast Eddie's is also featuring an Open Mic night on Tuesdays hosted by Identity Crisis drummer Ray Perrone.  Come on out and show off your talent.  Wednesday night is your once-a-month chance to hear Old School OC play for you.  With Linda's fabulous voice, Vincent's infectious smile on guitar, Erv's joyful bass playing and Frank's more-than-competent percussion, you'll enjoy their show.  I always call it their party 'cause that's exactly how it feels - it's a party and you're all invited.  Looking at the list I see that Shots Fired will play on Thursday - love that band too.  Be sure to check out all that is out there for you and do your best to see and hear as much as you can.  Enjoy your holiday, my friends, in the Home of Freedom that is The United States of America!



«Go back to the previous page.