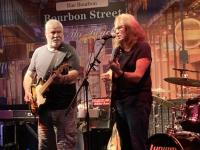 Chris Button & Dave Sherman were awesome playing "While My Guitar Gently Weeps" at Bourbon Street.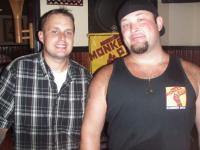 Mike & Adam of Monkee Paw invite you to join them and Joe Mama on drums and Rick on bass for the Coconuts Beach Bar & Grill closing party Sunday.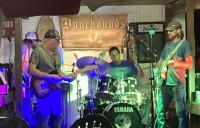 The Dunehounds played another great show at Coconuts Beach Bar & Grill.
Hi, y'all. I'm lovin' this 'Indian Summer,' aren't you? On our visits to Coconuts last Sunday and Wednesday, we bemoaned the fact that there's only one week left there before closing. Couldn't they stay open 'til November? Wishful thinking. You never know what Mother Nature is going to bring us so I guess we have to bow to her power, so to speak. It was great fun hearing Lauren Glick, Steve Kuhn & Wildcat Kelly play for us Sunday; her last performance there for the season. (I also really enjoyed her performance at Bourbon St. with Dave last Thursday.) This is the time for many locals to hit this hotspot, avoiding the summer crowds. However, I noticed a lot of older folks (no kids) who choose to take their vacations during this second season. That was quite in evidence on Wednesday when I returned to Coconuts to hear the Dunehounds again. They were every bit as good as I remembered (and wrote about) last week. There was one glaring omition: bassman Kasey often lends his voice to the songs, along with Sean & Adam, to make for some sweet harmonies. And I love the dual lead/rhythm guitars ... it creates such a fullness of sound; so thank you, too, Troy, for your contribution to the awesome sound of the Dunehounds.  Sean tells me we can find their schedule on seanloomismusic.com.  I'll be looking for their next performance. This Sunday brings the legendary Coconuts closing party: everything half off and wonderful music from Monkee Paw.  Adam, Mike, Rick & Joe Mama have the destinction of being the first band and the last for 2021. We're going to have a great time so come join us. I'll probably write something about this last adventure in next week's edition; but I want to say a big 'Thank You!' to the staff of Coconuts Beach Bar & Grill for providing one of the best party places in town.  Thank the music gods, we will still have several venues left in which to hear live music over the fall/winter months.

Open Mic Night Wednesday at Bourbon Street on the Beach brought a most welcome surprise - Chris Button showed up. Wow! It's been months since Chris has played in OC after many years here as one of our most popular musicians. I often call him a guitar wizard because indeed he is. He pulled out some new tricks I hadn't seen for a most impressive performance. For those who don't know, Chris moved to the Annapolis area after marrying lovely Carrie and I hear he is quite the phenomenon there, as well he should be. In one of his many projects, Chris was in 2 Guyz & a Mama with Joe Mama and Dave Sherman. So glad Dave came by and he and Chris shared the stage for a few memorable numbers, my favorite being George Harrison and Eric Clapton's "While My Guitar Gently Weeps." I adore the harmonious intertwinings of melody and harmony on this song and they do it so well. Chris told me he will be back the end of October to play for Bourbon Street's Halloween party and more. Be sure to check their website for dates and times of all the great entertainment there. I mention this because I have decided to take coconuttimes.com on hiatus for the winter giving my loyal clients a season to sit it out and for me, too, to take a break. I looked back at my Coco Nights columns curious to see how long I've been working on my house renovation project and it was in the August 27th issue. Whew! And here it is October. Professional packers came the last two days and took most everything but my chair and TV in preparation of painting. This has been a long haul. The roof is done, though, and maybe the rest will go quickly. So I will be glad to take a break and just be an appreciative listener along with you all when I go out.

I'm hoping to make it to the Purple Moose either tonight or Saturday to hear the awesome music of SLAMM! I always have a great time there with the best in rock music and the friendliest bartenders in town. There are two more weekends for live bands there, culminating in their Halloween blowout with Alter Ego and Doc Marten and the Flannels. You can still see those dates in Who's Where When. Well, folks, I'm gonna get on outta here and go hear some music; hope you do the same. Have a great week and party safe!
«Go back to the previous page.