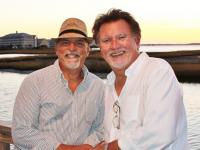 Reform School performs today, Friday, at the new Pier 23 in West Ocean City; and every Wednesday at Bourbon Street.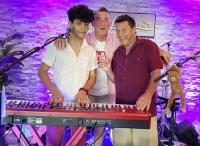 Lennon & The Leftovers will play Friday at Bourbon Street and Saturday at Fast Eddie's.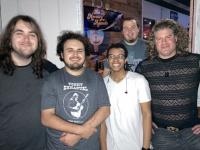 Mercury Agenda will perform Friday at Fast Eddie's.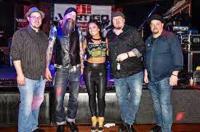 The always-popular Vertigo Red will take the Purple Moose stage both Friday and Saturday nights.
Happy Memorial Day Weekend! There's so much going on this week and the week coming up that I hardly know where to begin. I'm sure you've heard the buzz all over social media about a new event happening in September. That may seem far away but tickets went on sale this week and there was a purchasing frenzy. We got ours! This three-day concert event is dubbed Oceans Calling and will feature such big name acts as Dave Matthews, Cindi Lauper, Alanis Morissette, Lumineers, Black Crows, Cage the Elephant, Sublime, Grouplove, OAR, Dirty Heads and more, certainly making it buzz-worthy. But let's not forget our home-grown event, the Jellyfish Festival, June 3-5. Ten bands will bring their music to our beach stages including our own Jimmy Charles on Saturday night and Roast John and Lauren Glick on Sunday. Get your tickets now. There's another most unusual event the same weekend that has come to my attention and that is the Professional Bull Riding Challenger Series on Sunday June 5 at the Inlet. Yep, real bull-riding champion cowboys are coming to town. Wow! But let's get to this weekend's happenings. Macky's is staging their annual Life is Good Music Festival on Saturday with popular groups Ballyhoo and Pasadena headlining the day of fun. All around town the amount of musical acts presented has escalated with the official beginning of Summer 2022!
I always have a good time when I hit the beautiful beachside patio that is Coconuts Beach Bar & Grill behind the Castle in the Sand hotel. Last week I heard Kevin Poole & Joe Mama who have been two of my favorites for many years now. Expertly proficient on guitar, Kevin is also a master at creating his own arrangements of familiar tunes that keeps his show fresh and current. And, of course, possibly the most sought-after drummer/percussionist around, we have admired Joe Mama on the drums since he began with Kevin years ago (they will return to Coconuts on June 11). He also plays with Full Circle, Monkee Paw, Dave Hawkins, Richard Walton, The Loomatix and Matt Tichon. Whew! Yes, he's busy. On tap this weekend at Coconuts is the Chris Sacks Band today, Zion Reggae on Saturday, Colossal Fossil Sauce on Sunday and Thursday, one of my favorites, the Chest Pains; all excellent entertainers. Be sure to check Who's Where When for the full lineup; two acts per day!
Did you know that Pier 23 on the commercial harbor in West OC is set to open and feature live music? I'm very pleased to say that after the devastating fire that destroyed Captain's Galley II, the venue has been constructed from the ground up with a new name, Pier 23 and a new mission: Ocean City's first water front container food port, their cargo being outstanding food and exceptional drinks. It certainly looks unusual from the front so I can't wait to experience it for myself. Some of the entertainers coming up: today, May 27th, Reform School; Keri Filasky on June 3; Lime Green Duo June 4, Margot & Co. June 10 - all acts at 3 pm.
Celebrating the beginning of their second season in Ocean City, Fast Eddie's has become a very popular venue featuring excellent food and entertaining bands. Mercury Agenda is slated to start off the weekend tonight. Doug, Austin, Chris & Dave span the decades of incredibly executed rock. These young musicians are most impressive. I love their repertoire and energy. Saturday the always amazing music of keyboardist Lennon La Ricci will astound us with his partners The Leftovers: Mike on drums and dad Ricky on guitar. Beginning Wednesday, June 1, Old School will play at Fast Eddie's and every Wednesday thereafter for the summer. That's exciting news. And speaking of Old School, they will play tomorrow (Saturday) at the new Boozy Egg atop the Quality Inn at 5:30. Yep, we are full-on for summer fun.
I mentioned Reform School earlier - I'm happy to report that Rita Conestabile is returning from Florida for some dates with Michael Smith as Pearl, the first being Saturday, June 4, at The Angler. They will also perform Sunday, June 12, at Fast Eddie's. I imagine she will be joining Reform School for Wednesday's ever-popular Open Mic Night at Bourbon Street on the Beach. What a lineup for us there this weekend: Dave Sherman on the deck and Lennon & The Leftovers tonight; Rusty Foulke on the deck Saturday with Silky Jones inside at 8 pm; Ward Ewing on the deck Sunday and Rusty Foulke inside at 8 pm. Taylor Knox will provide the Monday holiday entertainment at 4pm. Always something fun happening at Bourbon Street on the Beach.
I'm looking at grey skies as I wrap this up, fearful that stormy weather is going to interfere with our fun again. Can't fight Mother Nature. Have fun whatever you do and always party safe.
«Go back to the previous page.