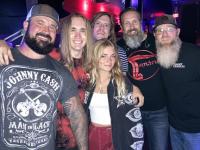 Side Project got together for this group shot during their show at The Purple Moose.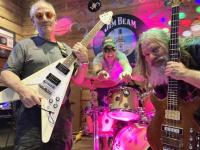 33 RPM put on a great show as always at Fast Eddie's.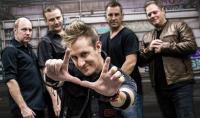 Alter Ego will rock the Purple Moose stage Friday & Sunday nights.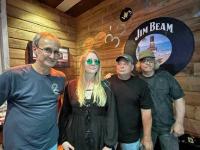 Check out the sounds of The Lime Green Band Friday at Coconuts Beach Bar & Grill.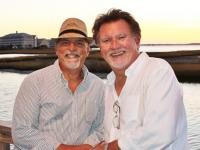 Reform School will play Saturday at The Boozy Egg.
Party with Lennon & The Left Overs Saturday at Scotty's Bayside Pub.
As I sit down to 'chat' with you this week, I just don't know where to begin; I'm feeling so overwhelmed by all the great entertainment I've experienced and don't know where to start.  Maybe I can jiggle my memory by beginning with last night and working my way back.  Thursday was a beautiful night of enjoying music and friends at Ocean City's wonderful bayside Sunset Park.  Fans turned out to hear the enduringly iconic group Teenage Rust play our favorite tunes while we also enjoyed nature's beauty with a lovely sunset.  If you've never visited Sunset Park, please take a look at Fun Fotos to see what I'm talking about; where you'll see Crystal (keyboard), Paul (bass), T Lutz (drums), Maddy (tambourine), Billy (guitar) & Howard (guitar) playing a non-stop, two-hour show for us.  Superb!  Next week you'll want to check it out for yourself to hear another long-time musical treasure, Tranzfusion.  I plan to return; so see you there - Thursday.

Wednesday night was a different mode of entertainnent but still focused on music: ELVIS!  Wow, what a film!  And what a journey back to that era of political upheaval with Elvis emerging onto the scene during segregation.  You'll see how he was inspired by gospel and blues from his childhood and the beginning of careers of such later stars as BB King, Little Richard and many others I can't remember right now.  His interpretation of their music and the unihibited style in which he performed is now the stuff of legend.  And if you think it's just a Hollywood portrayal, be it known that Presley's family and former band members attest that the story is accurate.  I was only 8 years old when Elvis hit the big time but my Aunt Darlene was three years older and she had every 45 he made.  We were huge Elvis fans; I sang "Don't Be Cruel" in my fifth grade Friday talent hour; I even had my hair cut like his.  I finally saw him live at the Hampton Coliseum in 1970 or '71 and despite his grueling schedule, he poured his heart and soul into that performance. It was magical.  Enough reminiscing.  I love the movies.  Did you know that you can go to coconuttimes.com and View Advertisers to click on the theater logos to go to their websites?  Quick and easy.

Sunday and Monday nights at The Purple Moose were both special with two of our best local groups performing.  Sunday night was Dust n' Bones playing a full night of hard-rockin' music for fans and newcomers alike.  I loved the full lineup of musicians on the big stage: Dean Clark (vocals), Mark Townsend (guitar), Aaron Bowers (bass), Kurt Webster (drums) and the addition of guitarist Nate Bowers for this show.  It was electrifying.  Monday night I was back to hear Side Project who entertained with a wide variety of musical genres and guest performers too.  Founding members Jeremy Brink (vocals/guitar) & Mike Trader (vocals & hand percussion) were joined onstage by Brian McKenna (drums/vocals), Adam Durham (bass) & Gavin Brink (guitar).  You may have recognized Adam as The Purple Moose party host DJ Adam Dutch.  And so many of you are now aware that Gavin (15) is Jeremy's son who has already had the distinction of sitting in with some top names such as Brett Michaels and Jimmy Charles.  Playing guest spots with the band were Gavin's girl Ivorie Helmbright on guitar who played lick-for-lick alongside him; and Mike Rogers who did a half set on bass.  Again, check out the photos where Gavin plays some incredible lead riffs such as the absolutely guitar-shredding solo a la Eddie Van Halen.  What might be even more impressive than the instrumental skills of this band are the powerful voices of Mike & Jeremy: wonderful harmonies too.  Side Project will return to the Purple Moose on Sunday, August 14.  Don't miss it.

Sunday I also had a great time at Coconuts Beach Bar & Grill hearing The Loomatix.  I was so happy to see that keyboardist Dave Wimbrow was at the gig.  His contribution absolutely broadens the musical selections and his vocals, plus harmonies with guitarst Sean Loomis are also superb.  Jeff Davis on bass and the nearly legendary (he's still too young for that) Joe Mama on drums provide the foundation for this talented group of musicians.  From there I went to Fast Eddie's to hear the lovely Rita & multi-talented Michael sing for us as Pearl.  And yes, then I went to The Purple Moose.  Now that was a great day of music.

Saturday night I just had to hear 33 RPM at Fast Eddie's.   Guitar wizard Larry Biegel can get a wide range of sounds from his pedal gadgetry as he did with his organ intro to U2's "Streets Have No Name."  Wow!  The show rocked on with scores of wide-ranging music from the Rollings Stones, Petty, Bowie, CCR, Queen, Kravitz, Kiss and on and on.  There were some medleys that went from Elvis to Cash and Stapleton to James Brown's "I Feel Good."  OMG!  We were all feeling good, that's for sure.  Drummer Mike Beavan and wild man bassist Rock Rollain share in vocal duties with super showman Mike adding a change of hats to suit the songs.  So much fun.  I was sorry to have missed Mike's latest collaboration with Aubrey Bradley (guitar) & Chuck Leo (bass) as Beach Mac when they played at Coconuts.  Hopefully I'll catch them next time.

And I thought I didn't know what I was going to say ... LOL!  As far as what's coming up - you'll just have to go to the Who's Where When list to plan your musical outings for the week.  I've got my eye on Full Circle at Windmill Creek Winery (Fri.) and Lime Green Band (Fri.) at Coconuts ... maybe Tourist Trap later at Fast Eddie's.  Saturday may find me at Crawl Street Tavern for The Mercury Agenda; but who knows?  I'd love to be everywhere and I love it that I can go to The Purple Moose when other places are done; this weekend to hear Alter Ego.  And I see that they are having another Sunday/Monday live music act with Fastasm.  Hope to see you all there or anywhere.  Get out and have some fun ... remember to always party safe!



«Go back to the previous page.