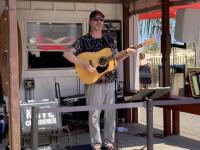 Nate Clendenen started off the week on a great note on Monday at Coconuts Beach Bar & Grill.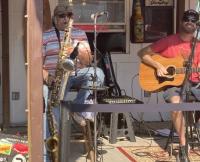 Sean Loomis (sitting in for Bob Wilkinson) did a great job playing alongside Joe Smooth at Coconuts Beach Bar & Grill.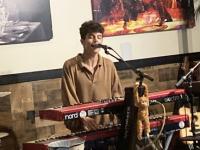 Lennon La Ricci left his audience astonished at his talent during the Leftovers show at Coins.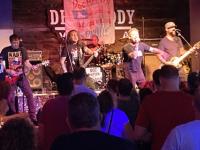 Doc Marten & The Flannels had the Purple Moose crowd dancing 'til 2 am!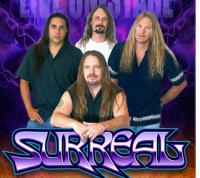 You don't want to miss Surreal playing Friday & Saturday nights at The Purple Moose.
Are ya havin' a good time? With everything Ocean City has to offer, you certainly should be. Even though I'm not getting out as often as I use to, I still enjoy the variety of music and number of venues in which to hear it. Coconuts Beach Bar & Grill lured me last Monday; I even went early (rare for me) to hear Nate Clendenen at noon. I've always loved the timbre of Nate's voice and his song selections are so different from other entertainers, with a wide genre range too. Before the pandemic, we often heard Nate playing with his band Eastern Electric; and friend Tish and I remembered his special Bob Dylan tribute shows, too. Sure hope that can be resurrected soon. For now, you can hear Nate every other Monday at noon at Coconuts. Next up was Joe Smooth on sax with Sean Loomis filling in for Bob Wilkinson, who is away on a family vacation to Maine. I've said it many times and it's worth repeating again: the calibre of our musicians and the sense of camaraderie is off the charts - it's like a finely tuned piece of equipment with many interchangeable parts - as players are able to sit in with each other and play whatever is called for. Sean, for instance, in addition to playing solo, is in two bands: The Loomatix and The Dunehounds; and Joe Smooth plays with several bands and duos. Anyway, it was a most enjoyable afternoon of excellent music. Check out Who's Where When for a complete list of who's playing at Coconuts this week, including two of my favorites: 33 RPM on Saturday and The Lauren Glick Band on Sunday.

Last night, Thursday, I went to Coins at 28th Street to hear the amazing Lennon La Ricci & The Leftovers: Mike on drums, Lennon on keyboard and Ricky on guitar. It was their first appearance at Coins and the crowd was soon cheering and applauding the talent of this trio. Of course the highlight is Lennon who is fast and furious on those keys - we're talking jaw-dropping astonishment at his skills. People kept coming up to me and asking, "how old is he? He's amazing!" For those of you who don't know, Lennon is 20 now. He began playing alongside dad Ricky when he was an adorable 9 years old - and I'm happy to say I was there and have watched this young man grow into a consummate musician and performer. I agree with the other folks who kept saying, "my gosh, what's he going to be like when he's older?" The sky's the limit, I say. I'm sure we'll see them again at Coins as Ricky said, "I love it here!" And we all loved them too. Meanwhile, check his ad on this site and in Who's Where When for upcoming dates where you too can rave about Lennon & The Leftovers. Tonight, come by Coins to hear Full Circle and every Saturday spend your afternoons with musical fun complements of Jim Long.

The Purple Moose is always a source of musical happiness for me and last week was no exception with music by Doc Marten & The Flannels. These guys really rocked the house as they played several genres of rock in each of their sets. This weekend one of my very favorites will return - Surreal! If you're wondering why I'm always gushing praises about Brian, Walt, Will & Chris, you'll just have to go and hear them yourself - you're bound to agree. With summer in high gear now, The Purple Moose is offering live music (in addition to Friday/Saturday)  on Sunday/Monday and Thursday. And fine DJs with their finger on the pulse of what you want to hear are onstage every night. Again, check their ad and/or the Who's Where When for a complete lineup.

Friends helped me make it to the Ocean Pines Yacht Club last Saturday to hear Tranzfusion but the night didn't turn out as planned. In between two downpours, bass man Al Cook tripped over an overturned lawn chair breaking his right hand from the fall. As Tranzfusion is so dedicated to the integrity of their musical performances, they decided to end the show that night. My sincere best wishes for a full recovery for Al. He says he can play a baseline on keyboard with his left hand; so he's game to carry on - nothing wrong with his wonderful voice. Love you Al - and love love Tranzfusion.

I want to thank my friends Terry Sullivan, Terry Kuta and Carolyn Colucci for sending me photos from shows I wanted to attend but just couldn't; like Rusty Foulke at Bourbon St., another great venue for rockin' great music. That's it for this week, my friends. Enjoy this summer and always party safe.



«Go back to the previous page.