Shots Fired brought the house down Thursday at Fast Eddie's.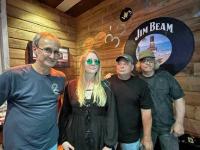 The Lime Green Band will perform Friday at Fast Eddie's.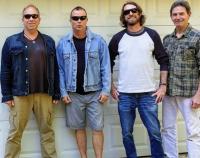 Check out The Loomatix Sunday at Coconuts Beach Bar & Grill.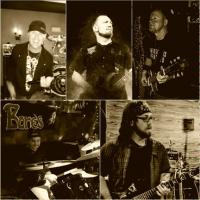 Dust n' Bones will play Sunday at The Purple Moose.
The Mercury Agenda will perform Saturday at the Caribbean Pool Bar Plim Plaza.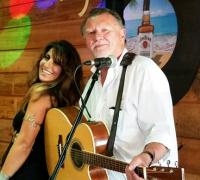 PEARL will play Sunday at Fast Eddie's.
Friends, family and fans gathered on the beautiful grounds of Windmill Creek Winery to see Randy Lee Ashcraft & The Salt Water Cowboys for Randy's wonderful music and to wish him well as he continues his arduous treatment of radiation and chemo to combat throat cancer.  He was very forthcoming in sharing all his news which brought us hope and comfort as he says he is confident he will be performing for us again come September.  Randy has a very positive outlook and says he is most appreciative of all the love and prayers that have been poured out to him thus far and he asks that we continue to pray for him as he embarks on this life challenge.  Keep the faith and your fighting spirit, Randy Lee.  We love you!  Lauren Glick will be at the Winery tonight and Margot & Company on Saturday.

On to some welcome news coming from The Purple Moose.  Kudos to owner Bobby Taylor who has hired two of our rockin' local bands to take the big stage: Dust n' Bones on Sunday and Side Project on Monday night.  We loved rockin' out with Dust n' Bones at BJ's; now they often play at Fast Eddie's.  Most excellent vocalist Dean Clark is backed by bandmates Mark Townsend on guitar (it is these two who play as a duo), Aaron Bowers on bass and Kurt Webster on drums.  I have no doubt that Purple Moose partiers will pack the dance floor as this group plays their great repertoire of rock music.  Come back on Monday night when local group Side Project will hit the stage, also presenting all your favorite rock tunes.  Founders Jeremy Brink (vocals/guitar), (also of Ocean 13 Seafood & Steakhouse in OC & Captains Galley Crab Cake Shack in West OC) and Mike Trader (vocals/hand percussion) started as a duo 25 years ago and are now celebrating 10 years as a band with Brian McKenna on drums and Adam Durham on bass.  Jeremy tells me the bass part alternates but I also want to say that you might recognize Adam as DJ Adam Dutch who is at the Purple Moose every Tuesday and Thursday and also Saturday afternoons.  Well, that's cool, huh?  What's even more cool is that Jeremy's son Gavin caught the musician bug at an early age and now at only 15, is the official lead guitarist of the band.  Gavin has enjoyed stage time with some well-known bands who have visited here including Jimmy Charles and he is always impressive.  Check him out.  And, of course, you can always count on the best in fab rock music: this Friday & Saturday it's Tripwire.  Come on down to the Boardwalk and visit the world famous Purple Moose Saloon.

I've had a blast the last two nights at Fast Eddie's and I may go back again for Lime Green Band tonight.  Hearing Angeline Leech on vocals is always a pleasure.  She's one of those rare singers who has a wonderful tone and incredible range, making it sound effortless in the process; truly gifted.  Guitarist Terry Wilson also shares vocal duties while John Murrell on bass and Billy Heiser on drums provide the foundation for the band.  Check 'em out tonight at Fast Eddie's.  Last night there was awesome with Shots Fired and let me tell you, they were firing on all pistons.  Both Brian Thomas' and Danny Shivers' vocals are superb while Danny is also one of the best guitarist you're ever likely to hear.  Bassist Dom Mamana also sings a few as he did on Billy Idol's "White Wedding," while Chris Bailiff (and sometimes backup vocals) is explosive on drums.  The crowd sang along with many songs indicating they were just the right audience for the '80s music (and more) this group plays.  By the end of the night, we didn't want them to stop.  The crowd chanted "one more song" and Shots Fired obliged leaving us all vibratingly satisfied.  Ooooh!  Be on the lookout for Brian Thomas' new band Risky Business.  More on that later.

Before I go, let me mention that one of my favorites will be at Coconuts Beach Bar & Grill on Sunday: The Loomatix.  The band is one of the most eclectic you'll ever hear; songs from every genre and generation delivered with cool finesse by singer/guitarist Sean Loomis along with his bandmates Jeff Davis on bass, Joe Mama on drums and sometimes Dave Wimbrow on keyboards (hope he can make it).  The wonderful Heather Vidal is back to entertain us on Tuesday with her oh-so beautiful voice and accomplished guitar playing; so that's another one you don't want to miss.  Be sure to check the "Who's Where When" list for so much more.

This just in: Billy Carder of Teenage Rust is asking to "get the news out" that his band will be playing at the lovely bayside Sunset Park on Thursday, July 14th at 7 pm.  This is such an amazing venue; bring a chair or sit on a bench and watch the sun go down behind this enduring band we all love to hear.  Billy on guitar along with Howard, the lovely rock queen Maddy on backup vocals and flamboyant tambourine, Crystal on keyboards/vocals, Paul on bass/vocals and T Lutz on drums playing the classic songs we all love.  Hope to see you all there.  For now, it's time to get out and hear some exciting live music in our wonderful town of Ocean City.  Have a great week and remember to always party safe.
«Go back to the previous page.