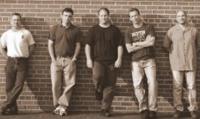 Misspent Youth will perform great rock music Friday & Saturday nights at The Purple Moose.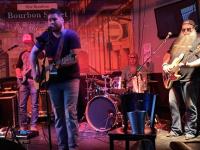 The Jimmy Charles Band slated for encore performance at Bourbon Street on the Beach Saturday.
The Lauren Glick Band will play Sunday at Coconuts Beach Bar & Grill.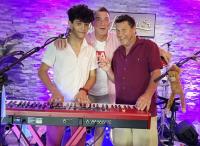 Lennon & The Leftovers will play Friday at Bourbon Street; Saturday at Scotty's.
Rain, rain, go away! Hi out there my little ducklings. Oh, you say you're not really liking this weather? Me either. But I did get out last night to hear the Jimmy Charles Band at Bourbon Street and it was a blast. I love this guy. His choice of covers always gets the audience up on their feet dancing and his originals are so likable too. His latest, which is scheduled to drop on May 20th, is titled "It's a Maryland Thing You Wouldn't Understand." With catchy lyrics referencing many iconic Ocean City businesses such as Thrasher's French Fries, this song is slated to become a state treasure. Already it is being played each sunset at Fager's Island following the "1812 Overture." "Never Had a Bad Day" is so upbeat and infectious and "Grow Up Too Fast" will bring a tear to your eye. There are so many more great songs in his catalog of music. It's so cool that he comes back to home base when he can; yep, he's a Stephen Decatur H.S. graduate. When he does, he plays for us as much as he can: Harpoon Hanna's tonight, back at Bourbon Street Saturday night, and there again playing solo for their first Wednesday deck party. Sure hope the weather is good by then. Saturday the full band is slated to play again which is such a treat. Guitarist Russell Jackson travels from Nashville where Jimmy resides. Phil Gove is a well-known bassist from Wilmington, Del. And local Brian McKenna, who plays with Side Project, will again be the drummer. It's gonna be epic!

This was my first outing since last Thursday when I hit Coconuts Beach Bar & Grill for their 2022 opening day. And we all know, of course, that we've been experiencing what seems like a continuous Nor'easter. Enough already! Let's hope the sun shines for the always entertaining Dunehounds today, Monkee Paw Saturday, and the Lauren Glick Band Sunday. That's right, folks, Lauren Glick returns to Coconuts while riding the high of having several of her original songs receiving air play. Her upcoming album titled 22 Truths will include her latest songs; I don't have the complete list but may include: "Free," "I Had It All," "To Be Loved," "Don't Give Up On Me," and "I'd Rather Be A Sinner." It's time to do an updated interview with this talented and prolific songwriter; so I'll have more info at a later date. It's about time Lauren gets the regional and national recognition she so richly deserves. You can hear her tonight at Windmill Creek Vineyard and Winery and Saturday at Mother's Cantina (78th St.). Complete schedule is listed on laurensings.com

So, staying indoors again today to hear Mercury Agenda at Coins. I love this band! So cool to hear these 20-something musicians playing all the great music from decades past - genuine classics. And they do it so well. Chris is awesome on guitar playing everything from Hendrix to Clapton. Austin on bass sometimes switches up to sing and play guitar and David on drums is a self-taught natural wonder. Amazing! And then there's frontman Doug who belts out all the tunes and has a dynamic stage presence as well. Perhaps that comes from his professional wrestling gigs as "The Rock Star" where performance counts for so much of the wrestling world entertainment. I have to say, though, that Doug has really come into his own as a powerful vocalist. Can't wait to hear them tonight.

The Purple Moose is celebrating 50 years on the Ocean City Boardwalk and they plan to celebrate Saturday afternoon. Stop in if you can and come back later for great music from Misspent Youth. Here is what their bio says: "Misspent Youth brings the best dance rock from the '80s to today. Their approach to music is characterized by pure harmonies, tight rhythms and great energy. Playing crowd-pleasing songs covering the biggest hits from bands like Aerosmith and Journey to Bruno Mars and Maroon 5, they are sure to keep any crowd dancing and singing all night." I know I definitely like these guys. Their lineup: Dixon (guitar), Lorenzo (lead guitar), Johnny (bass) Adam (keyboards) and Shawn (drums). With four members on vocals, they are able to perform cool harmonies and switch off leads. It's a guaranteed good time.

That's it for now. Have a fabulous week and remember to always party safe!
«Go back to the previous page.