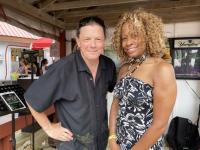 Rick & Regina put on an amazing show last Sunday at Coconuts Beach Bar & Grill.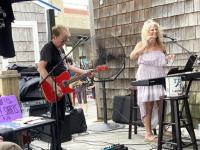 Lauren Glick w/ guitarist Dane Williams performing at The Angler.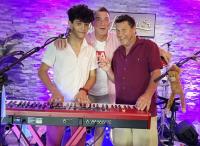 Lennon and The Leftovers will play Friday at Fast Eddie's; Saturday at High Stakes; and Sunday at Golden Sands.
SURREAL in action, will play Friday and Saturday nights at The Purple Moose.
Shame on me!  I'm really late writing to you today; I'm such a night owl that I sleep really late in the mornings.  I must tell you about the amazing day of music I had last Sunday at Coconuts Beach Bar & Grill.   It had been quite some time since I had the pleasure of hearing the music of Rick & Regina so I was excited to hear them, and I was not disappointed.  This power couple has been entertaining throughout the region for many years now; one of the few acts who successfully pull off using backing tracks, in my view.  Rick plays guitar and sings many songs but even he would agree that Regina is the star of this show.  Not only does she have a true vocal gift, but she feels what she's singing and translates that to us, her audience, in true story-telling fashion.  In fact, she relates the lyrics in such a dramatic way that I told Rick she should be on Broadway.  What a gifted talent she is.  I was nearly brought to tears as she sang the Dolly Parton song, a la Whitney Houston, "I Will Always Love You."  In a noisy crowd, all was quiet to hear her and the applause was thunderous.  Her tone quality reminds me of Gladys Knight and I loved it when she sang one of my favorites, the enduring hit "Midnight Train To Georgia."  I had fun singing along as one of the Pips (Gladys Knight and the Pips, for those of you who aren't familiar with their more than four decades of music).  Her song selections run the gamut of pop, blues, reggae, rock and a little country.  For instance: from Alicia Keys' "No One" to Paul Abdul's "Straight Up" to "Boogie Shoes" and to Dolly Parton's "Nine To Five."  She was most dramatic in her delivery of Sia's "Chandelier" and so electric in singing Donna Summer's disco era hit "Let's Dance The Last Dance."  I could go on but I think you've got the picture.  Go hear Rick & Regina at your next opportunity.  They will return to Coconuts on Sunday, August 21st.

A trip to The Angler, that wonderful venue on the water at the Route 50 bridge, was most satisfying last Saturday to hear the wonderful and amazing Lauren Glick.  It must be noted here that she had a new guitarist with her - Dane Williams - who is the guitarist for that long-popular band The Klassix, who will perform next month at Fager's Island.  Dane certainly exhibited his professionalism adding really cool guitar backup and solos to Lauren's songs; many of which he has just learned.  For those of you who have never seen or heard Lauren, I need to tell you that she plays bass and keyboards and is also a prolific songwriter.  Her latest compositions can be heard on her recently released collection of songs titled LUSH!  Several songs from this album are being played on radio stations across the region  and she is scheduled to go to Mississippi  soon to record two new songs as promoted by Lucky 7.  So exciting that our home-town girl is finally receiving the recognition she has long deserved.  She and her band have played cover songs for so many years, which is okay because we've loved it; but I am happy to now hear in the authenticity of her voice and delivery that she has found her true love in the blues sounds with which she has personally loved and associated.  Here are a few of the accolades she has accumulated so far.  In the Roots Music Report Top 50 Soul-Blues Album Chart she came in at #9 with all nine songs from LUSH receiving air play.  On the Radio Indie Alliance Top 10 her album hit #8!  Live From the Midnight Circus is now playing her new hit single "Love and Peace."  And on The Roots Music Report Soul Blues Top 50, RUSH is #9!  This is all so exciting, and as I said, well deserved.  Lauren has certainly 'paid her dues' and her fans here locally have always said the rest of the world needs to hear her music too.  I'm heading to Cambria Hotel downtown to hear her sing today at 6 pm.  Check out her facebook page and her website, laurensings.com, to get her complete schedule.  Hats off to you, Lauren!

Since I am so late getting this done, I'm going to run now; but also tell you to check out the "Who's Where When" listing and the ads in View Advertisers for a closer look at your musical choices this week.  And please click Remember This? to see throwback pictures of some special people.  As for me, I'm also planning to hear The Mercury Agenda at Coins and Surreal at The Purple Moose tonight.  There are several others I wish I could also make, such as Lennon and The Leftovers at Fast Eddie's but I just can't be everywhere.  Oh well, I'm gonna enjoy myself whatever I do and you should too.  Remember to always party safe, my friends.
«Go back to the previous page.