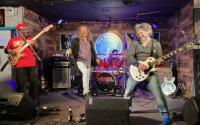 Be on the lookout for the next appearance of Deviation by Design, here at Crawl Street Tavern.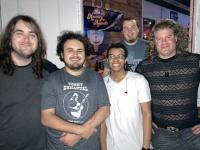 The Mercury Agenda is reaching for the stars with the best in rock, here at Fast Eddie's: Nalan Lokey (guitar), Chris Sajadi (guitar), David Waters (drums), Austin Smith (bass) & Douglas Balche (vocals).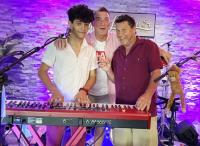 Lennon & The Leftovers, Lennon, Mike & Ricky, will play Friday at Bourbon Street on the Beach.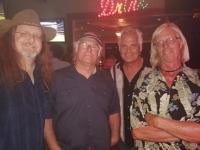 Tranzfusion, Al, Bob, Bobby & Hank, will perform Friday at Fager's Island.
Hi, my friends. Yes, it's been quite a while since we last talked. My winter hiatus ran a little longer than usual this year due to illness and still ongoing house repairs. Any of you who have had to undergo repairs can probably relate that when you get into fixing one thing, another problem rears its ugly head. Well, despite that, I'm well now and ready to get out there and enjoy our lively Ocean City music scene. Now, don't get me wrong; I have managed to see and hear quite a lot since December as you'll see from the pictures in Fun Fotos.

Let me mention of few of the highlights for me. In mid-December our beloved BJ's house band, Teenage Rust & The Fabulous Rustettes played at Buxy's Dry Dock 28. The place was jammed and jammin' with former BJ's patrons; so great seeing everyone. While we certainly miss BJ's, it does our hearts good to hear this great band that I would venture to say is the longest running act in Ocean City. We had a blast again when they played in February at Coins. That was part of my weekend-long birthday party hitting the music scene. I was still recovering from bronchitis but managed to belt out my signature "Love Me Like A Man" without coughing. Thanks to Maddy for insisting. Can't wait to hear them again. Billy tells me to be on the lookout for them in April.

That same weekend I made it to Crawl Street Tavern to hear Deviation by Design featuring front man Brian Thomas (you can also hear him with Shots Fired), guitarist Jerry d'Paoli, bassist Craig Short & drummer Paul Carraciolo. These guys were on fire and I had a blast. There's a picture of me in Fun Fotos playing the tambourine with the band, from my comfortable chair, of course. You won't find a more accomplished group of musicians anywhere; we're very fortunate to have this caliber of music in our midst. Jerry has a long and storied career in the music business. Hailing from the Tampa/St. Pete area of Florida, his musical career has taken many twists and turns with several major accomplishments along the way including writing original material, most notably with the band Dirty Black Halo that became the go-to band to open for visiting national acts in that area. Another high point was writing a soundtrack theme for the horror flick "As Night Falls" in 2010. Jerry now resides in Milford, Del. We first heard Deviation by Design at the old location of Bourbon Street on the Beach a few years ago. The foursome has continued since then cementing not only their musical prowess but also their appeal to audiences everywhere they play.

Another group that is taking the town by storm is The Mercury Agenda. Featuring pro wrestler Doug Balch on vocals, this group of young players (Chris Sajadi, guitar, Nalan Lokey, guitar, Austin Smith, bass & David Waters, drums) is most impressive not only with their skills on their instruments, but also in their incredible repertoire. It always warms my heart when I hear the younger set playing music from the '70s and '80s and even stretching back into the '60s. I couldn't believe it when they played 1967's "Sunshine of Your Love" by Cream. Outstanding! Their range is impressive: Doors, Hendrix, Prince, Red Hot Chili Peppers, Tom Petty, Pearl Jam, Led Zepelin, Lynyrd Skynyrd - my mind reels; so much more. I've heard them several times now at Fast Eddie's and Bourbon Street and will be heading to Ropewalk later today (Thursday) where they will play for the benefit for Ukraine. Hope to see you all there.
Oh my goodness! The Purple Moose is back on the live music scene beginning with everyone's favorites, Vertigo Red. Check them out all weekend and enjoy all the St. Patrick's Day festivities.

Must go for now but it's been really nice chatting with you. Hooray for Spring and the resurgence of Coconut Times! Party safe!
«Go back to the previous page.