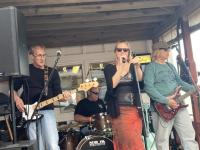 The Lime Green Band put on a great performance for opening day at Coconuts Beach Bar & Grill.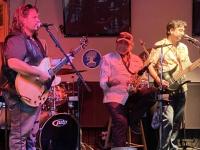 The Fil Rhythm Band featuring Joe Smooth on sax performed at Bourbon Street on the Beach for their Cinco de Mayo party.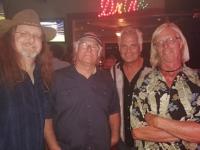 Tranzfusion will perform Friday at Bourbon Street on the Beach.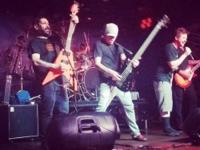 Party this weekend, Friday and Saturday, with Doc Marten & The Flannels at The Purple Moose.
It's Springfest weekend which also heralds the opening of our outdoor venues such as Coconuts Beach Bar & Grill. I was there yesterday (Thursday) for opening day and had such a good time meeting some new friends, seeing old friends and Coconuts crew, and hearing the music of Lime Green. And if any of you are wondering if because of the similarity of names, are Coconut Times and Coconuts connected,  the answer is no. I'm very happy to represent them in promoting their awesome venue and events but we are separate entities. That said, it has always been and remains one of my favorite places to be. Angeline, Terry, John & Billy of Lime Green Band always deliver a show filled with a variety of rock, pop and R&B tunes that is guaranteed to please audiences of all ages. And I must add that Angeline has a most fabulous voice with an octave range that can handle songs from such wide ranging artists as Pat Benatar to Amy Winehouse. Power, range, tone: she has it all. Be sure to catch their next show wherever they may be. Coming today at Coconuts will be Colossal Fossil Sauce after perennial favorite Darin Engh at noon. Check out the new crush bar and remember that their 2-for1 happy hour from 5-6 is still in force. Lots of fun to be had at Coconuts Beach Bar & Grill oceanside behind the Castle in the Sand Hotel.

Springfest weekend started out great with blue skies but as I write this, rain is threatening. I hope all of the planned music will be able to perform; but if you're at a loss as to where else to go, just check the Who's Where When list on this site. A couple of primo recommendations: tonight Tranzfusion will return to Bourbon Street on the Beach. This is without a doubt one of the most talented and popular bands in the area. You may refer to Coco Nights posting of May 22 to read more indepth about Hank, Bob, Al & Bobby; suffice it to say, there's no one better than these guys. I was at Bourbon St. last night to hear the Fil Rhythm Band featuring Joe Smooth on sax playing their "Americana Roots Revival" variety of music. Their song selections set them apart from other groups so they are always most entertaining not only for their instrument expertise but for their originality as well. Joe told me he and Fil recently traveled to play a venue in Mississippi (more on that later). They will be joining Jimmy Charles onstage today at Springfest at 4 pm on the indoor stage. Hurry on down.

Another great venue you could pop into if you're escaping the rain on the boardwalk is The Purple Moose. If you're new to the area, you can find this world-famous club on the boards between Talbot and Caroline streets. You can always count on the very best of rock and roll entertainment; after all, they are known as the 'home of rock 'n roll'. This weekend Doc Marten & The Flannels, everyone's favorite, will be playing Friday and Saturday nights. I like it that each weekend features a different band; so if you hear them on Friday and really really like them, you can return on Saturday to hear them again. And if you miss them Friday, you have another chance to party with them on Saturday. And I do mean party! The bartenders are so friendly (and good looking) and mix up some mean tasty cocktails for you, including their award-winning Bloody Mary. If you're out and about early, enjoy a cool libation while DJ Adam Dutch plays the tunes every Saturday beginning at 2 pm. Next weekend Misspent Youth will return. Big fun!

Another hot spot for fab live music is Fast Eddie's at 126th St. Last week was a blast with music by 33 RPM. It was bass player Rock's birthday so it was doubly fun for him and us. This group has been one of my favorites since the first time I heard them at the old Bourbon St. location; but I have to say, I was really blown away at this performance. Larry (guitar), Rock and Mike (drums) were on their game with a wide variety of rock tunes from Kiss to Doors and even such amazing classics going back to Cream and Jimi Hendrix. The guitar wizardry of Larry was in full force as he tapped his pedals to go from organ to strings and back to guitar giving so many songs their original sounds. It was truly a tour de force and sets this band apart from others. As their tag on their facebook says: "... classic Vinyl rock, the good stuff that's more than 60 seconds of fluff. We also play some current tunes as well." Check out all the cool pictures in Fun Fotos from that night. You can hear them next at Bourbon St. on Saturday, May 21; and they'll return to Fast Eddie's on Saturday, June 4th.

Gotta run and see what I'm getting into tonight. Have fun and always party safe!
«Go back to the previous page.