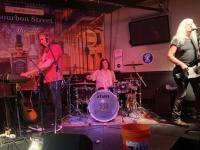 Xerociks - Roy, Jupiter & Rob - played to an appreciative crowd at Bourbon Street.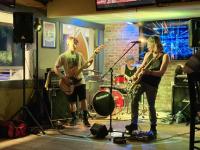 Check out The Sock Puppets and their new original tunes on From The Drawer.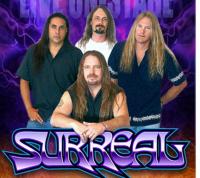 For the best in '80s rock classic head for the Purple Moose this weekend to hear Surreal.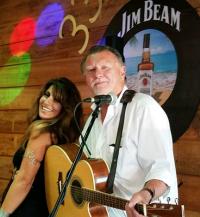 Pearl will perform Saturday at the new Boozy Egg in N. Ocean City.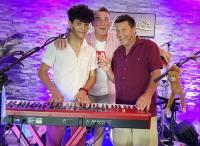 Catch the keyboard wizardry of Lennon La Ricci with The Leftovers tonight, Friday, at Fast Eddie's; Saturday at Scotty's.
Hi, everyone. I'm really late writing this week; just having a hard time focusing.  So many of us are mourning the passing of one of the most giving, compassionate and fun-loving people on the planet: Michael 'Batman' Beatty.  People say to me that they didn't even know he was sick.  That was his way ... he left this world on his own terms.  But, you know, I just can't wrap my head around all this right now; I feel like I shouldn't even try to write.  I need more time to adjust to a world without Ocean City's legendary DJ Batman and my dear friend Mike.  Those of you on facebook have read all the glowing tributes and ways in which Mike touched your lives. I'm going to wait until next week to write more and share some of the pictures that appeared in Coconut Times over the years.  My heart is heavy; but I was convinced to get out and let music and friends ease my soul so that's what I did.  To that point, let's talk about all the great music I've heard this week.
Last Friday my friend Lori and I went to Ocean Downs to hear the Bruce Springsteen tribute band Tramps Like Us perform a free concert during a reception for visiting pilots of the Thunderbirds, who of course, flew their jets in the Ocean City Airshow.  About the music I will say that the players sounded good but the show was way too short.  And I personally prefer Matt Ryan as Bruce in Bruce In The USA.  Sure wish they would visit us again.  Next we went to Pizza Tugos to hear The Sock Puppets.  Devon Ross is the guitarist who has a great voice and a lot of swagger for one so young; as does his bass player Ben Pielstick.  Kai Ross is quite the dynamic player on drums who also sang a few (add him to my list of accomplished singing drummers).  The group played several original tunes that have been recorded on their newly dropped CD titled From The Drawer.  I know I gave him a questioning look and was about to ask where did the title come from when amusement touched his eyes and it hit me: Sock Puppets ... from the drawer.  Clever! Be sure to request their songs when you see them and purchase their CD.
Then we headed downtown on the Boardwalk to visit the world famous Purple Moose Saloon where I was immediately struck by the fact that expected band SLAMM was not on the stage; but instead that awesome AC/DC tribute band High Voltage was rocking it out in full force (family obligation prevented scheduled band from making the trip here).  That was quite the fun night of music for us.  Let me encourage you all to visit the Purple Moose this weekend to hear the incomparable band Surreal - Friday and Saturday nights.  Not many people can sing the songs of Journey, Foreigner, Bon Jovi and more to be able to cover those '80s mega hits; but certainly Walt Downey is at the top of the list.  In fact, he is honored to be on the list of Maryland's Entertainment Hall of Fame.  Which always makes me think of Mary Lou is was also honored, posthumously, to be a part of that prestigious list.  Someone just yesterday mistook me to be her ... after all these years after her death.  But I don't mind; I'm proud to call her my friend - still.
I started out last Saturday at The Angler to see and hear dear friends Rita & Michael of Pearl who were joined by expert violinist John Heinz.  That was a treat.  You can keep up with their schedule in the Who's Where When under Reform School.  Fast Eddie's was a lot of fun, as usual, with The Mercury Agenda later on Saturday.  As I've said before, these guys have made my Top Ten list of favorite bands to hear, with their iconic repertoire and excellent vocals from Doug Balche.  I swear he sounds like Jim Morrison on those Doors tunes.  There are some exciting plans in the works I'm told about The Doors music.
On Sunday Lauren Glick pulled me out of my funk (after learning of Mike Beatty's passing) to get out and hear her sing at Bourbon Street ... and I'm glad I did.  I keep promising to write in depth about her new CD Lush and I keep hitting stumbling blocks; but all in good time ... I will be telling you more about this amazing singer/songwriter.  I'm trying now to finish this so I can get out to Coconuts to hear her; but I keep thinking of more things I want to tell you about.
Last night I heard another singer at Bourbon St. who fits the bill of powerhouse '80s and beyond vocalist: bassist Rob Weichert of Xerocks.  This talented trio features Roy Bush on guitar, who many of you have heard recently playing with First Class.  I remember him, too, from the band Jet Stream.  Roy, whose guitar work was phenomenal, tells me their keyboard player passed away a few weeks ago; so he stepped up to the keyboard as well, with guitar at the ready, to cover certain tunes.  Jupiter Lee is the incredible man behind the drums ... and he was all over those skins.  My goodness, his energy level was just hard to believe and so much fun to watch.  He executed intricate percussion pieces with flair and style making him, indeed, another instrument in the band and not just the beat keeper.  This was most evident in songs from such artists as Led Zeppelin, Pink Floyd, Foreigner, Aerosmith and more.  They ended the night with "Free Bird" and went on to perform a Heart tune, "Barracuda," as an encore.  Look out Ann Wilson ... Rob did a fantastic job.
To finish up here, I was thrilled to be able to hear Tranzfusion at M.R. Ducks as they celebrated their 40th anniversary of music-making together.  You'll not hear a better group of musicians anywhere; and this is backed up by what newest member Al Cook told me yesterday.  "I've been playing in various bands of all genres for 36 years and this is the most talented group of musicians I've ever played with.  I had to really step up my game."  Al joined the group when drummer Bobby Malaby's brother Tom retired after many years as the bassist.  Hank Koenig is the guitar wizard of the group and Bob Davis is the genius on keyboard who makes it possible for the band to recreated, and perfectly I might add, any and every song they play.  After 40 years, their repertoire is endless ... fun when they bring out the oldies.  You can hear them tonight at the Ocean Pines Yacht Club.
Ok, I've written way more than I attended so I'm going to sign off now.  Get out and have a good time but remember to always party safe.
«Go back to the previous page.