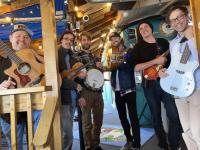 This month's edition of players for the Pickup Pickin' Party at Harborside: Darin Engh, Brandon Raines, Sam Guthrie, Sean Loomis, AJ Fox & Marc Dykeman.
Outstanding guitarist/vocalist Rusty Foulke will perform Friday and Saturday nights at Bourbon Street on the Beach.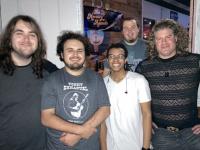 The Mercury Agenda are set to play Friday at Pizza Tugos and Saturday at Fast Eddie's.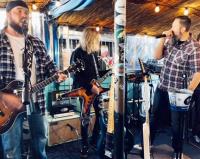 Side Project will play Saturday afternoon at Harborside in West OC.
Good grief, Charlie Brown, what is going on? Mother Nature teased us with Spring-time temps, even fooling the daffodils and forsythia, and then showered us with snow?! And it's still cold as I write this on April Fools' Day. Certainly the promise of "April showers bring May flowers" has been most evident in all the rain so far. Well, never fear, readers, warmer weather is on its way. The seasons always flow into one another; hoping we do get a Spring and not go rip roaring into Summer.  Do I ask for too much?

Something I can never get too much of is entertaining, foot-tapping good music. These highlights of the week come to mind: Full Circle, the Pickup Pickin' Party, Lennon La Ricci & The Leftovers and JParis. Let's start with the exciting sounds of Blue Grass from players assembled at this month's Pickup Pickin' Party at Harborside on Sunday. What do excellent musicians turn to when they're looking for a challenge? Either Jazz or Blue Grass, I've observed. This appears to be true with our local guitar afficionado, Darin Engh. We've been enjoying music from Darin and his brother-in-law Bob Wilkinson as Opposite Directions for many years and I've had the privilege of writing about them since 1992. After Darin opened Beach Music, there were many times that I would drop by for a visit and find him practicing mandolin. Was this the beginning of his love for Blue Grass? I'm not sure but clearly he wished to learn other instruments, including banjo. Several years ago he invited accomplished players from around the region to join him onstage. As I recall, it was one such gig that introduced us to Sean Loomis (guitar) who was at that time a member of Dry Mill Road. Fortunately for us, Sean now lives here and we get to hear him play often in several bands: The Dunehounds and Loomatix. He continues to support Darin's monthly gig as he did last Sunday. This time the musicians who got together for a little pickin' and a lot of grinnin' were: Darin on guitar; Brandon Raines (fiddle) and AJ Fox (Mandolin) both of the Westking String Band. These two traveled from Ashville and Nashville to join the fun. Then there was acclaimed banjo player Sam Guthrie and Mark Dykeman on bass; both from Baltimore's High & Wides. The performance is always well received by Harborside patrons who often whoop and holler along with, as I said, lots of foot tapping. Be sure to join in on the last Sunday of April.

As you know if you've been reading Coco Nights over the years, I have gushed praises for Full Circle since they first got together. Individually the bandmates are all most accomplished performers and together they have achieved near perfection instrumentally and vocally. All have years of experience having played with other bands but they have now created something very special. Take the rhythm section of Jeff Davis on bass and Joe Mama on drums, for instance. Jeff was one of the original members of Chest Pains from the '80s; Joe, with a background of Drum Line in school, started playing with Kevin Poole in the '90s (I think) and has played with so many people now (Chris Button, Dave Sherman as 3Guyz & a Mama) and bands that I can't name them all. We've been watching Kathy Denk perfecting her craft on guitar since the days of Agent 99 and her years alongside Lauren Glick. And Michelle Schachter used to perform with Marco in Pompous Pie at the old Shipping Company in Seacrets. Remember that? Together Michelle (who also plays some guitar now) and Kathy provide some of the best vocals you can hear anywhere in the world - these ladies are fabulous. I heard them last at Bourbon Street on the Beach where their fifth member was not present: Dave Wimbrow on keyboards, also a fine guitarist and vocalist. They play on a regular basis at Seacrets and Coins so be on the lookout for them when next they play.

I made a trip to Fast Eddie's, Ocean City's newest hot spot for music, to hear Lennon La Ricci & The Leftovers where patrons packed the dance floor and tons of excitement was in the air. This is the case wherever we hear Lennon who is totally electrifying on the keyboard; and more and more on guitar as well. This truly gifted young man counts dad Ricky as his chief supporter playing guitar and Mike offering up perfect complements of rhythmic accompaniment on drums. I also had a blast that night visiting The Purple Moose to hear JParis. As always, this band also kept its fans dancing 'til late in the night. Yes, the Purple Moose might be the only dance club that pumps out live music 'til 2 am. On tap there this weekend is Totally Stoked. Sounds promising, right, 'cause I'm totally stoked every time I stop in the World Famous Purple Moose.

Time to fly and hear some more fab music this weekend. I'll be starting at Bourbon Street on the Beach tonight (he also plays Saturday) to hear the amazing guitar and vocals from Rusty Foulke;  and on Saturday night, the latest on the scene of excellent bands, The Mercury Agenda at Fast Eddie's. There are so many choices out there in our fair town so get out and enjoy live music in Ocean City. Party safe!
«Go back to the previous page.