Lennon La Ricci & The Leftovers will play Springfest Thursday!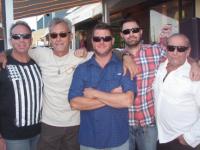 Poole & The Gang will play Thursday at Springfest.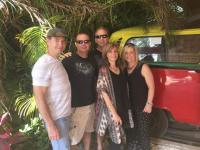 Always a fantastic show from Full Circle appearing Friday at Bourbon Street on the Beach.
Hi, Coconut Times readers. The highlights of my past week were birthday parties for two very dear friends and popular musicians in Ocean City. First up was for Randy Lee Ashcraft whose 60th birthday celebration was held at Bourbon Street on the Beach where he plays every Thursday at 4 pm. I've been listening to and appreciating the music of Randy for more than 25 years since first hearing him at M.R. Ducks after his return from Nashville. Yes, he made the trek to music city in pursuit of his dream and while he may not have made the so-called 'big time', he was busy honing his skills as a songwriter. Randy Lee's catalogue of music, recorded on at least six albums, are all lyrical and musical gems. Be sure to request originals when you go out to hear him. Anyway, the dining room was full to overflowing with Randy's many friends and family; and the dinner served by Barry and his staff, complete with early appetizers, was absolutely delicious. It was such a special occasion seeing so many friends brought together by this wonderful man whose heart of gold and capacity for love is an inspiration to us all.

Saturday night I had the pleasure of attending the 70th birthday party for long-time musician Erve Cassell at his home in Berlin. Arriving on the scene, I was mystified and charmed by the amazing fairy-like setting created in the backyard garden that wife Missy has created. Seriously, I kept expecting to see fairies appear and was briefly sure they had when I saw green flickering lights in the surrounding woods. Eventually, I had to give up that fantasy when I realized that the effect was done with lighting. I'm so gullible, I guess. Many of those in attendance were musicians so it was only appropriate that Erve, who is the bass player for Old School, was soon joined by several of us to have fun with a little jam. His Old School bandmates were there of course: Linda, Vincent and new drummer Frank. It was very special when Missy picked up the guitar and sang for us. What a beautiful voice; this woman is touched by the hand of God with so much talent and love to give. It warms my heart to see the love in their marriage after all their years together. Yes, true love does exist.

Sunday I headed over to Harborside on the West OC commercial harbor for this month's installment of the Pickin' Pickup Party. Held the last Sunday of every month, Darin Engh, of Opposite Directions, invites different players from near and far to join him. Most times Sean Loomis partners with him on guitar. AJ Fox of the band West King, returned to play mandolin. Featured this time were Matt Zuckerman on dobro and Chris Bilciak on stand-up bass who added  the distinctive sounds of their instruments and sang as well. Both are members of a Baltimore-based band called Remington Rounders. Let me just tell you that you may think you're not a fan of Blue Grass, but when you hear these guys play, you can't help getting into it with yelps and foot stomping. If nothing else, you'll be so impressed with the level of talent these guys exhibit on their respective instruments. Be sure to put it on your calendar for May 29th.

The big news for this week is the opening of Coconuts Beach Bar & Grill on Thursday! Yes, Springfest and the 2022 season is here. Yay!! Kicking off the fun at this dune-side venue behind the Castle in the Sand will be Chris Diller at noon and Lime Green Band at 4 pm. Darin Engh, aforementioned superb musicians (and owner of Beach Music on Rt. 611 in West OC) will begin his weekly slot at noon on Friday with Colossal Fossil Sauce bringing the party music at 4 pm. You can check the Who's Where When listing on this site for the complete music lineup for the whole month of May. Returning will be such popular groups as One Night Stand (Sat.), Smooth & Remy (Mon.), Full Circle (Tue.) and Aaron Howell Trio (Wed.). This is just a small sampling of the wonderful music Mgr. Jeff Hicks has lineup of for us.

And don't forget that the world famous Purple Moose is in full swing with this weekend's entertainment being a group called Awaken. Coming in May will be Doc Marten & The Flannels, Misspent Youth and the ever popular Surreal on May 20-21. Here we go. Check out Springfest, too, where many of our favorite bands, such as Lennon & The Leftovers  and Kevin Poole w/ Poole & The Gang (playing Thur.), Jimmy Charles (Fri), and Randy Lee Ashcraft (Sat.) will perform. Go to ococean.com https://www.ococean.com/events/springfest for the complete lineup.  Have a great week and party safe!
«Go back to the previous page.