Lauren Glick is one of the featured artists in Sound Waves magazine. Hear her Sunday at Coconuts Beach Bar & Grill.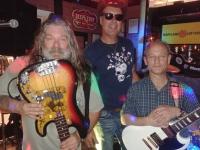 33 RPM will perform Saturday at Fast Eddie's.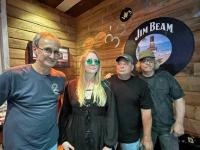 The Lime Green Band will play Friday at Southgate Grill.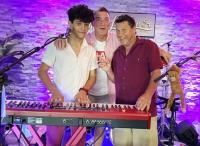 Lennon & The Leftovers will perform Friday at Beach Barrels; Saturday at Crawl Street Tavern.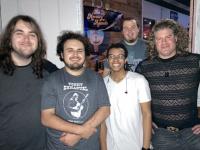 The Mercury Agenda will play Friday at Fast Eddie's; Saturday at the Caribbean Pool Bar Plim Plaza.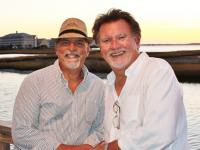 Reform School is set to play Blue Crabhouse Saturday; Caribbean Pool Bar Plim Plaza Monday.
Pearl, Rita & Michael, will play Sunday at Fast Eddie's; Tuesday at The Angler.
Hi all!  As I promised in last week's column, Lauren Glick really did rock it up playing Sunday at Coconuts Beach Bar & Grill with her assembled cast of players.  For this performance she recruited bass player Ted Galinas and drummer Mike Beavan who has his own popular group, 33 RPM.  You can hear them Saturday at Fast Eddie's.  Featured on guitar was veteran player Dane Williams, who many of you may recognize from his many years playing with The Klassix.  That group will be playing later this month at Fager's Island.  Dane demonstrated his massive skills on Sunday as the group rocked on hit after hit for an appreciative audience.  What fans might have noticed right away is that Lauren was front and center singing instead of behind her keyboard with a bass guitar strapped over her shoulder.  We could tell it was joyous for her to not be confined or inhibited; she was amazing.  With her powerful voice and dynamic delivery, she has a distinctive stage presence that will not be denied.  I'm going to refer you back again to my last two columns to read about the exciting accolades that her latest offering, LUSH, has garnered already.  And this week Lauren tells us that she has a write-up in the magazine Sound Waves (www.swaves.com).  Grace Potter is the cover photo and in the listing of included articles Lauren Glick is third.  Wow!  So happy that more and more people are hearing Lauren and her fabulous music.  We get to hear her again this Sunday when she and the band will be back at Coconuts.  Tonight she will play solo at The Cambria where you can also hear her every Wednesday; and Saturday night she will play at Mother's Cantina uptown.  Don't forget to buy your copy of LUSH!

It was a very enjoyable night of poetry and music when I visited The Buzzed Word in the Ocean City Square last Friday.  Author/Poet Rita Conestabile read from her book of beautiful poems, Ravishing Pearl.  That word Pearl also comes up in her music as she sings with partner Michael Smith as the duo called Pearl.  It was wonderful hearing them together in this setting where it was quiet and we could hear the beautiful tone and resonance of her voice as they performed some songs that are best heard in this type of venue.   It was glorious and we all enjoyed it so much; including joining in here and there with some harmonies.  So much fun.  You can find Rita's book at www.ravishingpearl.com.  She promises to set a few of her poems to music as she did with her song "When It's Over." Last week we also heard her sing with Michael in his full band called Reform School.  You can hear them every Wednesday at Bourbon St.  And check his ad/schedule to see where he and Jay Stinemire (drummer and partner in Reform School) will be playing next.  Rita has two more dates with Michael before she returns to her new home in Florida: Sunday at Fast Eddie's and Tuesday at The Angler.  It was wonderful to have her here for part of the summer and she says she will return occasionally over the winter.  Safe journey and much happiness to you, Rita.

Our friends in Lennon & The Leftovers have been very busy this summer and it's not slowing down yet.  Tonight you can hear Lennon La Ricci, his dad Ricky (guitar) and Mike Valenti on drums at Beach Barrels.  If you've heard them, you already know why people return to their shows again and again; and if you haven't had the pleasure yet, you really should.  Ricky has been playing for us for many years solo, but when his son Lennon exhibited talent and a desire to play, he was made a part of the show, playing keyboard since about 8 years old.  This young man is amazing.  It's just incredible to watch, let alone hear, as his fingers fly across the keys while singing as well.  He has also mastered the ability to make his instrument sound like a guitar, and more.  They often end their shows with "Free Bird" on which he covers the intricate guitar riffs on keyboard.  In recent years he has also been playing harmonica, guitar and some bass.  Also a songwriter, Lennon performs some of his original recorded songs live. This talented young man obviously loves what he does and we love him, too.  You can hear the full trio tomorrow night at Crawl Street Tavern.  Check their ad and Who's Where When to see upcoming dates.

The latest band I've been raving about was at Fast Eddie's last week and will return tonight: The Mercury Agenda.  The players may be young but they are incredibly accomplished on their respective instruments.  Chris (lead guitar) and Austin (bass) switch instruments on certain songs and both are great singers.  I musn't forget Nalen who is also awesome on lead guitar, the man can shred.  Drummer Dave always impresses me with his cool style both laying back in the pocket but with no shortage of flamboyant flourishes to really make the music pop.  I love it that these young players keep the classics alive from Jim Hendrix to Eric Clapton.  Front and center is Doug on lead vocals who has a fantastic voice singing so many classics that keep the audience dancing and singing along.  I swear he sounds so much like Jim Morrison on Doors' tunes it's just kinda eerie.  And speaking of flamboyant, with the wind in his long curly locks, he is the epitome of a rock star.  Ooh, that's right: his moniker as a pro wrestler is "The Rock Star!"  How appropriate.  Come out and hear them tonight and check their schedule here on this site for upcoming shows.

We had a blast Wednesday at Fast Eddie's with music by Old School OC, who play a wide variety of music including some real oldies such as "Hang On Sloopy" and "Gloria" on which they get the crowd to sing along.   Bass man Erve plays acoustic guitar and sings on those tunes.  Then they will rock out to music from The Rolling Stones, Pink Floyd, The Beatles and more.  Newest addition to the band, Frank on drums, is happy to be back in the seat again, providing, along with Erve on bass, the heartbeat of their sound.   Guitarist/vocalist Vincent likes to throw in a few country hits from such artists as Luke Combs and Chris Stapleton and at the end of their show they play the Crosby, Stills & Nash song "Suite Judy Blue Eyes."  Wonderful harmonies on that and the bass part is just haunting.  It's fun to see dancers singing along and smiles throughout the room as this group works their magic with song and humor; a real love fest, really.  Most responsible for that is singer Linda who is just a dynamo onstage with a pitch-perfect voice and boundless energy.  With her vivacious personality, she really pulls her audience, young and old, into the experience; hence, the smiles all around.  They will return to Fast Eddie's on the first Wednesday in September and be sure to check their schedule here for more.

Wow, I've been gabbing way too long.  Time for lunch and getting ready for this night's adventures.  Have a great week and remember to always party safe!





«Go back to the previous page.