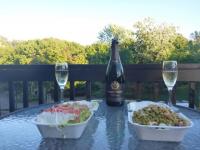 Poutine on the Auberge La Fontaine Terrace.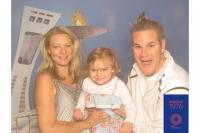 Rox Family Inside the Montreal Tower.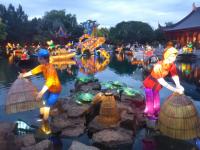 Montreal's Garden of Lights Festival.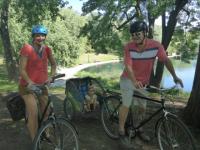 Fitz and Follwell Family Bike Tour of Montreal.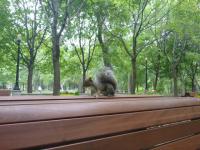 La Fontaine Park Squirrel.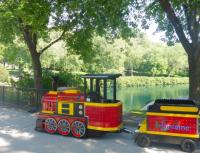 La Fontaine Park Mini Express Train
Bonjour and welcome to Montreal! Montreal is located in the Quebec province of eastern Canada. It is a French speaking island of more than 4 million people, second only to Paris as the largest French speaking city in the world. We had heard that the city was full of parks and a wonderful destination for small children. A ninety-minute flight from Philadelphia brought us to the Pierre Elliott Trudeau airport. If that name sounds familiar, it's because that's the father of current Prime Minister (and Montreal native) Justin Trudeau. We chose to stay in the Plateau district, about a half hour from the airport and 10 minutes north of the downtown waterfront. Nash from Mimo Limousine provided excellent service.
We chose an award-winning three-star boutique hotel called the Auberge La Fontaine. The hotel was situated directly across from the street from La Fontaine Park. We chose their executive suite with a spacious private balcony overlooking the park and a jacuzzi bathtub. The staff was wonderful and we were treated to a delicious breakfast of French pastry and quiche each morning. The hotel was quite charming and Jonathan and Tarik at the front desk were quite helpful.
Our first day we explored LaFontaine Park. It featured a gorgeous lake with a fountain and waterfall. We enjoyed a delightful Sunday brunch at Espace La Fontaine. Crepes and champagne accompanied brilliant waterside views of the park. The mini express children's train was running this weekend. We bought our Billets from the conductor and looped around the park. Squirrels and ducks put on a show that day and the park was brimming with mirth. The park is home to several children's playgrounds, a softball field and picturesque bike paths.
The next morning we set off on a family-friendly bike tour arranged by the Fitz & Follwell company. Our guide Martin took us through some of the laneways that are protected from vehicular traffic. Our 3.5-hour tour took us through the north of the Plateau. We stopped at three parks (Laurier Park, Mount Royal and La Fontaine) and enjoyed Montreal's most famous bagels at St. Viateur. Our daughter Moorea rode behind me in a child's trailer cart.
All that biking built up an appetite. Montreal's go to comfort food is Poutine. Traditional poutine consists of fries and cheese curds covered in a brown sauce. The locals flock to la Banquise and there is a line out the door in the evening. They have twenty variations from which to choose - toppings of smoked meats, vegetables and sauces are all on the menu. We enjoyed this native treat on our balcony overlooking the park.
The next day we visited the Montreal Tower. At a height of 165 meters and an angle of 45 degrees, it's the highest inclined tower in the world. A funicular glides up the side of the tower and the ascent takes about two minutes to complete. From the top you can see sweeping panoramic views of the city. The Botanical Gardens are a 10-minute walk from the tower. The Gardens of Light were being featured this time of year. It is an amazing array of Asian themed décor set on the backdrop of a beautiful lake. Cassandra's friend Jo lives in Montreal. They worked on ships together and this was their 20-year reunion. Jo showed us around and gave us the 411 on what Montreal life is really like (especially in the winter).
Our last day we ventured into the city via taxi. Our first stop was a revolving restaurant called Portus 360. As the name suggests, it serves amazing Portuguese food. The restaurant takes an hour to go full circle. The view from up above was spectacular and the cuisine and ambience was superb. After lunch we took a pink horse and carriage ride on a tour of Old Montreal. After a bit of Maple Syrup shopping, we returned home for our last meal. We chose to return to Le Poisson Rouge. Our two meals there were wonderful. The hospitality was warm and welcoming and the French cuisine was top notch. We enjoyed a sumptuous feast of escargot, salmon and pan fried stingray. A bottle of delectable Pinot Noir started the evening and an amazing ice cream dish topped with fresh fruit was the grand finale. The owner came out to personally go over the French menu with us. She was absolutely wonderful and made our little one feel at home.
We definitely recommend Montreal; it's a North American city with a European feel. We had amazing weather – record-setting 83-degree temperatures in mid September. The fall is the best time to go – especially if you want to see the fall foliage. It is a cosmopolitan and culturally diverse city with lots of green space. It's also a popular cruise port. We certainly hope to make it back again one day!


«Go back to the previous page.