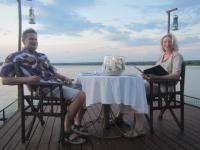 Sampan Dinner for Two on the Zambezi River.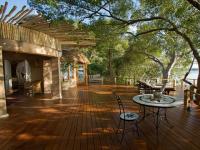 River Cottage Number Two was our Home for four nights.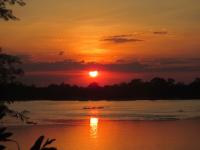 Sunset from our Zambezi River Cottage Deck.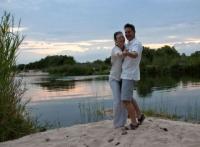 Island Picnic after a Sunset Cruise on the Zambezi.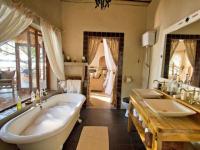 Now that's a Bath with a View!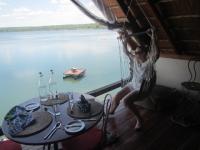 Swingers Lunch at the Lookout.

Mwapona (Tongan greeting), welcome to Tongabezi, Zambia! Tongabezi is a magical resort located on the Zambian side of the Zambezi River, upstream from Victoria Falls. About eight years ago we found the Tongabezi website while doing a Google search for African tree house hotels. It took a while for Cassandra and I to finally make the journey, but it was everything we imagined and more! Getting there entailed a 17-hour non-stop flight from Atlanta to Johannesburg, South Africa, followed by a 2-hour flight to Kasane, Botswana. After a 4-night Chobe River Cruise on the Zambezi Queen, we ferried around the Zimbabwe border and crossed into Zambia. An hour drive finally brought us to our destination.
The resort is hidden from view, down a dirt road about 2 KM off the highway. There's no parking lot – just a clearing where the jungle opens up and a flight of stairs descends through the greenery and down towards the mighty Zambezi River. Upon arrival, our personal Valet Japhet greeted us and showed us to our River Cottage. Words can't describe how amazing the Cottages were; only pictures tell the true story - a spectacular tub overlooking the river, a four-post bed and exotic décor (may we recommend a couples reflexology session from the comfort of your bed overlooking the Zambezi). There are NO TVs or radios on the property; only the sweet lullaby of nature.
After 60 countries on 6 continents, this was the most unique property at which we have ever stayed! Our cottage was hidden in the trees and a troop of monkeys lived up above us (we had to lock the door when we left so they wouldn't try to steal our shiny objects). We could see and hear Hippos in the river below us. At night Japhet would escort us to dinner and keep an eye out for hippos that would occasionally wander on the property.
Dining was completely customized – there were about 6 areas from which to choose. We ate lunch from swinging chairs in the Lookout, had breakfast at the river's edge and enjoyed the ultimate room service on our River Cottage deck. Our most memorable meal was a Sampan candle light dinner on a floating table for two in the middle of the Zambezi river – the food was delivered to our table by canoe. The resort is all inclusive and featured a brilliant list of wines, Zambian beers and cocktails from which to choose. Water is precious in the region. Tongabezi is an eco-friendly resort that recycles and bottles their own water and sparking water on site. They grow their own vegetables in a garden a few hundred metres from the kitchen. Tongabezi gives back to the community, such as; having donated a state of the art school for children of the staff and the local community.
We had our own personal excursions director to plan and drive us to our off-site activities. We took a sunset cruise on the Zambezi river and stopped on their private island for a cocktail hour picnic. We visited Victoria Falls on three different occasions. First we hiked through the National Park. The next day I took a white water rafting expedition through the rapids. Our last day we took a swim in the Devil's Pool that is literally at the top of the falls. We also booked a Rhino Walk to get up close and personal with the endangered White Rhino.
The people of Zambia were warm and welcoming. We loved their clothes, their culture and their hospitality. We tried many new foods and learned so much during our visit. What an ideal spot for a romantic Honeymoon! The weather was sunny and about 100 degrees each day. It was dry heat, so it only felt like 80. If you ever had an urge to spend a few days in the jungle with all the amenities of a 5-star hotel and restaurant, this is the place for you – luxury Safari at its finest. We're missing you already, Tongabezi (Keegan, Victor the Crocodile Man, Marc & Rudy) – Twalumba (Tongan thank you) Tongabezi!! http://www.tongabezi.com/
Sean Rox
Rox Beach Weddings
410-289-7699 Toll Free 866-472-3012
www.roxbeachweddings.com
«Go back to the previous page.