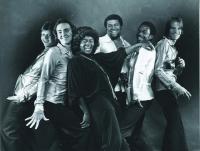 Power Play early disco days.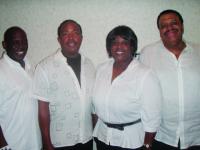 Today's Power Play: James Bonner, Michael Irving, Kay & Jay Moore at the Ocean Club/Clarion.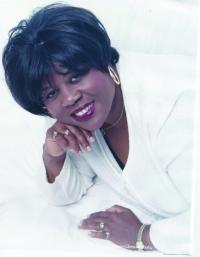 Early promo picture of Kay Harper.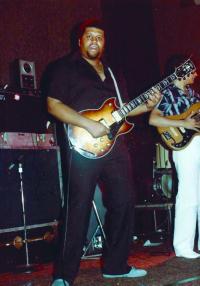 Jay Moore wields the guitar.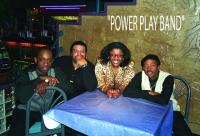 Power Play from early Seacrets days: Everett Spells, Jay & Kay Moore and Michael Irving.
The word is out! Despite the reluctance of Kay & Jay Moore to be the center of attention or for people to 'make a fuss' over them, the staff of the Ocean Club Night Club in the Clarion Resort Fontainebleau Hotel are throwing a party for Power Play on Friday, August 23, in celebration of their 35th anniversary as a band. You would think that having been on a stage since their high school years they wouldn't be so shy or unpretentious, but after more than 35 years in the business of entertaining folks (both played before establishing the band) this husband and wife team are quite humble. Tonight they'll have to sit back and accept all the well deserved accolades we can dish out.
Now don't think that they don't appreciate the praise. Kay says they, "are honored and excited. We have a lot to celebrate and be thankful for; especially after Jay's health scare in 2010." Jay needed triple by-pass heart surgery and it was touch and go for a while and a long recovery. So just the fact that he is still playing is a celebration in itself. Every year her family and friends rent a bus to come from Bowie, Md., to hear them play in Ocean City and this year is going to be extra special for this loving and fun-loving family.
Writing about them over the years, I've always called Kay "the girl with the velvet voice" which is not the only description to have been used for this talented lady. From about '78-'81, Kay was known as "the Disco Queen" as she sang a lot of Donna Summer's music. And Jay has always had a great voice, too, maybe most well known for his ability to sing like Barry White. But let's go back to where this all started.
Kay Harper and Jay Moore were high school sweethearts who hated being separated but nonetheless Jay joined up with The Platters (a later incarnation than the original) in 1976 and went on the road. Back home Kay began singing in hotels. She says she was raised in a musical household that was home to a big extended family and her mother had all the latest records of the day, so friends would come over to listen and play jazz. "Mom would always put me on the spot," Kay says, "telling me to sing, kid!" Kay grew up learning songs by Aretha Franklin (her favorite), Etta James and more, and she was only in the 6th grade when this little gal sang a big song, "Stormy Weather," for her first time in public. She was so good that right out of high school she began performing with or opening for such artists as Lloyd Price ("Personality"), Fats Domino and Ray Charles.
In Memphis with a group called Indian Summer Band, Jay and a couple of his bandmates decided to build a band around Kay and he came home. It was 1978 and with the help of Steve Thomas of East Coast Entertainment, Power Play got their name and their first job at the University of Virginia, after which they continued to play colleges and travel up and down the East Coast. Power Play opened for such acts Funkadelic, the Temptations, Earth Wind & Fire, Chicago, Luther Vandross, Dionne Warwick and even Jimmy Buffett who had heard them in Key West and invited them to open up for his show in D.C. They even played in my favorite hangout club in Virginia Beach called Rogues Gallery opening for Bill Deal & The Rondells, but that was after I had married and moved away.
What a great combination of musical styles from this pair - R&B, Motown, Disco, old standards, Rock, Pop. Jay laughingly recalls how he stood out in the crowd at concerts early in the "British Invasion" because he would sometimes be the only black man in the audience. His style and song preferences are heavily infuenced by the Beatles and Jimi Hendrix. They say they like to always be prepared to please their audiences with a wide variety of popular music, encompassing many genres; to which end they continue to add new material from the Top 40 staying current with today's sounds. And please their audience they most definitely do.
I first heard Power Play at the old Ocean Club at 49th St. and was immediately impressed - polished, professional, wonderful voices and instrumentation. They were regulars for about eight years and then continued to play for Dr. Berger at the new Ocean Club in the Clarion. In about 1999 they were asked to replace a band at Seacrets and owner Leighton Moore loved them and booked them for every Wednesday on the beach; moving to Thursdays, then Sundays; they still play some dates there.
Members of the band have changed over the years, of course, as bands usually do. I remember Everett Spells as their sax man for many years but Everett opted out of the travel as he lives in Salisbury. We can hear him play solo every Sunday at Fager's Island. Michael Irving, who plays trumpet and several other horns, and has a great voice, too, has been with Power Play for 15 years. James Bonner on percussion and vocals has been with them for six years. If I didn't mention it, Jay is one of the best guitarists in the business and so accomplished at musical technology that you hardly realize there is no actual drum set on stage - they are that good.
On their home turf they play weddings, corporate events, the Norfolk Yacht Club and a restaurant called Mahi Mah on 7th St. in Virginia Beach. But they say that nowhere else do they feel the love that they get from audiences here in Ocean City.
After coming so close to losing her husband and musical partner, Kay says, "I thank God that he has allowed us to continue playing together." And we all hope that Power Play will be a part of our musical community for many years to come. Congratulations!
«Go back to the previous page.