MUSIC FEATURE - The Dance
Posted On: 8/5/11
Written By: Tish Michel
*Click images below to view larger versions.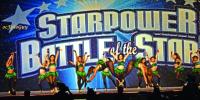 Dance fever is most certainly hitting the nation. I believe TV programs like "So You Think You Can Dance" and "Dancing with the Stars" have had a huge influence on the American public. Lifetime has a new series that premiered this week called "Dance Moms" which is supposed to depict what goes on behind the scenes in a competitive dance studio. I adore "So You Think You Can Dance" and "Dancing with the Stars," but am not impressed with the Lifetime reality show.
I spent oh so many enjoyable hours last week sitting in the convention center watching Starpower 2011 World Championships. Starpower World Championships for Dance is primarily for ages 18 and under although there were some categories for 20 and over this year. All the competitors had to place at a certain level at one of the regional competitions to be able to compete at this level.
Starpower Dance Competition is so much more than a cute kids dance recital. What I got was over 1600 incredible dance acts with most troops performing at a level that would be appropriate for Broadway. Maryland was represented by several troupes including X-Power from Ocean City; I'm delighted to report that once again X-Power made it to the Battle of the Stars competition the final day where the best of the best compete. Yey! X-Power!
I have also had four dance lessons during the past two weeks: Two at Freeman Stage (located at Bayside - routes 54 & 20) and two with the DelMarVa Hand Dancing Club. I reported on Freeman Stage a few weeks ago when LeAnn Rimes performed. On 7/15 Our Latin Thing performed and provided Salsa lessons during intermission. Last Thursday (7/21) Kulu Mela African Dance and Drum Ensemble gave a marvelous show and the audience was taught an African Dance. What fun – even though the weather was almost 100 degrees. The musical Chicago was performed at Freeman Stage 7/29 & 30 and I saw some great dance routines as I volunteered for the shows.
I've had friends visiting who are part of the Let's Dance Social Club from Baltimore. They have introduced me to the DelMarVa Hand Dancing Club who holds dance lessons Wednesday evenings year round at the Skyline Bar & Grille in the Fenwick Inn on 138th Street. Lessons begin at 5:30 and dance follows from 6:30 till 9. Tom Lowe is the President of DelMarVa Hand Dancing Club as well as the club's DJ spinning all the old favorites. This non-profit club was formed in March 2010 with just 10 members. Membership is free and the club now has more than 400 members including yours truly. Tonight (Wednesday) was my second time and it was loads of fun. Bill Goschen teaches for both the Baltimore Club and is one of the instructors for DelMarVa Hand Dancing. He has taught the Cha Cha the past two weeks and I've learned a lot. So if you like to Cha Cha, please ask me to dance with you next time an appropriate tune is played! Instead of ending this piece with ta ta y'all, I'll just say Cha Cha y'all.
«Go back to the previous page.